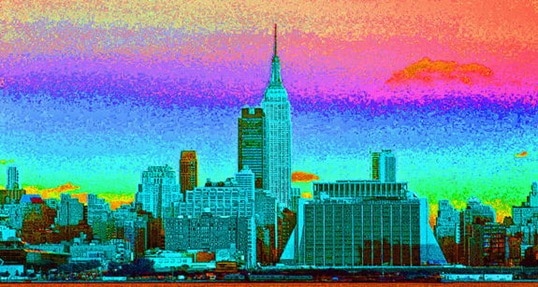 One of the best things about the Boston campus is that it's so close to New York City. However, this can also be frustrating – the long hours of the MBA program often leave little time to visit. I had my first chance last December.
Flashback to December 2013…
I'm riding the first bus I found available, and feel very grateful that I'll be able spend the four days off before finals in New York City.
I spent all of last night preparing a final presentation, so I've been asleep for most of the trip. When I wake up we are already in the city, but at least half an hour away from the terminal, thanks to traffic. This means I'm half an hour away from setting foot in the Big Apple.
It's no secret that some of the greatest success stories are linked to this city. I find one of them especially inspiring, and I know it thanks to one of my first lessons at Hult. The story comes back to me as we edge our way in the city:
It was the second lesson of our Individual Skills Course, in September. Professor Sheen Levine was conducting the session. He is a graduate from The Wharton School, a world-class academic and an expert in management theory. I felt very good that Hult would offer us a teacher of this caliber.
I expected to get valuable insights from him that day. But I confess I did not expect the lesson I was about to receive to be so powerful, influential and inspiring.
Professor Levine introduced us to Mr. John Jacob Astor. He was an American businessman, originally from Germany. The son of a butcher, he arrived in the U.S. in 1784, not long after it became an independent country.
After establishing a small fur goods shop in New York City, expanding his business to China and bringing the profits back to New York to buy real estate, he became the first multi-millionaire in the United States. His fortune, expressed in today's dollars, was more than a hundred billion dollars.
After reading a business case and writing an essay about Astor, it was time for the class to analyze the root causes of his success. Participation was being graded, so hands were flying up the air all the time. Here is some of what was discussed:
"Astor was successful because he started a business in New York when the markets were still developing – said one student."
Professor Levine, with a smile: "So this case is not relevant today then? It only applies to the 1800s?"
"I think a big part of it was that Astor knew the President of the United States and that helped his business" – said another classmate.
Professor Levine: "But why was he important enough to be acquainted with the President? I'd love to be friends with the President. "I call him all the time. He never calls me back, so what should I do?"
My classmates laughed. We continued suggesting explanations: his relations, his business skill, his wise decision to withdraw from China just before the fur business in that country collapsed, and many others.
No one seemed to get to the conclusions he was looking for. Yet, our professor still encouraged us.
"Come on, we could have the formula of success right here. Do you think there is one?" – he asked. After hearing no answers he said: "Actually, there is. Otherwise, you should ask for you tuition back."
Finally, he gave us what he considered the keys of success, all derived from the case. It was a set of few but very powerful guidelines, easy to remember and perfectly applicable today. The most important one: be constantly on the lookout for new opportunities. I won't reveal the rest here, because I don't want to ruin the experience for you. But his last words about the case impressed me deeply: "There are many fascinating things about the Astor case. He was an immigrant. He didn't have high education. He was the son of a butcher, no connections. His English was not even that good. Still, it proves that following these guidelines you'll increase your odds of becoming the richest man (or woman) in America."
Talk about a motivational speech.
Back to my bus ride…
After the bus arrives, I exit the 42nd Street Terminal. New York is in full Christmas attire, the nearby stores are bustling with shoppers, and the bright lights of Times Square greet me from above. This city is truly a place of beauty, dreams and opportunity.
I have an appointment with a friend in 30 minutes. I take the subway and ride down the Lexington Avenue Line. Next, I get off at the Astor Place station. Before leaving, I see plaques of beavers located on the walls. I also see a beautiful young lady staring at them. I smile and wonder if I can use a tip Professor Levine gave us that day.
"They say it's hard to impress a New Yorker. But I'll tell you something about those plaques. There aren't any beavers in the original NYC area. They only exist in the plaques that honor Astor, who made his fortune in the beaver-pelt trade. If you tell this to a New Yorker, you'll certainly impress her."
What I learned at Hult that day, my future fellow alumni, is a story that made history. And it might sound pretentious, but I think most Hult students can relate to the Astor case in many ways.
Most of us are also immigrants, and many of us didn't have spectacular connections or graduate education before starting our programs. But thanks to Hult, apart from the graduate education, we are getting very valuable lessons in life and business that can help us overcome those initial disadvantages and, maybe, make history someday.
John Jacob Astor succeeded. Why can't we? After all, unlike him, we have a head start: the advantage of being students at Hult International Business School. Any of our campuses are perfect places to find and seize the opportunities that can make us successful.
Edgardo Macias is a Hult Global Ambassador. He is an MBA student at Hult Boston, a finance professional, and an amateur musician with a great passion for math, teaching and intellectual discussion.
Image courtesy of Tony Fischer.
Make the most of what your career has to offer with a Masters in International Business from Hult. To learn more, take a look at our blog Experiential learning at Hult: bringing lessons to life, or give your employability a huge boost with an MBA in international business. Download a brochure or get in touch today to find out how Hult can help you to explore everything about the business world, the future, and yourself.
Related posts