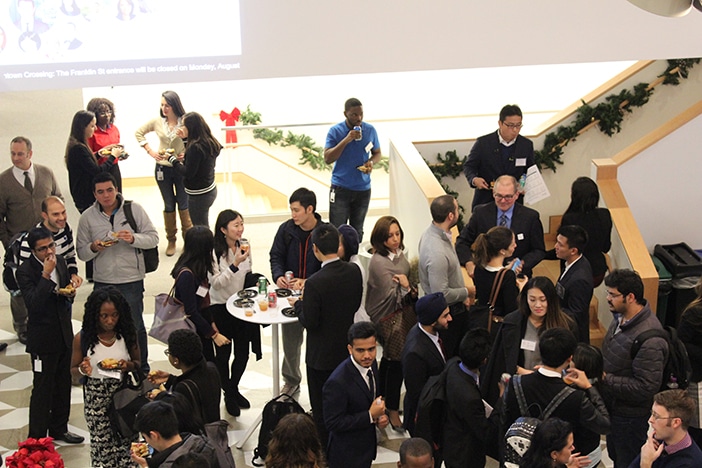 When students come to Hult, they are joining a professional network that spans the globe. Whichever of our global campuses students study at, they become part of a supportive network of more than 16,000 Hult alumni working in 168 countries.
As well as being key to making professional contacts and accessing career opportunities, our alumni play a central role in the current students' experience. Hult alumni are a constant presence on campus, sharing their experience and insights with current students through organized events, informal gatherings, and our Alumni Mentoring Program.
This past week has seen alumni join us for events across several campuses. Over 200 students and 45 alumni met at our San Francisco campus to be introduced to the Alumni Mentoring Program.
Hult alumni have always offered advice and support to current students and now our newly launched Alumni Mentoring Program allows selected students to find alumni that have the background and experience that exactly match their mentoring needs. Through an online portal, students are able to search for alumni according to a range of criteria including geography, nationality, company, industry, and job title.
Kilean Watson is a Hult alum from the MBA Class of 2014 who beat 2000 other candidates to win a place on Aria Food's coveted F15 Graduate program. A Peruvian national, Kilean is now based in Denmark and is mentoring current Hult students. When we asked him what his motivations were, he told us:
"We are all part of Hult, so if we don't support each other who will? I come from a culture of connections, so by sharing Hult as our alma mater, I'm more than happy to be able to lend a helping hand."
Mentoring is also a great talent sourcing tool for alumni. If they work with one or two students closely over the year, and are later on in a place where their employer needs to hire, they have firsthand knowledge of outstanding candidates that they can refer.
The connections students make with alumni can have very tangible results. Umesh Tiwari, an Indian alum from the MBA Class of 2015, found his current position at Amazon in the U.S through meeting an alumni at a campus event:
"I met with a Hult alumnus who works at Amazon and was a guest speaker on campus. That led to connecting on LinkedIn, which gave me exposure to Amazon's recruiter network, and the rest is history."
Alumni can also offer very practical advice to students on the rigours of Hult programs and share the benefits of their experience. Our Boston campus hosted an Alumni Industry Panel with alums who had participated in Hult's unique Global Rotation Program. The program allows students to study at up to three campuses during their one-year degree.
A student moderator posed questions to the alum on their rotation experience, the locations they chose, visa requirements, and financing options before opening it up to the floor to take individuals' more specific questions. The following networking reception provided more opportunity for students to chat informally to alums about their experience and get tips and advice on rotation.
Hult alumni also regularly meet among themselves, with over 70 alumni chapters and clubs active globally. Last week saw the Shanghai Alumni Chapter get together for their monthly meet up which ranges from to informal catch-ups to professional skills workshops.
We'd like to thank all our alumni for the time and effort they spend helping our students and each other, strengthening the Hult network, and building the global community we are so proud of.
Hult offers a range of highly skills-focused and employability-driven business school programs including a range of MBA options and a comprehensive one year Masters in International Business. To find out more, take a look at our blog 7 steps on the road to success. Download a brochure or get in touch today to find out how Hult can help you to learn about the business world, the future, and yourself.
Related posts