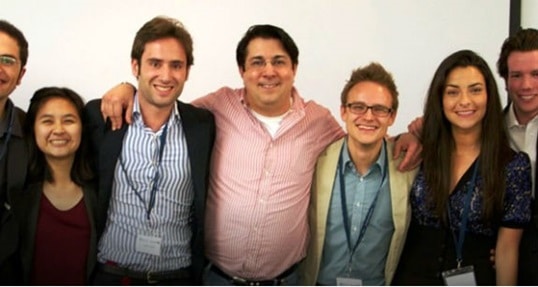 There is certainly no shortage of events centered on entrepreneurship in San Francisco. But after attending several, Hult MBA candidate Mohamed Temraz feels like something is "missing" from many of them. There are speakers and ideas, he says, but little opportunity for business leaders to take action towards globalizing their ventures and expanding them into new markets.
So Temraz and his fellow co-presidents of the Hult Venture Group Ander Dobo and Oliver Gassner teamed up with the group's other entrepreneurial-minded leaders to develop an event of their own, taking a leap with an uncommon yet practical idea:
JUMP!
JUMP! is an all-new concept spun from Hult San Francisco's Venture Summit, a conference hosted by the school in 2010. The HVG is breathing innovative new life into the summit for 2012/2013 with a new structure, a growing list of regional experts and investors, and an inspiring theme: "Globalize Your Venture."
Set at Fort Mason, the afternoon-long event will bring students (from the Bay Area, not just Hult), entrepreneurs, investors, professionals, professors and other corporate guests together to share challenges, ideas and actions for taking a company to the global front. JUMP! starts big with guest speakers and then becomes more intimate with group sessions. Speakers, panelists, and breakout session leaders are local experts who have global experience, coming from established companies and start-ups alike, in an effort to include a range of perspectives.
The theme is not only important for growing companies, but it's also "aligned with the outlook of the school," says Temraz. Hult is internationally focused, with students coming from more than 90 countries.
The featured experts are contacts of HVG members, as well as local entrepreneurs and professionals who were approached by the group specifically for JUMP! The club is also working with Hult SF's Corporate Relations department and Dean Larry Louie to reach out to other potential panelists and session leaders.
JUMP! kicks off with a keynote speech from Claudia Fan Munce, Global Managing Director of IBM Venture Capital and VP of IBM Corporate Strategy, which will be followed by a panel discussion. Then, guests will choose breakout sessions led by regional experts, typically entrepreneurs and investors who have extensive expertise in conducting business in their respective region of the world, and guests can choose two sessions based on their interests. These smaller sessions will create a more interactive, intimate approach, starting with a business case of a successful venture in that region and then delving deeper into real world, practical challenges that the experts will discuss with the breakout session attendees, says Temraz. An hour of networking (with an open bar and refreshments) will offer a chance to mingle and meet more new people, and the afternoon concludes with a fireside chat with Stephen Manley from the EMC Corporation. Manley will discuss EMC's innovation strategies and share insight on business operation and expansion in various regions around the globe.
The HVG leadership team hopes that JUMP! will give guests a chance to meet like-minded people – and potential business partners – and to hear from people with hands-on experience. The team also aims for attendees to leave with ideas and immediate steps to put their business expansion plans into action. Overall, the group's goal is that this unique new format will promote serious connectivity and brainstorming, and that next year's Hult San Francisco students will encourage even more entrepreneurs to JUMP!
What is the Hult Venture Group?
In their words, the student-run HVG is for "all entrepreneurs and everybody aspiring to become one." Supported by Hult SF's Career Services department, the organization works to connect students with start-ups and investors in the Bay Area.
The group has 20 core members, with a much larger community of up to 100 people who attend events together, and it is among the campus' most active clubs. The structure of the group is informal, without designated officials. Instead, the members naturally take on leadership roles in their areas of expertise and interest.
In addition to regular weekly meetings, HVG hosts on-campus speaker events with local entrepreneurs, open to the entire Hult SF community and beyond. Past guests they've hosted, in conjunction with other Hult clubs and staff, include Angel Hack CEO Greg Gopman, Keiretsu Forum angel investor Geoff Roach, and OwnTown founder Ramana Rao.
The group is also running a series of ongoing workshops called TOOL UP!, where members and guests learn how to use key tools for becoming an entrepreneur. In January, they presented BUILD!, a start-up boot camp with over 100 participants creating and fine-tuning business plans, pitching ideas, and skills and strategies essential for successfully running entrepreneurial ventures. In the works is also a start-up pitch competition with local angel investors called START!, a follow-up to BUILD!
Grow your leadership capabilities with an MBA in international business at Hult. To learn more, take a look at our blog A new model for leadership development in the 21st century, or give your career a boost with our Masters in International Business. Download a brochure or get in touch today to find out how Hult can help you to learn about the business world, the future, and yourself.
Related posts