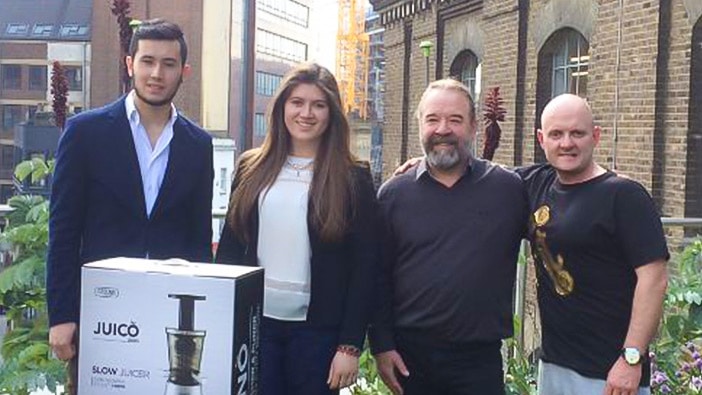 A team of Hult undergraduate students were recently gifted a state-of-the-art juicer to help their on-campus startup. Some of the major juice bars and retail outlets don't even have these juicers in their stores, so this puts the student's company, Storange, ahead of the game.
Storange was founded by Hult Bachelor degree student Sebastien Ferre, on our London Undergraduate campus who created the company to provide students with healthy options on-campus.
A chance meeting between Hult Marketing Professor, Daniel Vidal, and Jim Livingstone, founder of Juico, resulted in the company visiting the London campus and making the donation to the students' business. Jim and his colleague Scott McArthur (an accredited juice therapist who was taught by the 'juice master' Jason Vale) spoke to students about how to succeed in the industry, sharing his experiences and telling them:
"Never give up on your dreams, always be honest, and work with quality equipment and produce.
I started from very humble beginnings and my advice would be to aim high and network – it's great to be able to give something back in some small way by means of this gift."
The students said of the investment:
"This generous gift from Jim is a great kick-start as we are self-funded at the moment and looking to grow our venture across the other Hult campuses in Boston, San Francisco, Dubai, and Shanghai.
We'd like to thank Hult for their support in helping us to get off of the ground, it's been great to be able to discuss business ideas with those who have been there and are now running successful businesses. We even skyped in the other members of the team from their rotation campuses!"
Jim gave a master class on Digital Tools for Advanced Marketing to students, detailing his business model and routes to market – offering advice on starting from scratch and becoming a successful entrepreneur. He explained how the new generation of juicers are 'slow juicers', which introduce new technology to retain all of the vitamins and nutrients and not just pulverize the fruit as other models do.
Angelique Lin, a Bachelor degree student, said:
"It was great to hear first-hand how Jim and Scott positioned their business; he spoke about sourcing equipment, marketing, brand positioning, price elasticity, and how the market works.
Hult has connections with entrepreneurs who are willing to share their experiences with us, it's real-world, practical experience and academic study that will help us to succeed in the job market."
Kickstart your career with Hult's undergraduate business school. To find out more, take a look at our blog Going beyond business: Introducing our undergraduate curriculum. Download a brochure or get in touch today to find out how Hult can help you to learn about the business world, the future, and yourself.
Related posts