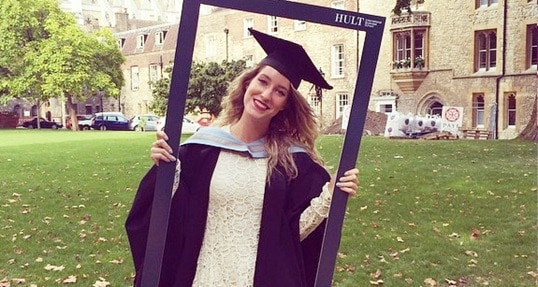 Congratulations to the Class of 2014
The Undergraduate graduation ceremony was held last Friday at Church House Conference Centre in the heart of Westminster. Parents, guardians, friends and family gathered with trepidation to see the ceremony begin.
Dr. Melissa Willby, Dean Undergraduate Programme, announced the following:
Professor of the Year Award, & Highest graduating GPA: Mo Willan, BBA
Class address: Virginia Koeppl
Dr. Melissa Willby summed up the day by saying "Today really has been a showcase of the talent that Hult attracts, we are all so proud of our students and remember meeting you all during orientation – now it is a great pleasure to see you graduate. Graduation day is a day of celebration and you now have an opportunity to carve out an identity for yourself in the world."
Class Valedictorian, Virgina Koeppl, kept her fellow students enrapt with her personal story of studying with Hult. "Almost exactly three years ago, I remember leaving Germany and heading into the exciting and sometimes scary world of college, and life in a new country. Hult has given me so much experience working with international students from 109 countries."
Virgina had her own personal obstacle course to navigate during her time with Hult – she had been diagnosed with Juvenile Rheumatism, her doctors predicted that she may not get to attend a main stream high school, let alone graduate.
The guest speaker for the event was the inspirational Tim Campbell MBE. Currently Head of Client Services for Emerging Talent at Alexander Mann Solutions, Tim was the first winner of the hit BBC TV series The Apprentice and became Project Director of the Health & Beauty division within Sir Alan Sugar's company, Amstrad PLC. After nearly three years at Amstrad, Tim went onto found the young entrepreneur's charity The Bright Ideas Trust. Tim,who was awarded a well-deserved MBE for Enterprise Culture in the 2012 New Year's Honours List, is a man who is passionate about the power of business.
Tim said he was proud to be able to speak at the event, saying "it has been such a privilege to share my thoughts and experiences with your students, they have such drive, determination, passion and energy and it's humbling to part of their journey."
Quotes from some of our undergraduate students:
Rinesa Deshishku, Kosovo, BBA
"One of the most important things in this amazing journey at Hult has been how much we have been stretched as individuals and taken outside of our comfort zones,The best part of my experience here has to be rotation and the chance to travel to other campuses, I went to Dubai and San Francisco and although it was scary at first gave me a chance to work with new Professors and make friends for life."
Janika Collatz, Germany, BBA
"Hult has taught me so many things, insights into cultures, lives, business on both the academic and social side – it really is the diversity that makes the experience and how much staff really do care."
Francisco Diaz, Venezuela, BBA
"The whole Hult experience really does open your mind and gives you a different perspective and outlook on things; it is amazing to be able to study in an international university with such a diverse representation of countries present.
The Action Project was a highlight for me, I'm now using my skills in a sales role and all the practical marketing experience I have learnt here has certainly helped."
Nicola Di Giacomo, parent of Julia Di Giacomo, BBA
"I am glad that my daughter chose Hult as the quality of the teaching and learning experience is well worth the price – she has already accepted employment opportunities in Korea and Hong Kong –  today has been one proud and emotional day!"
Graduates were awarded with a Bachelor of Business Administration degree.
---
If you would like to find out more about our business programs, download a brochure here.
---
Want to see more photos of graduation? Visit our Facebook or Instagram accounts.
Kickstart your career with Hult's undergraduate business school. To find out more, take a look at our blog #HeadingtoHult: Preparing for undergraduate life in London. Download a brochure or get in touch today to find out how Hult can help you to learn about the business world, the future, and yourself.
Related posts