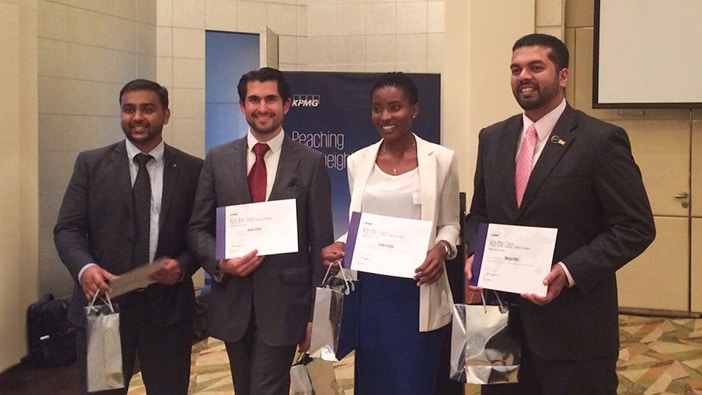 In order to provide as many opportunities as possible for our students to apply their knowledge and skills in realistic business scenarios, we regularly run case challenge competitions on campus and encourage participation in national and global competitions.
Here is a selection of case challenges and competitions our students have recently participated in, or are currently taking part in, across all our global campuses:
2016 Bridge Case Competition
2 teams of 4 Master of International Marketing students and a team of MBA students from our San Francisco campus won 1st, 2nd and 3rd place respectively in the 2016 Bridge Case Competition. Hult students beat teams from U.C. Berkley and Stanford to make a clean sweep of the podium. The Bridge Case Competition is sponsored by the Bridge organization, which is affiliated with U.C. Berkeley Haas Business School and holds an annual Berkeley Haas Asia Business Conference.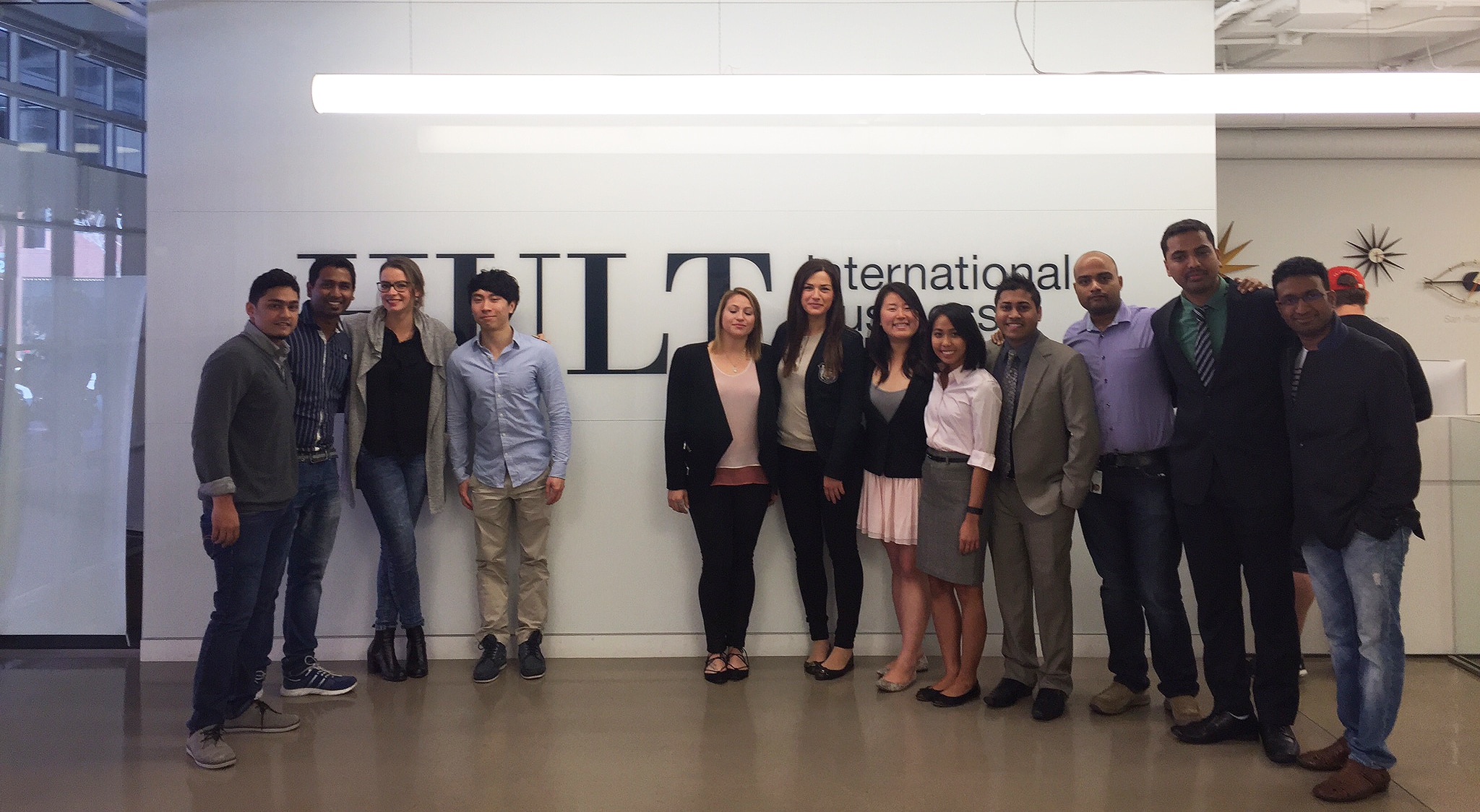 The focus of the competition is to solve business issues facing startups. This year, Bridge partnered with with Xendit, one of the fastest growing, Y Combinator-backed, peer-to-peer payment apps focused on Southeast Asian countries.
The winning Hult team received a prize of $800 and presented their solution to Xendit executives at the Berkeley Haas Asia Business Conference which was also attended by an impressive list of speakers and panelists including Marvin Chow, Senior Marketing Director at Google, Genki Oka, SoftBank's Chief Global Strategist, and Mubarik Imam Head of Growth & Partnerships at WhatsApp.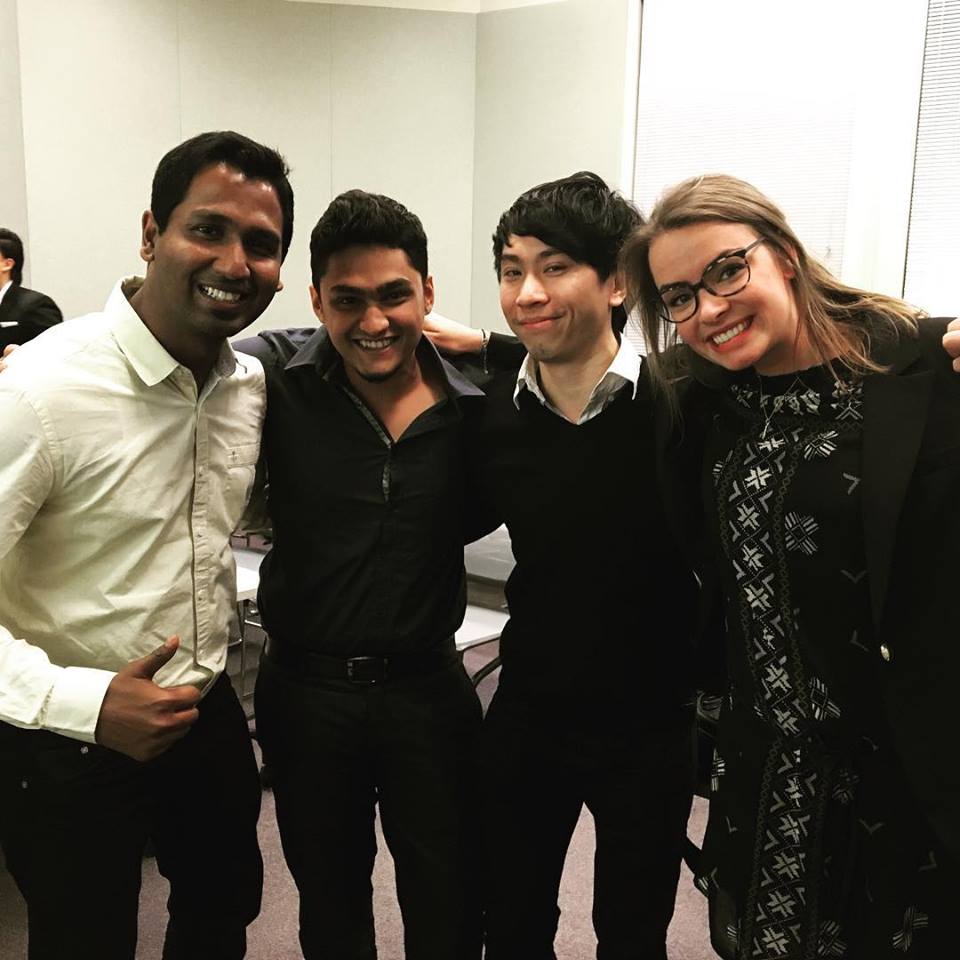 Emirates NBD Future Intelligence Innovation Challenge
Another competition that saw Hult teams take the top three spots was the Emirates NBD Future Intelligence Innovation Challenge held in Dubai. Emirates NBD is a leading bank in the UAE with a multicultural 9,000-strong workforce from over 70 nationalities. The theme of this competition was the development of effective strategies for crowdsourcing ideas regarding the banking industry.
The winning team, the DUBAInnovators, comprised 5 MBA students from Hult Dubai who proposed something called the Ideathon-Survey Loop. This was a dual-app strategy for effectively crowdsourcing ideas and systematically refining them into implementable banking solutions. The idea was praised by the judges for it's business relevance, potential business impact, feasibility, market readiness, originality, and presentation.
The winning students were all awarded special internships at Emirates NBD, which will commence in June 2016.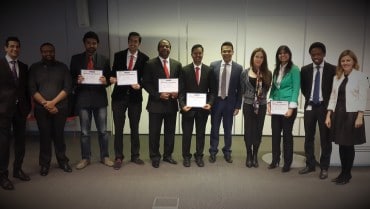 George Baffour, a member of the winning team said:
"This competition was a great way to showcase our creativity and prove the industry relevance of Hult's intense but comprehensive curriculum to real-world business challenges."
L'Oréal Brandstorm
Flying the flag for Hult San Francisco, this time in the L'Oréal Brandstorm marketing competition, was a team of 2 MIM students and 1 Master of International Business. The team won the converted regional wildcard spot for L'Oreal's global competition that has been running since 1992 and gives students the chance to work on real life challenges and be coached by top L'Oréal executives.
The Hult team will join 5 other teams from universities including UCLA and NYU for the national U.S. final in New York at the end of April. If they win the national final, they will go to the global finals in Paris, France.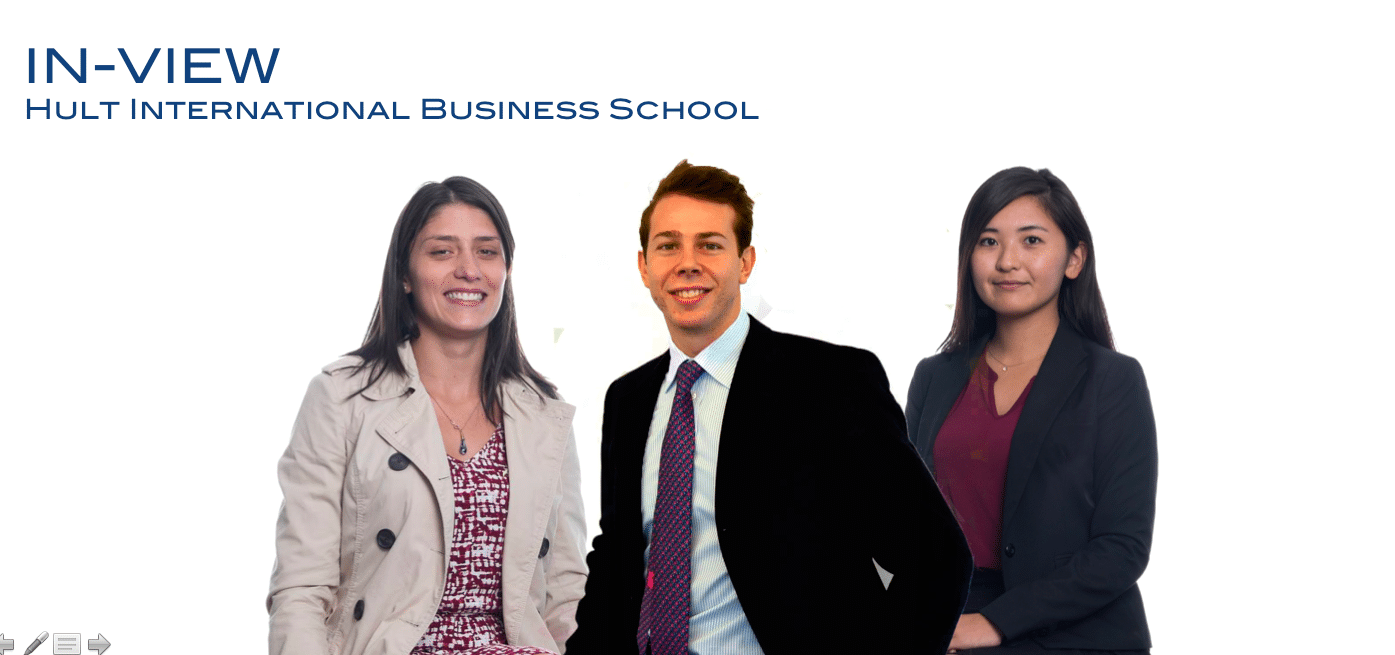 KPMG Ace the Case and International Case Competition 
Over at our Dubai campus, a team of Hult MBA students is on its way to the global finals of KPMG's International Case Competition after winning the national Ace the Case competition in the U.A.E. This is the third year in row that has seen a Hult team win the national competition and compete in the global finals.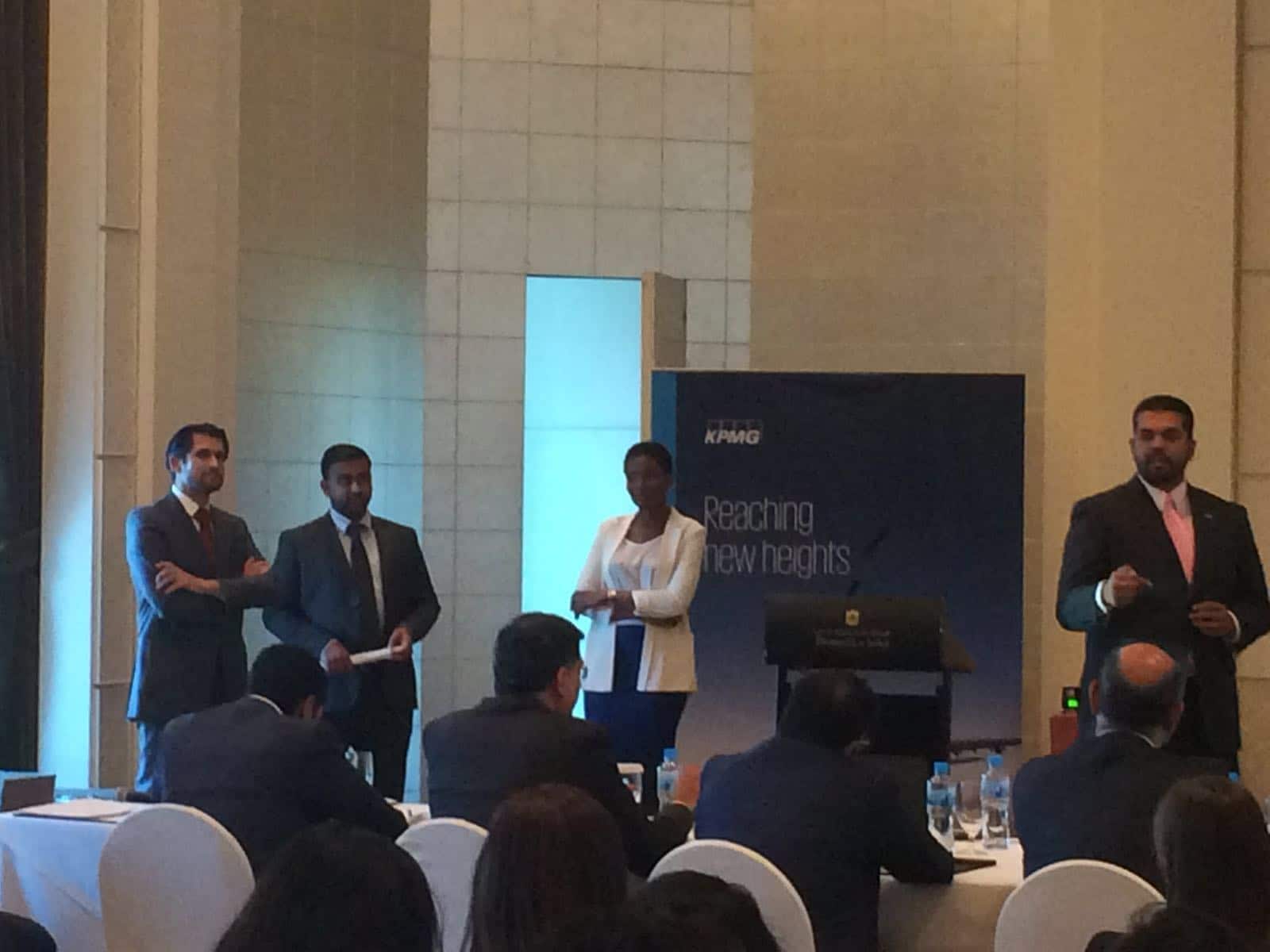 Square One Challenge with Bosch
The Square One Challenge is a Hult run initiative that sees us partner with multinationals and local businesses alike to have our students solve a real business issue the company is currently facing.
At our Shanghai campus, following on from the Square One Challenge with Intel back in October, 41 students formed 8 teams to take on a China-specific challenge set by Bosch executive and ex venture capitalist, Leo Wong. Bosch asked Hult Shanghai students to develop a strategy that would see Bosch establish a dominant position in the Internet of Things ecosystem in China over the next 2-3 years.
Students from EMBA, MBA and Masters programs formed cross-program teams and began developing a strategy on Friday afternoon, working through the weekend, and delivering their pitch on the Monday afternoon.
All the teams offered innovative and creative ideas but the winning team was chosen on the basis of their very pragmatic solution that was both tailor made for the Chinese market and addressed the topical issue of sustainability. They proposed that Bosch partner with the Chinese government to tackle air quality by mandating that all cell phones be fitted with a Bosch air quality monitor.
The monitor would collect, track, and store pollution data in real time allowing the government to identify problem areas, track migration, and pinpoint possible causes.
Leo Wong gave individual feedback to every team and shared his personal contact details with the students should any of them be interested in pursuing an internship with Bosch.
Square One Challenge with LookUp
Over at Hult Boston, we teamed up with Hult alum Maria Dolores (Loli) Lopez-Montenegro who posed a challenge exclusively to our Masters of International Marketing students.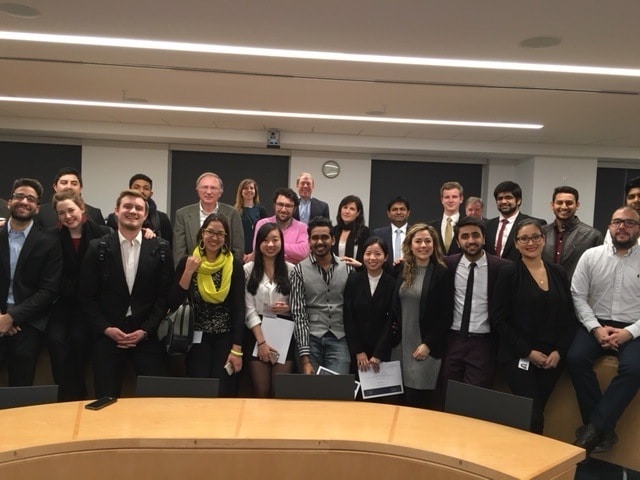 Ms Lopez- Montenegro has launched an ingenious language-learning app called LookUp that already has a healthy user base. 23 students formed 5 teams to propose a marketing solution to expand LookUp's user base. The teams were asked to tackle three main tasks as part of the solution: identify the target audience for the app, validate the product positioning, and develop future business strategies.
There was great engagement from the students who relished the opportunity to put their learning to the test. As Florentine Achammer, a current MIM student at Hult Boston, put it:
"This challenge is a great learning opportunity to apply our theatrical knowledge to a practical, real-time project."
LookUp were also very pleased with the solutions students came up with. Ms Lopez- Montenegro said:
"We were very impressed with the depth of the work and innovative ideas that Hult students suggested, they did a great job."
Google Online Marketing Challenge
Over on the Hult San Francisco campus, we ran infosessions on the Google Online Marketing Challenge which always sees high numbers of students participating every year. The GOMC is a unique opportunity for students to participate in a global digital marketing competition involving over 20,000 teams per year. Working in a team of 3-6 people, and with a $250 AdWords advertising budget provided by Google, students develop and run an online advertising campaign for a business or non-profit organization over a three-week period.
This is an outstanding opportunity to learn some cutting edge digital marketing techniques and we provide a great deal of support to those students who want to take part. Starting in April, run informal workshops to help students understand how to use Adwords, how to structure an ad campaign, and specifically to guide them through the steps of the Challenge. We also provide each active team with a mentor who is an experienced AdWords practitioner.
A Hult student who took part in the GMOC last year had this to say about the experience:
"I learned how to use AdWords, manage and motivate my team, solve all the challenges which came along our way during that time and I got hired for 3 months on a practicum. "
Nespresso 2016 MBA Sustainability Challenge
A team of 4 MBA students at our London campus were mentored by their professor and supported by their fellow students in their entry to the Nespresso 2016 MBA Sustainability Challenge.
The competition is intended to provide a real-world experience for students and encourage healthy competition, professionalism, and interaction by future business leaders, both among themselves and with the business community. The case study is based on the results of extensive research carried out on Nespresso sustainable sourcing of coffee.
We'd like to offer a huge congratulations to all our students who have taken part in these competitions and wish those still competing the very best of luck. We will keep you updated on their progress!
Read more about how Hult exposes students to real-life business challenges in these articles:
Using business simulations in the classroom
The Hult Prize: the biggest student entrepreneurship competition in the world
---
If you would like to find out more about Hult's global business programs, download a brochure here.
---
Kickstart your career in a state-of-the-art innovation hub by studying at Hult's Dubai business school. To find out more, take a look at our blog Discover Hult life in Dubai. Download a brochure or get in touch today to find out how Hult can help you to learn about the business world, the future, and yourself.
Related posts