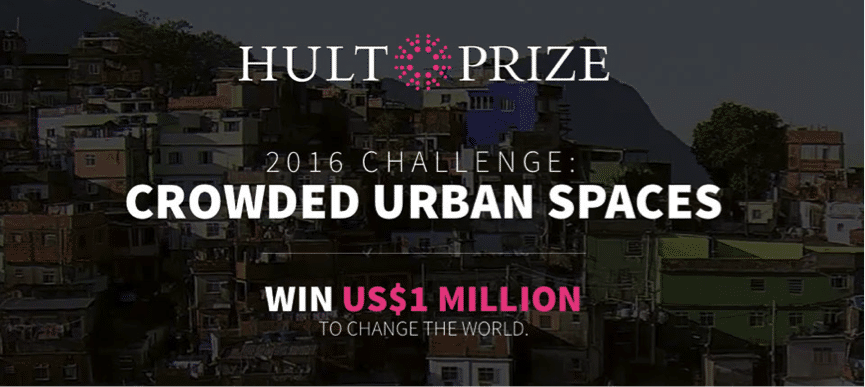 Months of tireless research culminated in the Hult Prize Pitch-Offs on Saturday across 5 major cities. Hult International Business School campuses in Shanghai, Dubai, London, Boston and San Francisco welcomed teams from 100+ countries to present to 100 highly qualified external judges on how best to solve a major social issue: crowded urban spaces.
In 1950, less than 1 billion people lived in crowded urban spaces; by 2050, more than 6 billion people will. This staggering projection is one of the many reasons why the 2016 Hult Prize "President's Challenge" of reducing poverty and overcrowding in urban spaces aims to promote compelling and innovative solutions that focus on economic inclusion. As a result, these initiatives should double the incomes of residents who live in some of the toughest conditions in the world through improved mobility and increased connectivity to people, products, services and capital by 2022.
Shanghai's regional winning team Synergy Global from BRAC University, whose members – Arafat Ahmed Rifat, Mirza Tanzim Sami, Mohammed Saadand and Tasneem Omar Ava—aim to "provide entrepreneurs a collaborative business platform which connects them to partners and capital goods, and vastly expands their market reach through a human network." The company launched its pilot program in Mumbai, India, where it has run for the past two months.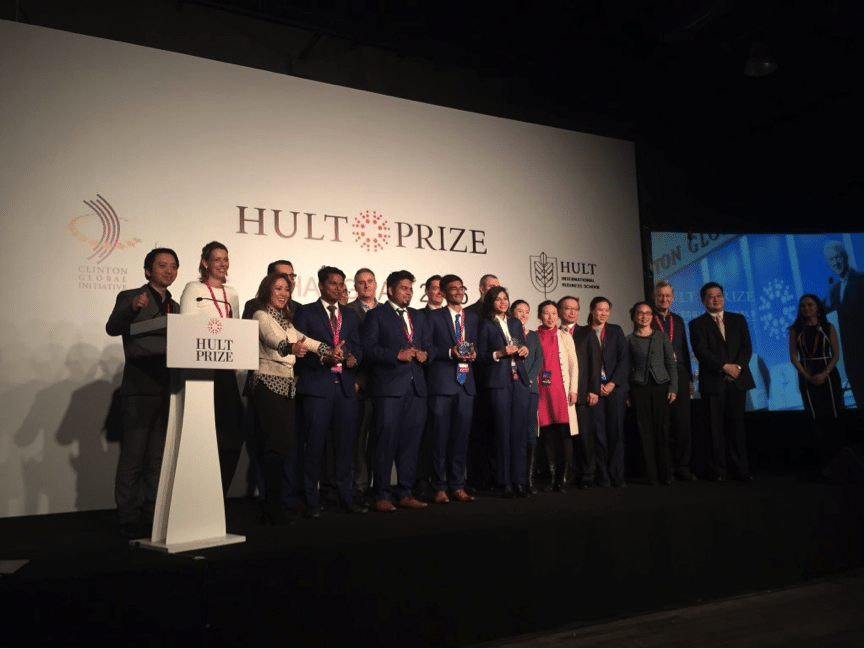 Dubai's winners, Louisa Ofosuah Obimpeh, Benardine Holdbrook Ghanson, Anna Agyirwa Aggrey and Paulina Nyamekye are from the University of Ghana.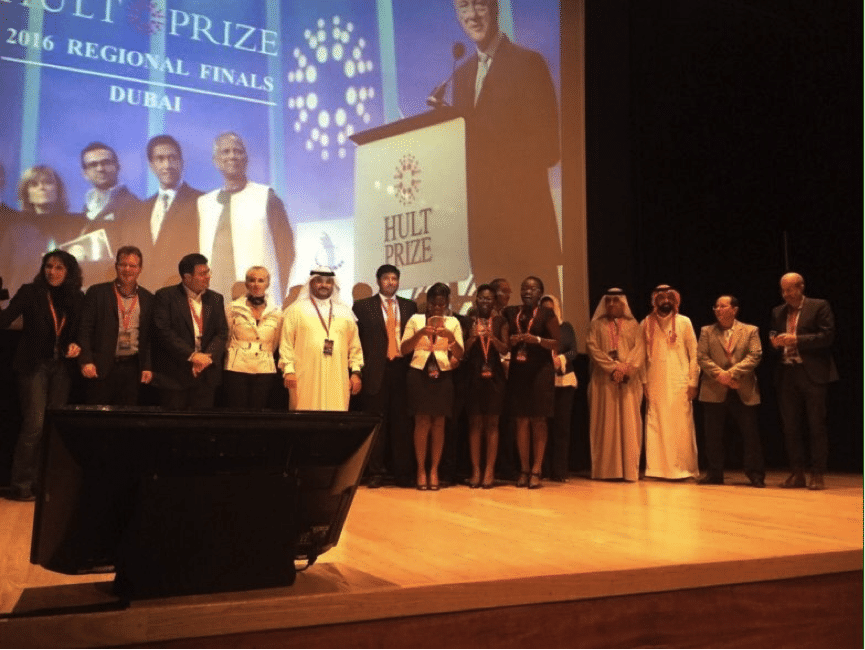 In London, SimPrints, a fingerprint scanner which enables community health workers in developing countries to access patient records through the touch of a finger, won the regional finals and was co-founded by 3 PhD students from the University of Cambridge, Daniel Storisteanu, Toby Norman and Alexandra Grigore alongside Tristram Norman.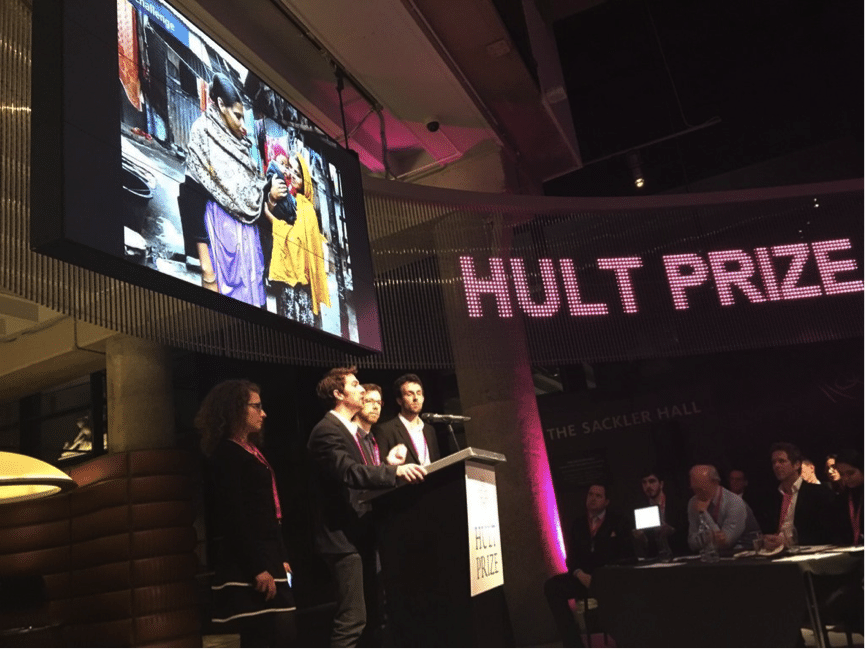 Team Magic Bus from Earlham College were crowned winners in Boston and Hult International Business School's team Musana, whose project you can read about here, were the San Francisco winners.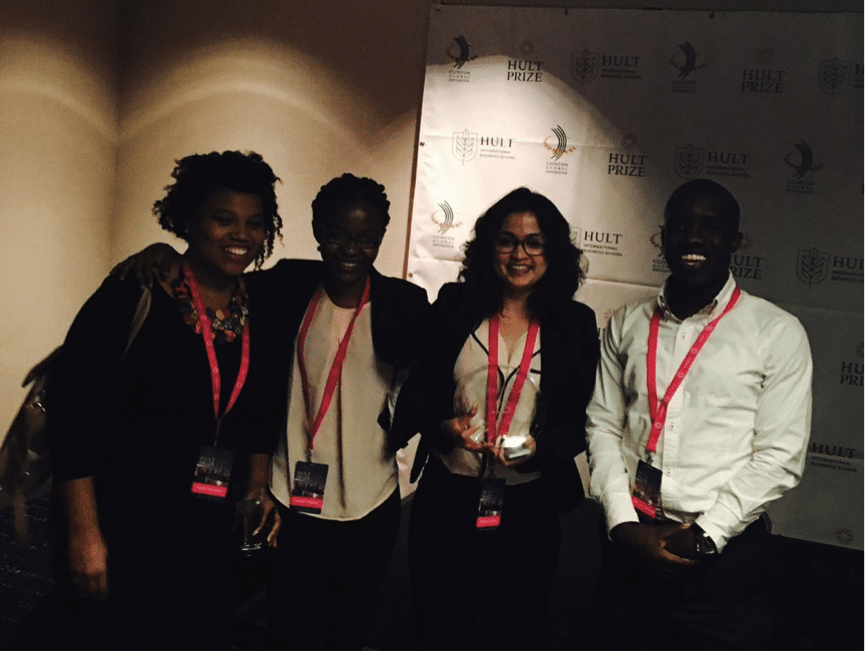 The winning team from each regional final will partake in the Hult Prize Accelerator Program over the summer before pitching their ideas at the Clinton Global Initiative annual meeting in September. The finalists are competing for 1 million USD in start-up funding.
Hult Global Ambassador and Hult Prize team and social media ambassador, Raissa Mendes left the competition inspired to do more.
"What started as a world-class competition has become a community of social entrepreneurs from every corner of the world, who, by example, encouraged each other to repeatedly take the road less-traveled, which despite being rather difficult and lonely, is certainly the most rewarding one. If there is a lesson to be taken away from this weekend, it is that passion is the one thing that can drive change."
---
If you would like to find out more about our business programs, download a brochure here.
---
Hult offers a range of highly skills-focused and employability-driven business school programs including a range of MBA options and a comprehensive one year Masters in International Business. To find out more, take a look at our blog Inspiring professors: Matt Gitsham is putting ethics at the heart of global business. Download a brochure or get in touch today to find out how Hult can help you to learn about the business world, the future, and yourself.
Related posts