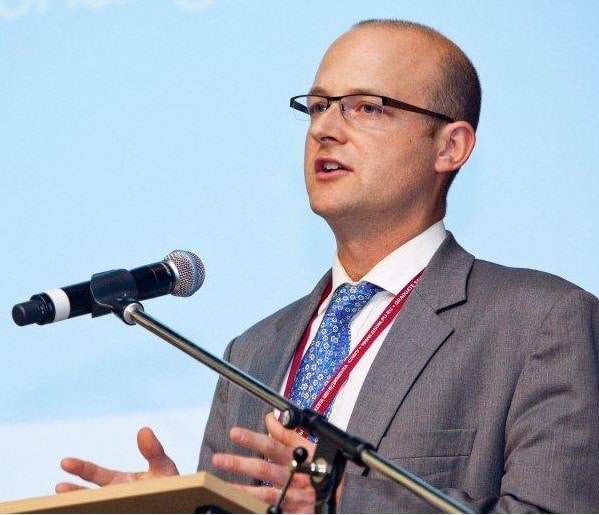 At Hult, our professors are at the leading edge of business theory and practice. Like our students, they come from all corners of the globe and have a diverse range of interests and expertise. In addition to conducting pioneering academic research, many Hult faculty members also run their own companies, support startups, or consult on strategy at leading organizations and for governments around the world. This insight and experience helps shape the courses they teach and feeds directly into the classroom.
One professor whose research and thought leadership has helped to shape our programs is Matthew Gitsham. A faculty member at Ashridge Business School since 2004, Matt is now the Director of the Ashridge Center for Business and Sustainability for Ashridge Executive Education at Hult. Not only is he leading in the classroom, he's driving research that is directly influencing business practice and informing government policy. Matt says:
"I think in today's world it's become clear that business leaders have a critical role to play in tackling global challenges—and business education and research are crucial for making that happen."
Making business better for the benefit of all
Matt is passionate about the role business can—and should—play in building a better and more sustainable future for all. This conviction is at the heart of his work as Director of the Ashridge Center for Business and Sustainability, which is at the forefront of developing sustainable business practice.
Issues like climate change, population growth, and economic uncertainty, which used to be the remit of governments and NGOs, are now becoming a key focus for businesses. Working in partnership with leading international organizations, Matt and his colleagues aim to not only help businesses perform better, but also to create more value for wider society. To accomplish this, they are developing production methods that are environmentally conscious, and focusing on fair trade and labor standards.
Collaborating with business leaders to build a better world
In recent years, a growing number of corporate leaders have championed a move towards more ethical and sustainable business practices. Matt is keen to see this trend continue to gain momentum, and much of his recent work has looked at how to be a successful and socially responsible leader in today's business environment. The research has been conducted in partnership with global networks like the International Business Leaders Forum (IBLF), the Academy of Business in Society (ABIS), Business in the Community (BITC), and Business Fights Poverty.
From John Brock, Chairman and CEO of Coca-Cola Enterprises, to Sir Mark Moody-Stuart, former Chairman of Shell and Anglo American, Matt has talked with some of the world's most successful corporate executives about how the role of business leadership is evolving. Using the experiences that have personally shaped the thinking of these business leaders, Matt and his collaborators have helped to create more effective training programs for tomorrow's ethical business leaders.
Matt's inspiring work in this area has been shared with a diverse and influential audience beyond the classroom and the boardroom—from St James's Palace to the World Economic Forum in Davos. One key report, Leadership in a Rapidly Changing World, served to inform debate at the 2012 Rio+20 United Nations Conference on Sustainable Development.
Matt explains the importance of sharing the findings of his research outside the academic community:
"Part of how change happens is by giving people the opportunity to engage with new ideas or the experiences of others and to reflect on the implications for them.

"Any chance to discuss research findings with influential groups is an opportunity to contribute to this process of change. Whether it's a meeting bringing together business leaders and policymakers, or business school deans and directors, or even talking in local schools with the leaders of tomorrow—they're all important."
Partnering with the UN to promote global collaboration on sustainable business
Because Matt's ongoing work is closely aligned with the principles and aims of the United Nations Global Compact (UNCG), he's been honored to work with them on a number of initiatives, including an in-depth review of its new platform for corporate sustainability, Global Compact LEAD. Formed of 55 organizations, LEAD is designed to challenge and support leading businesses to reach higher levels of sustainability, with a focus on issues including human rights, labor standards, environmental issues, and anti-corruption. To measure the success and impact of the LEAD initiative, the Academy of Business in Society, along with Matt's team, were selected to coordinate a review of LEAD in partnership with a network of global business schools.
Matt led this review, and the findings were presented to the UN Global Compact Board, which includes UN Secretary General Ban KiMoon and the CEOs of leading businesses from around the world. The research team's practical recommendations in light of their findings have gone on to inform the strategy of the UN Global Compact and helped to set the priorities of the LEAD initiative going forward.
Fighting back against labor exploitation and modern slavery
More recently, Matt has been part of a Hult-led research team working in collaboration with the Ethical Trading Initiative (ETI) to investigate how U.K. businesses are responding to the issue of modern slavery. Eradicating criminal and unfree labor is an issue Matt and his team are working to bring to light through their research. Incredibly, up to 77% of companies believe that there is a likelihood of labor exploitation at some stage in their supply chains. In response to this complex issue, the UK Modern Slavery Act came into force in October 2015.
The research team's Corporate Leadership on Modern Slavery Summary Report 2016, which profiled how well-known brands such as ASDA, Hewlett Packard, Nestle, and IKEA are taking action in light of the Modern Slavery Act, sets an example for other businesses to follow. The findings were presented on October 31st, 2016 at a launch event at the House of Lords, chaired by Baroness Young. This event brought together companies, government officials, and policymakers, prompting useful debate on how government and business must work together to tackle this problem.
Matt and the entire research team look back on the launch event with a great sense of achievement:
"It felt like such a privilege to be in that room and raise visibility on this issue. With these sorts of projects you always hope to have a positive impact, and it was incredibility rewarding to see such far-reaching conversations happening because of the research we've done."
The research continues to have significant influence. It has prompted one group of investors to launch a program of engagement on modern slavery with the companies they invest in and has been cited as evidence to encourage policymakers to introduce modern slavery legislation in other countries.
Creating impact closer to home: supporting sustainability at the Ashridge campus and inspiring students in the classroom
Matt's work positively influences how the Ashridge campus itself is run as a strategic and sustainable business. Ashridge has signed the Paris Pledge for Action following the UN Climate Change Conference (COP21), and the historic Ashridge House has made a commitment to significantly lower its carbon footprint. Along with relying on more sustainable energy sources, including renewable electricity, we focus on locally sourced meat and produce to stock the kitchen and create the meals that Ashridge has become renowned for.
Matt's research also has a practical impact inside the classroom, informing everything from graduate-level seminars to highly experiential leadership training programs at Ashridge. As a professor, his research interests inspire the courses he teaches, which include Sustainable Business Practice on the Ashridge Executive MBA for the Creative Industries, Global Human Rights on the Hult Bachelor of Business Administration program, and classes on several executive programs for business and government.
The theme of sustainability and responsible corporate leadership has become fundamentally embedded in our programs globally, helping Hult to prepare a new generation of socially responsible business leaders. "Business leaders need to recognize that tackling social and environmental issues can be a huge opportunity for creating value," Matt says. "But in today's world, making money is not the only role of a business leader—you also have a collaborative role to play alongside political leaders and civil society leaders to take the lead in tackling global challenges."
Thought leadership and recognition
Outside of his role at Hult, Matt is a Steering Group Member of the Principles for Responsible Management Education (PRME) UK and Ireland Chapter and an Editorial Board Member for the Journal of Corporate Citizenship. Recognized for his thought leadership on business and sustainability, he is a frequent contributor to industry and academic conferences and is widely published in the business and academic press. Matt has also been honored with The Aspen Institute's "Rising Star" Faculty Pioneer award for his outstanding leadership in integrating the principles of sustainable development into research, education, student communities, and corporate practice.
Want to find out more about Matt and his work?
Download a summary report of Corporate Leadership on Modern Slavery Summary Report 2016
Read his article The Changing Role of Global Leaders in Harvard Business Review
Follow him on Twitter: @matt_gitsham
Hult offers a range of highly skills-focused and employability-driven business school programs including a range of MBA options and a comprehensive one year Masters in International Business. To find out more, take a look at our blog Women who inspire. Download a brochure or get in touch today to find out how Hult can help you to learn about the business world, the future, and yourself.
Related posts