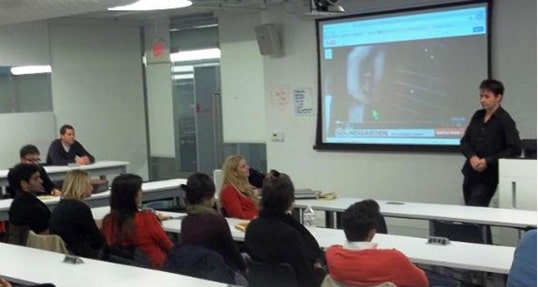 It's not every day that students have a chance to sit in on a casual conversation with a Google exec after class, discussing the future of search, marketing, and what it takes to work for one of the Bay Area's most sought-after employers.
But this was recently the case at Hult San Francisco, when James Kent, search solutions lead at Google, stopped by for an evening discussion that focused on finding your ideal job and how search works in marketing.
And it wasn't the school's administration who recruited Kent for a campus event. It was the Hult Marketing Club, an official school club made up of marketing-minded students who spend their hours outside the classroom connecting with interesting and inspirational local professionals, such as Kent, to add to their networks and potentially ask to visit Hult. Kent was a huge get for the group, since Google, says club president Mariam Giorgadze, is everyone's "dream company" to work at. The goal is to bring in people to talk about hot marketing-related topics (running a Silicon Valley business as an international student, scaling social entrepreneurship through strategic marketing), not traditional ones.
Many people have gladly accepted the group's offer to come to Hult. "Once we tell people we're international and have 97 nationalities, they're interested," Giorgadze says. Other speakers the club has brought to Hult include Kate Drane, marketing director at Indiegogo, and Nelle Sacknoff, global communications manager at NESsT.
The group not only works to host great guest speakers, but to meet valuable people with possible job opportunities months before they graduate and the job search officially begins. Members frequently attend networking events and conferences throughout the region and share new resources, marketing ideas, and contacts with each other.
Facebook is where the group promotes events and holds "meetings;" with crammed class schedules, they find keeping a constant conversation going online – as well as through email and texts – is the easiest way to stay in touch, making them a "virtual team," says Giorgadze.
The club has close to 90 members, although they don't have a strict membership policy. If students want to join, they can, and anyone is welcome to attend Marketing Club events.
Their next big thing for the club: MarketingCamp, a Saturday session for marketing professionals to share ideas and learn from each other in a casual, innovative setting. The Hult Marketing Club is hosting the camp at the Hult San Francisco campus on March 30, opening it up to Hult students as well as the general public.
The Marketing Club is one of 11 career-focused clubs at Hult San Francisco. These clubs are student-created and student-run, with the support of the Career Services department.
Kickstart your career right next door to Silicon Valley by studying at Hult's San Francisco business school. To find out more, take a look at our blog 24 Hours at the Hult San Francisco campus. Download a brochure or get in touch today to find out how Hult can help you to learn about the business world, the future, and yourself.
Related posts