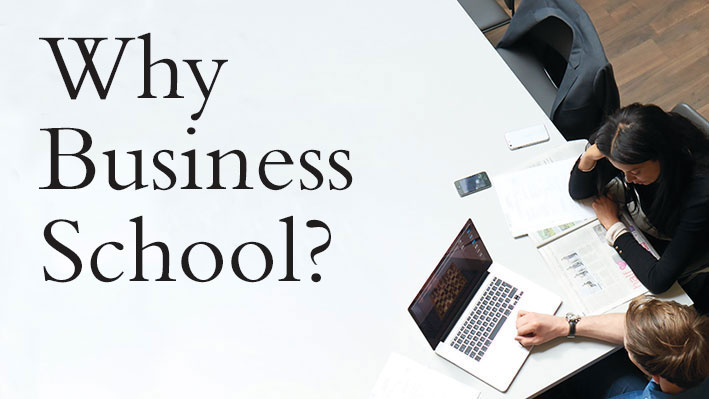 Written by Alik Jebejian, Global Ambassador and Masters in International Business student Class of 2018.
I remember not long ago I had to make that pivotal decision: should I continue my graduate studies in a business school or should I shift towards something else, such as a Masters of Art or Science? At this point, I had just graduated from the Olayan School of Business at the American University of Beirut as a Business Administration student.
B-school or not B-school?
It might seem like an obvious decision to continue and go on to a graduate business school, but it wasn't and here are some reasons why:
I thought pursuing a graduate degree in a business school would mean that I had to work in the finance and banking world, which I wasn't so sure about back then.
I thought pursuing a graduate degree in business would mean that I could never become an academic or engage in research.
I thought pursuing a graduate degree in business would mean that I would be conventional and would become a cliché of a 'business type'.
If you're anything like me, a third culture kid, who likes to have hobbies, spends most of her time reading, traveling, and meeting new people and at the same has a passion for business studies, you are going to want to consider the aforementioned factors before entering a business school.
Why choosing the right business school is critical
Having thought about business school, I realised that the reasons I stated above are not necessarily true and that's why choosing the right business school is crucial.
1. Doing a master in a business school means that you need to work in a bank or for a consultancy firm.
FALSE: That is not necessarily true if you choose a business school that offers opportunities for you to specialize and study across varied topics and take specializations, such as entrepreneurship, social entrepreneurship, innovation, project management, marketing etc. A business school that also provides the right platform for you to grow in those respective areas in order to enter those fields once you finish your degree.
2. Doing a master in business meant that I could never become an academic or do research.
FALSE: A very common misconception about business schools is that business students don't do as much reading or researching as other more theoretical majors. Actually, business students read and learn about research methodologies as much as other students do. The only difference, especially at Hult, is the purpose of the reading and research is to put it into practical use.
3. Doing a master in business meant that I would become a 'business' cliché.
FALSE: This is where diversity comes in. And I am not only talking about diversity in nationalities, but diversity in culture, experience, and talent. If you choose a business school with a diverse environment it will also enables you to express yourself freely and on many different levels. It allows you to grow as a unique individual, professional and as a member of a larger community.
More than just a business education
As you can see, I did continue my studies at a business school. At Hult International Business School to be exact. Hult was the school that disproved many of the prejudgments I had built up in my head to be true about graduate business schools.
Build your skills, not your résumé.

Sheryl Sandberg, COO of Facebook
Hult will not only give you a master's degree in business but also teach you how to navigate in an ever-changing world. The last thing you want to be in this world is obsolete, as Brad Jones, a NASA Admin, puts it: "By the time you're a junior, what you learned as a freshman is obsolete". And rightly so. In her speech to graduates at the Harvard Business School in 2012, Sheryl Sandberg, Facebook COO, said: "Careers are not a ladder; they're a jungle gym… look for opportunities, look for growth, look for impact, look for mission. Move sideways, move down, move on, move off. Build your skills, not your résumé." And that, if you ask me, is what Hult is all about.
---
Download a brochure to find out more about Masters programs at Hult.
---

Alik Jebejian is a MIB student and Global Ambassador at the Hult London Campus. Outside of studying, Alik practices her flute, as she has been doing for the past 15 years. Alik speaks six languages which enables her to do what she loves most: traveling, meeting new people, and experiencing new cultures. Follow Alik to see more of the exciting student life at Hult London on her Instagram page.
Make the most of what your career has to offer with a Masters in International Business from Hult. To learn more, take a look at our blog Advice from a serial entrepreneur: Meet Hult masters alum Luca Rubino, or give your employability a huge boost with an MBA in international business. Download a brochure or get in touch today to find out how Hult can help you to explore everything about the business world, the future, and yourself.
Related posts