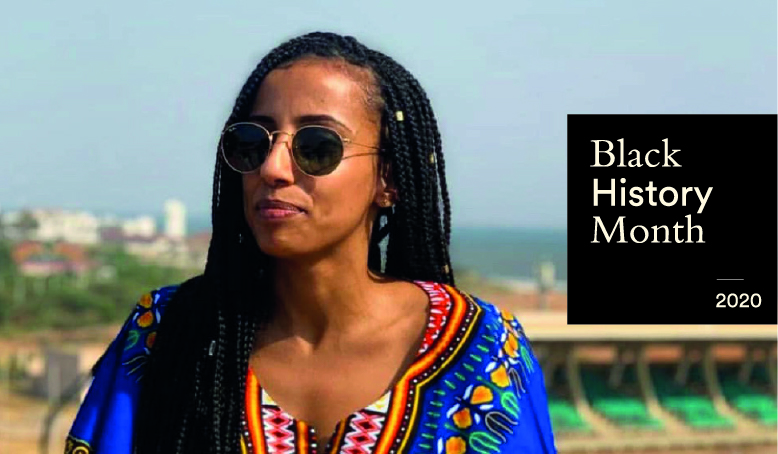 To mark UK Black History Month we've asked our faculty, students, and alumni to tell us about someone from the Black community—past or present—who has been a big influence in their lives and deserves recognition. In this fourth and final post, we catch up with Selam "Lami" Ibrahim, a graduate of Hult's Masters in International Business program, who tells us why we shouldn't confuse Black Lives Matter with Black history and salutes strong Black women everywhere.
What has Black History Month meant to you up to now?
Growing up it was this one-off date in the school year; it was very light touch and gave a very underrepresented education on black history—predominately limited to slavery. So if I'm honest, it hasn't meant very much . This year however, in my view, Black Lives Matter has given a lot more attention to how we engage and embrace with Black history in its entirety. But I don't see Black Lives Matter and Black History as connected. The narratives and objectives are quite different: one is about tackling systemic racism and oppression (present and future), the other is about history and celebrating Black excellence (the past). The two shouldn't morph into each other.
I don't see Black Lives Matter and Black History as connected.
For me, what this year has done is serve as a reminder and that Black culture, business, and artistry should be celebrated every day of the year. This will uplift black people to be proud of who they are, challenge the very dangerous stereotypes that exist, and also invite people to truly learn about the truth and beauty in our culture. We and our allies should be pushing for this so we can one day live in a more equal world.
How has your background influenced your journey to date?
My family is originally from Eritrea, in east Africa; they left due to the war back in the '80s and I was actually born in Saudi Arabia. My parents then moved to the UK in the hopes of giving my siblings and I better opportunities. I've always understood my roots and the importance of community from a very young age. I grew up in in central London which meant I had the privilege of being surrounded by loads of different ethnicities and have always seen the value in diversity and multiculturalism.
In terms of my career, I've always been a go-getter and followed my interests. That's never been a straight pathway and so I've jumped around from corporate law to international development to live music, the not-for-profit space, then finally landed into corporate marketing where I have been for the past four-to-five years.
However, my commitment to the nonprofit and social impact sectors is still very much there. I use my platform in the private sector to channel skills, funding, and other resources into causes that I'm passionate about. Its an incredibly rewarding position to be in; to be able to build a corporate career and yet also be able to open the doors for others. This was a big lesson for me that you can be successful and do good—I thank both Hult Professor Joanne Lawrence and former Landor CEO, Lois Jacob, for showing me that.
You can be successful and do good.
Who are inspirational figures to you, in the Black community?
I'm extremely lucky to have been raised with a handful of women I really respect and admire. It might be cheesy and cliché but my mum, sisters, and best friends are all incredibly strong women who inspire me. They have all overcome so much, live with true integrity, and are genuinely great people—especially my mother who has instilled so many important lessons in me. There's also Catherine; a young ambitious student in Nairobi who is one of the beneficiaries of our Together For Her program in Kenya. She's an extraordinary character who's been dealt a lot bad hands in life yet is the most radiant and positive person I've ever met. Her strength and resilience empower me.
Finally I want to give homage to all the black teachers, mentors, and leaders that I've had the opportunity to know. Beyond that, every successful black woman, ever—I salute you!
How do you carry their inspiration with you in your daily life?
There are two strong red threads that run deep for me—the importance of education and self-love. All of the doors that have opened for me, or experiences I have been fortunate to have, have all came from my investment in my education.
Self-love is another core value that I couldn't stress enough to Black women to remember and practice, and to teach to young girls. Discrimination is real and mean. It can affect a person's confidence, outlook on their potential, and even their mental health. Practicing self-love is our first line of defense and can be a real game-changer in terms of pushing your potential and knowing what you can achieve.
The women in my life are brave and stand strong for what they believe in. In my current role at PayPal, I've really stepped up my efforts to be a champion for racial diversity and inclusion and will continue to bang the drum to our leadership to ensure we act and don't just pay lip service. I'm very proud and grateful to say I work at a company who values this and has joined the fight to advance racial justice.
Discrimination is real and mean.
What does "giving back" look like to you?
In one sense, on a very local level, I'm often a bridge for people in my network whenever they're in need of connections or support. I also devote a lot of time to mentoring young, aspiring students with career advice and CV/interview workshops.
But I'm also quite conscious that my journey started outside of the UK and my life could have been very different had we not moved here. Back during an overseas volunteer programme in Kenya with VSO—one of the UK's largest NGO's—I realised the power of education and how vital this was to tackling gender inequalities.
As a result we established a project there called Together For Her, in partnership with Femme International, to keep girls in school and and tackle period poverty. We started in 2016, with about £300 and a WhatsApp group of 10 of my close female friends; we've now reached over 3000 girls. We've provided vital workshops to empower the girls and provide safe, sustainable sanitary solutions to safely manage their period—a basic right that unfortunately is severely underserved and has been a major global issue. This is just the start; the goal is to grow the project across Kenya, Tanzania, and hopefully one day Eritrea.
---
Read the first, second, and third posts in this series for UK Black History Month for more insights and inspiration from Hult students, alumni, and faculty.
Selam Ibrahim
Lami is a global marketing and project management professional with experience across the Education, Music, FinTech and International Development sectors. Currently working for payments and tech giant PayPal, Lami works within the Growth Marketing division. She's committed to social impact and also leads several non-profits initiatives here in the UK and overseas: Together For Her x Femme International, PayPal GIVES and Amplify, Black Employees @ PayPal.
Related posts