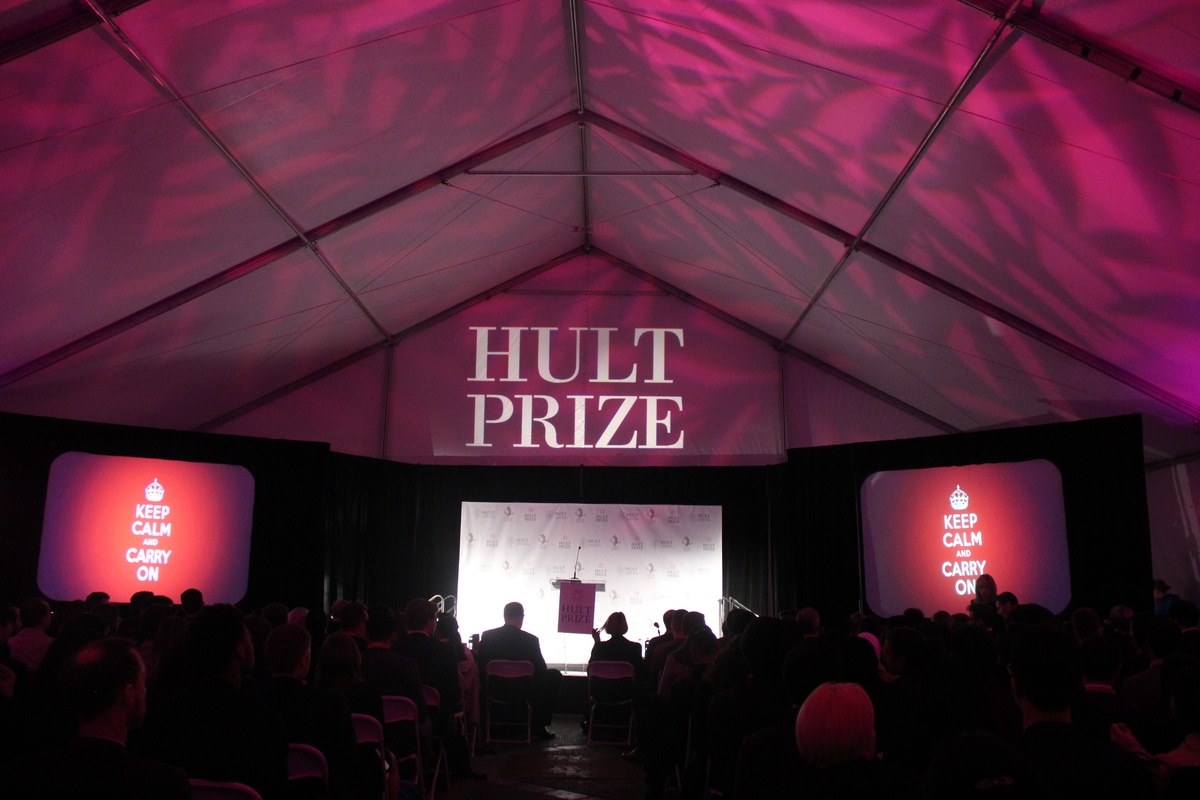 Written by Alan Pierce, Master of Social Entrepreneurship student, San Francisco student, class of 2016
Over 60 teams from 5 different continents traveled to Hult's San Francisco campus for the regional finals of the Hult Prize. But by the end of the day it was the hometown campus team that won a spot in the finals in New York. Amidst a very strong field, Team Musana of Hult San Francisco emerged as the judge's clear choice to be one of six global finalists for the ultimate million-dollar prize.
The two-day event brought together dozens of volunteers, inspirational speakers, accomplished professionals as judges. As a volunteer on the social media team I captured the sights and sounds of the event, from setting up registration to the final celebration, and all the excitement in between. This blog is a glimpse behind the scenes of that electric atmosphere.
Day 1
"We're excited to be here, to be on the ground. It's hard to believe the day is finally here." This sentiment of team members from the College of William & Mary captures the emotion of Friday afternoon as teams arrived and registered, and began to mingle with one another.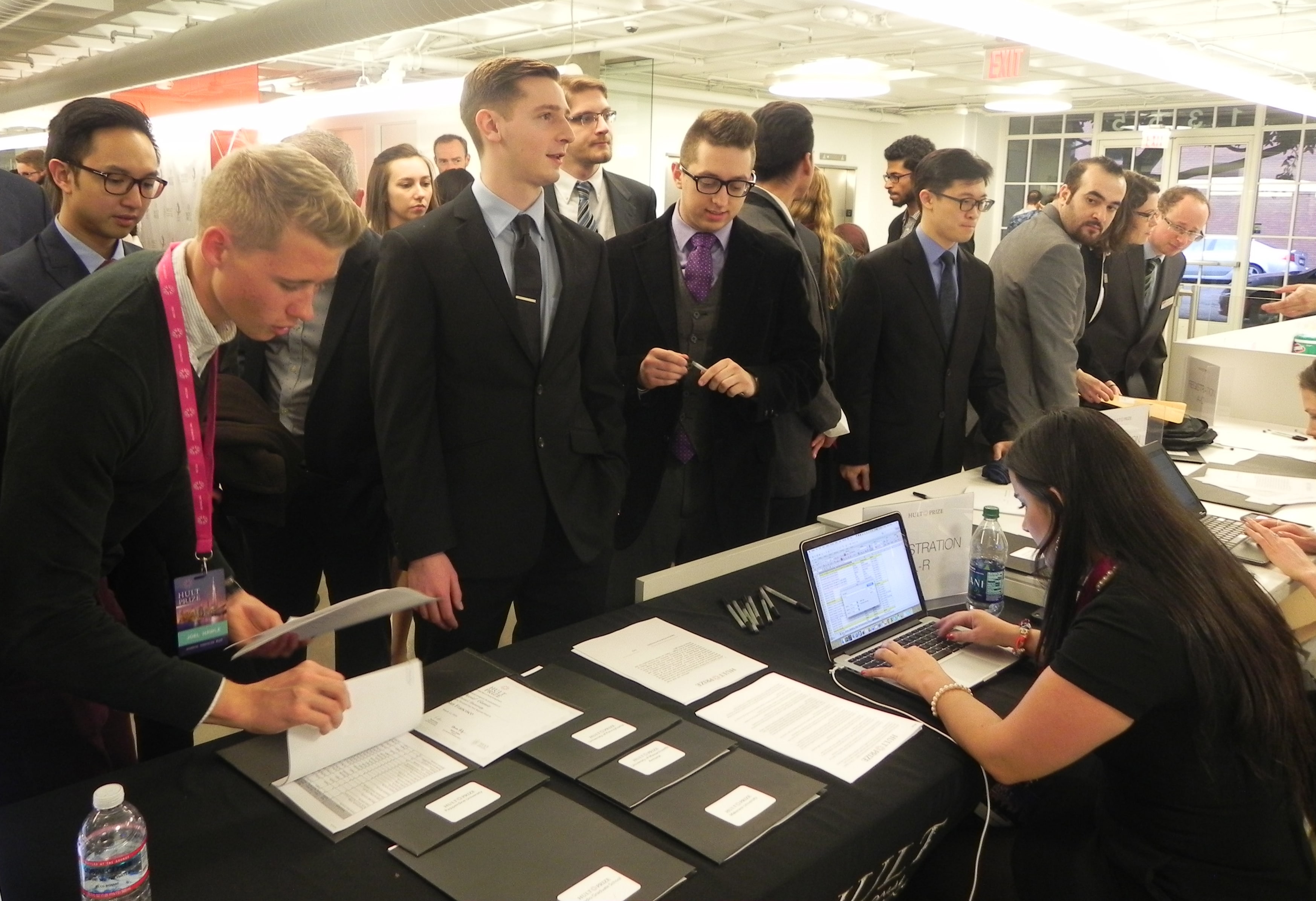 Some teams had traveled from as far away as Nigeria, Australia or China while others had driven from nearby cities in California. I talked with the teams as they arrived and most said that nerves hadn't settled in – there wasn't time to feel nervous yet. The flash of cameras and a red-carpet atmosphere kept those feelings at bay for the time being. Indeed, pride was the most readily apparent emotion, evident in the team photos of Mexico's Universidad Autónoma de San Luis Potosí and Uganda's Makerere University.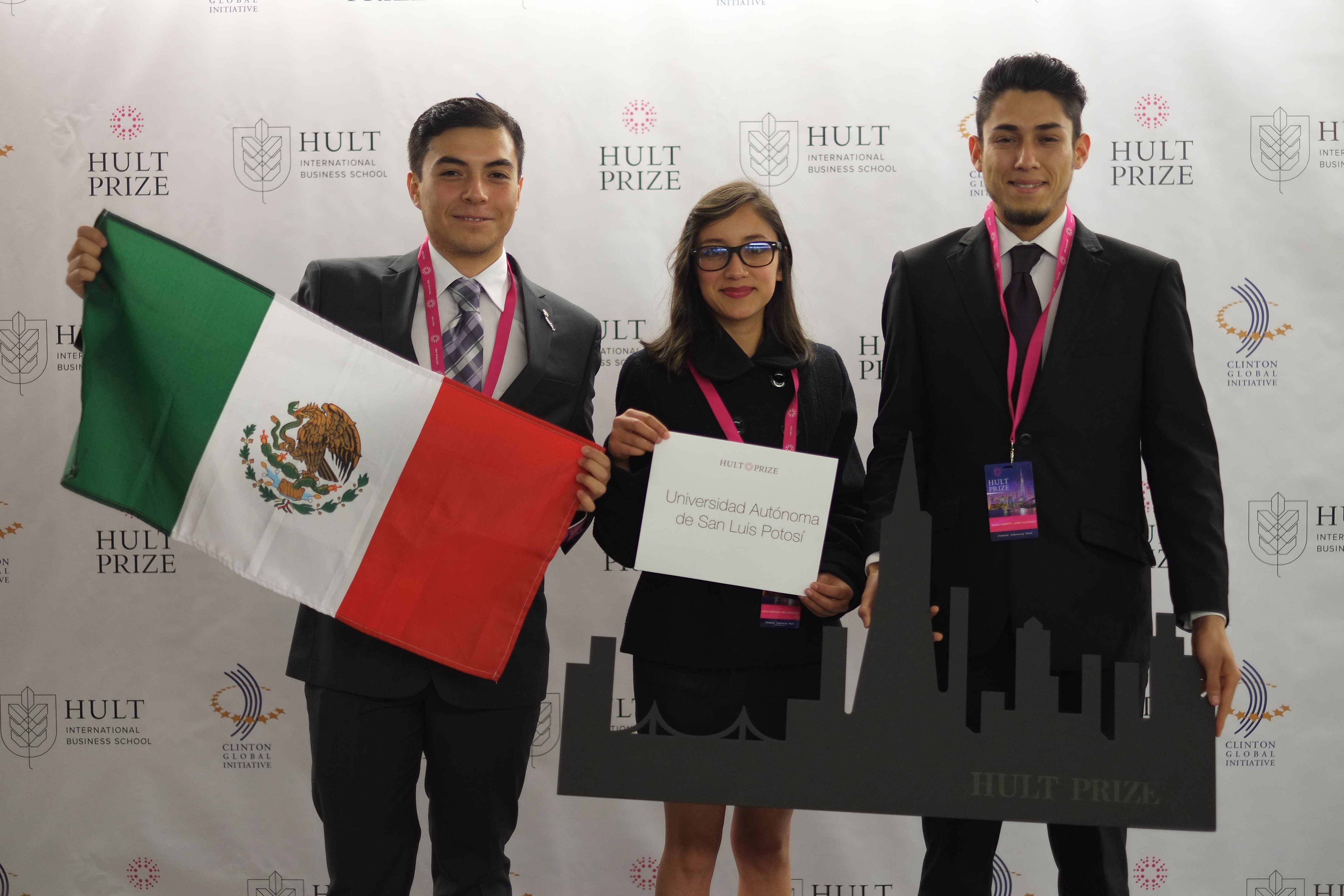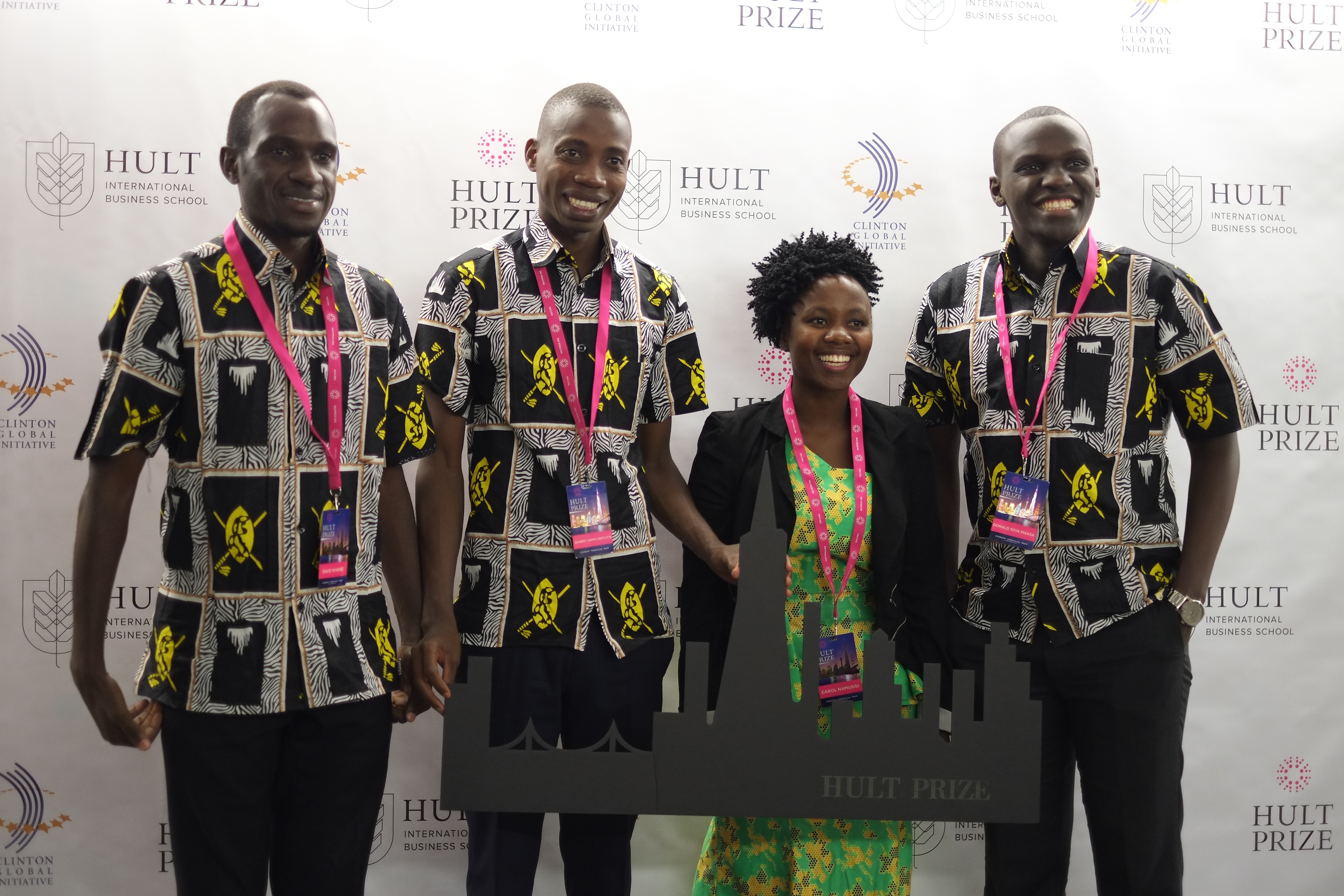 After registration teams headed to their seats for a welcome from Hult Prize leaders, and a series of inspirational speakers. One of the speakers, Taylor Scobbie, a member of the winning team from last year's Hult Prize, offered sage advice to the attentive crowd. On his experience with the Hult Prize he frankly stated, "We failed our way to success. We replaced bad ideas with good ones. Stay resilient and keep trying." While the advice came too late for teams to adjust pitches it aligned with passionate remarks made by all the speakers that called for teams to persevere no matter what happened that weekend.
Following the insightful talks, teams headed to a networking reception to get to know the vibrant community they were now a part of. I spoke with teams about why they were here, their thoughts on social entrepreneurship and Hult Prize, and what they would say to those thinking about participating next year.
The team from Vanderbilt called for the "integration of business in solving poverty issues," with the affirmation that, "Even with social impact businesses you need to run it as a regular business – you need to be able to scale." Members from the College of William & Mary spoke to the people side of social entrepreneurship, "One of the most powerful things about social entrepreneurship is the focus on stakeholder engagement. Empowering communities creates more sustainable models."
Clear to me in talking with the participants was the fact they were themselves now a part of an empowered community. A diverse team from Duke with backgrounds in neuroscience, environmental studies, and economics spoke to this empowerment, "We believe in the cause. That's what matters. If you've ever thought of doing something this platform allows you to do it and to do it in a big way."
They later would be on stage as one of the six finalists for San Francisco. Prior to the announcement of the regional winner they told me, "We're excited to be a part of it. Being finalists gives us confidence to move forward with our idea, no matter what happens now."
The evening festivities eventually faded and teams returned to their hotel rooms, back to final pitch preparation and the onset of a likely fitful night's sleep. Well, most teams did. Below, new friends kept their minds free of pitch day for a little while longer.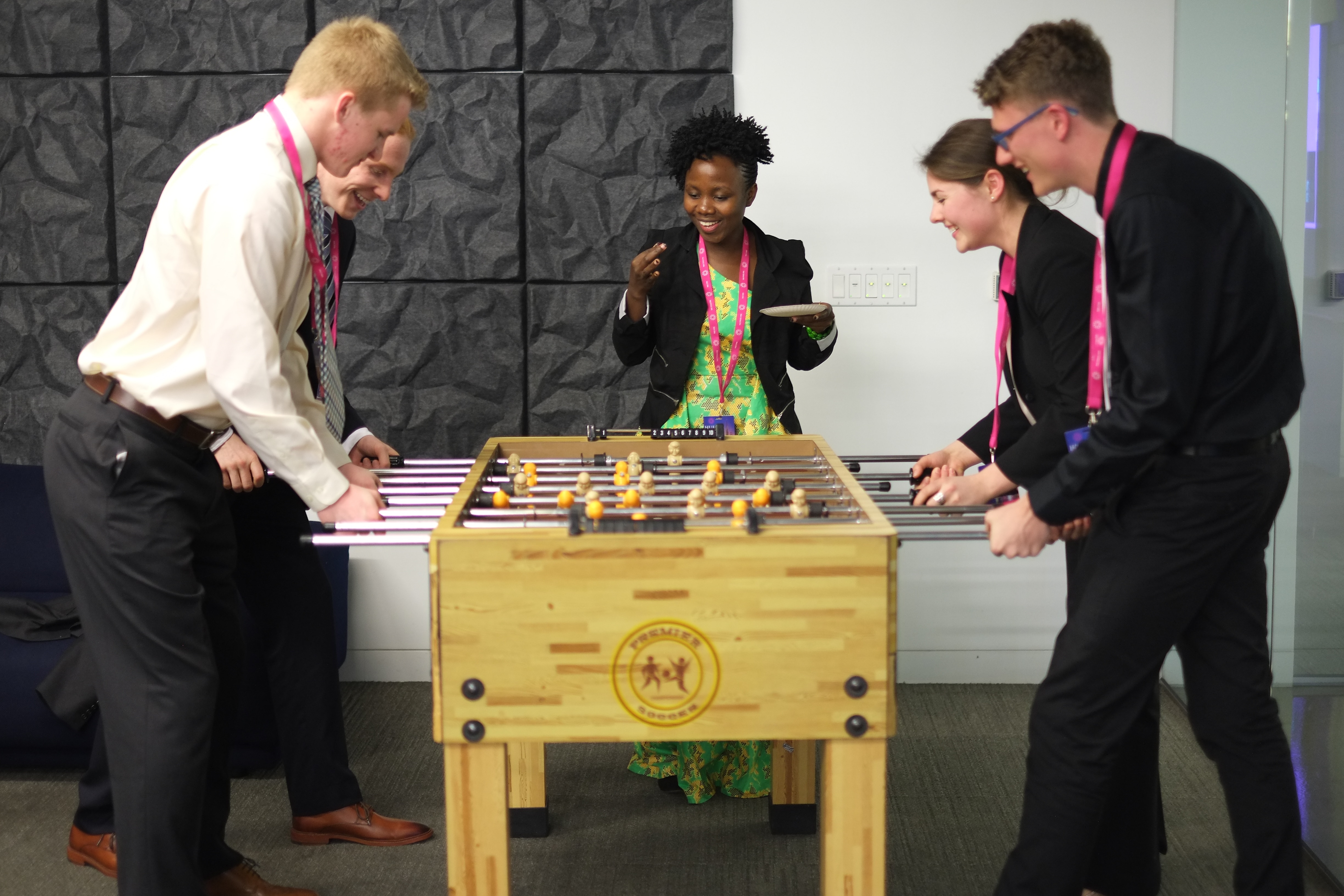 Day 2
At 8am on Saturday morning volunteers had already been on campus for an hour setting up, readying the day for over 60 business pitches to be whittled down to one regional winner. Teams started arriving and huddled in study spaces, judges chatted in their rooms and the tech crew made final preparations for a smooth day.
The structure of pitches involved three separate large classrooms in which morning teams would enter, one at a time when called, to pitch their idea for six minutes and then answer four minutes of questions from the judge panel. Teams from the afternoon pitch sessions watched all the proceedings. After morning pitches were completed the teams that had watched had the opportunity to give feedback about the pitches. Then roles switched and the teams that pitched in the morning became the peer panel watching all the afternoon pitches.
The energy on campus that day moved with a different frequency compared to the day before. I watched participants pacing, mouthing the words to their presentations and gesturing their hands in well-rehearsed movements. Others seemed quite at ease, not wanting to practice any more. Still others were somewhere in between, a mix of anxiousness and readiness. A team from the California College of Arts told me, "We didn't get much sleep last night. But we're very excited that the day is finally here." The following images capture some of these understandably mixed feelings.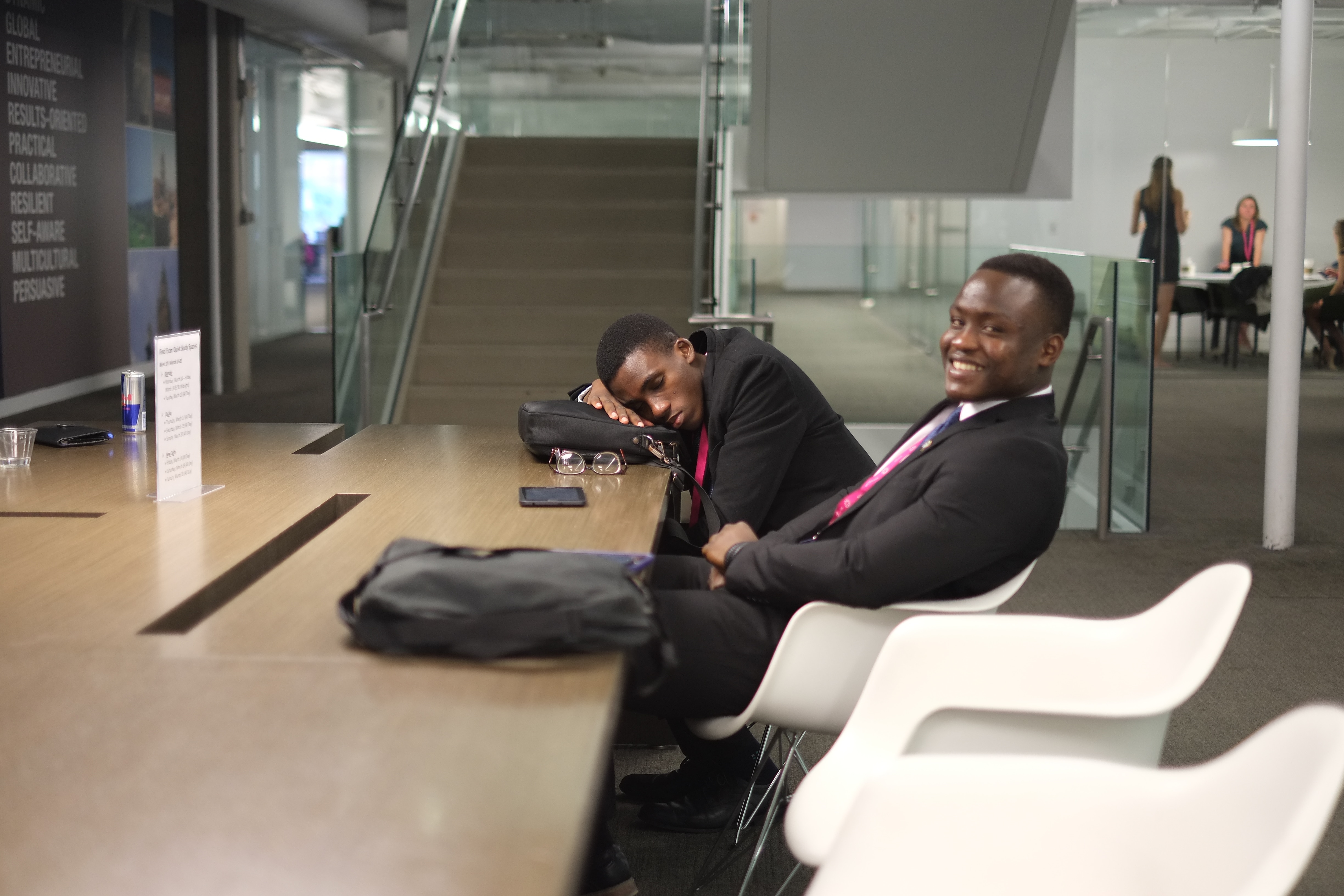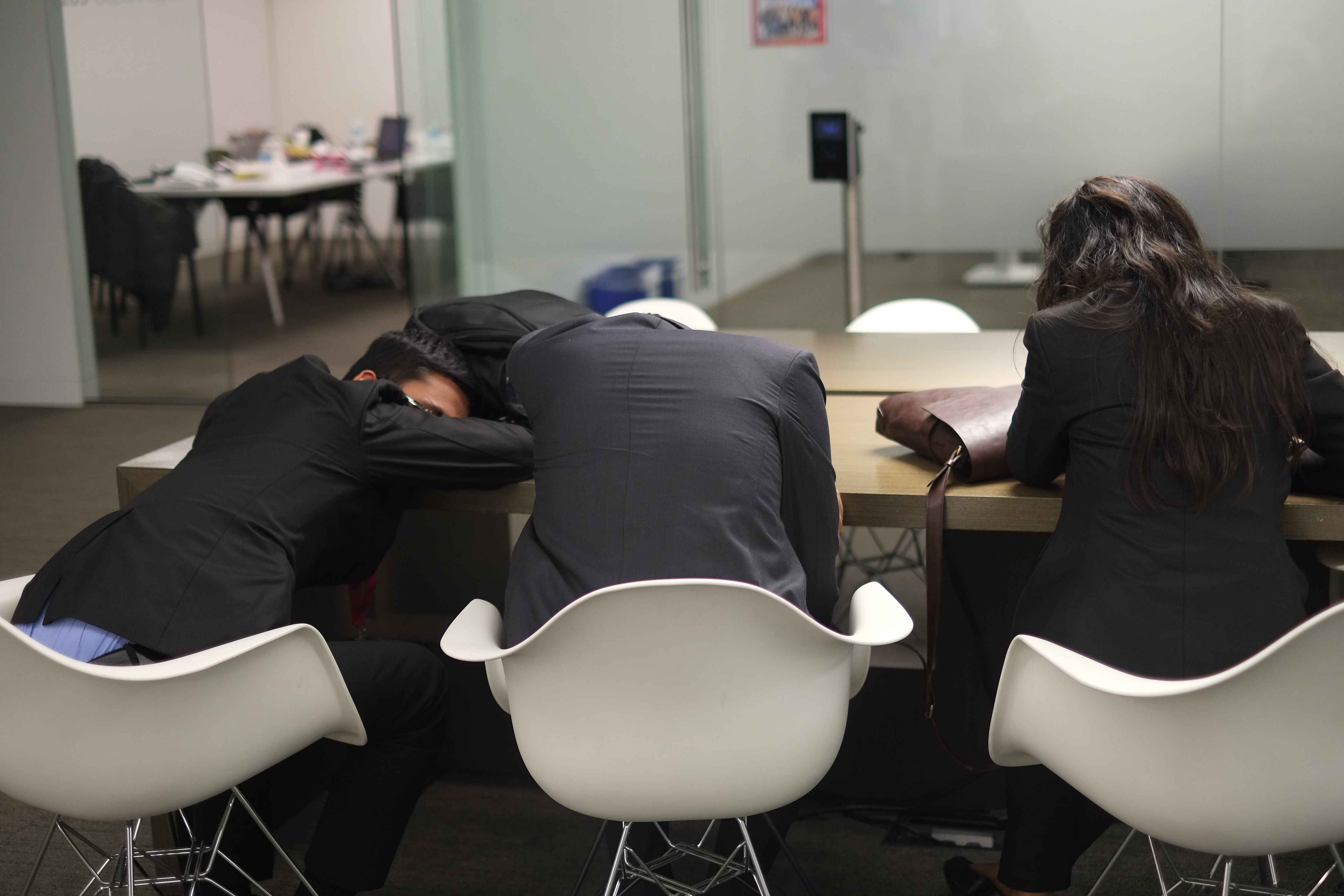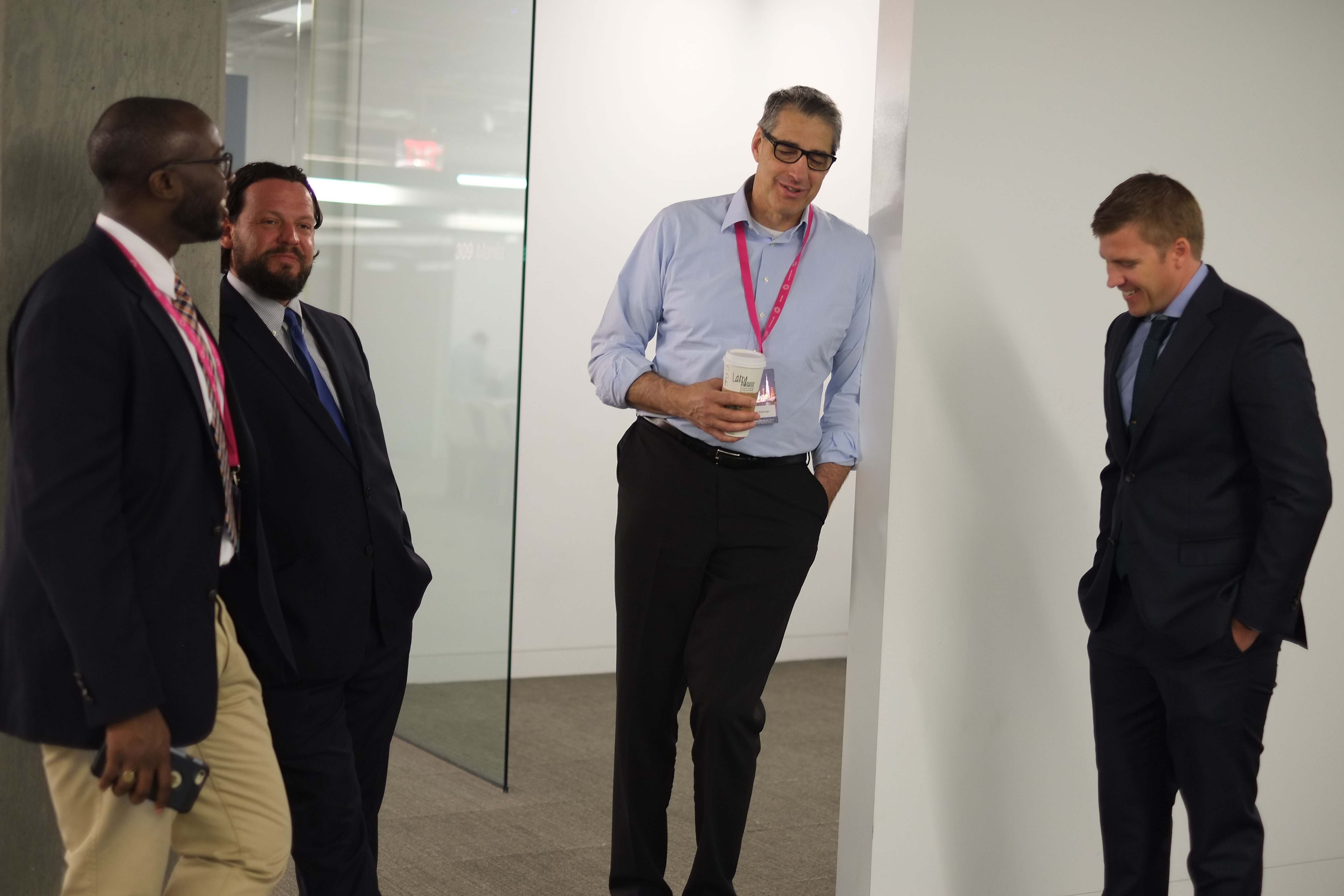 Some of the best moments on this day were immediately after pitching. Teams emerged from the room ecstatic, high fiving, and hugging. And then relieved, yet earnest, conversation followed. Most of the discussion revolved around the judges' questions and how well they thought they answered them. One team exclaimed to me, "We had so much fun! Somehow we delivered our best presentation. We're enjoying every moment of this."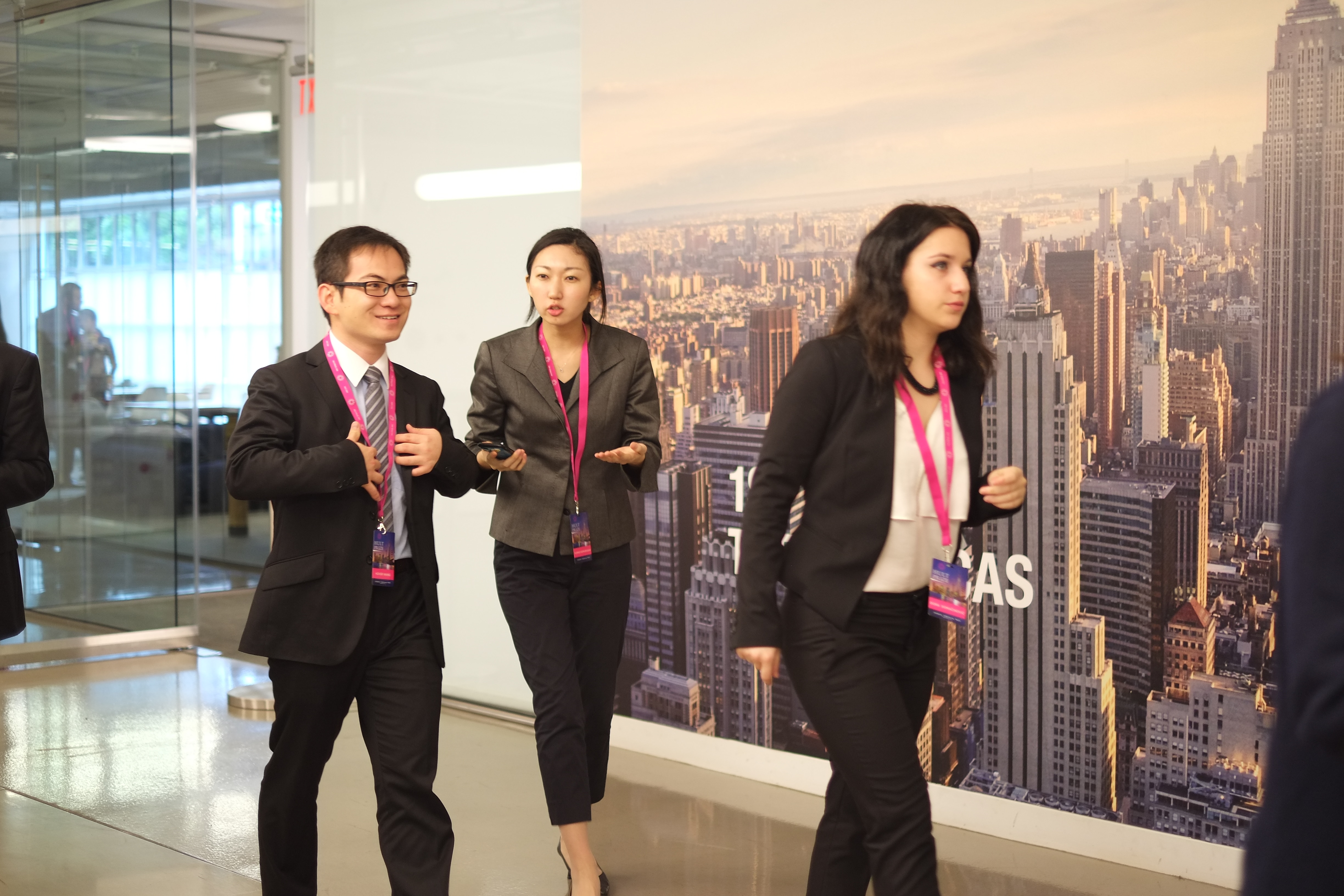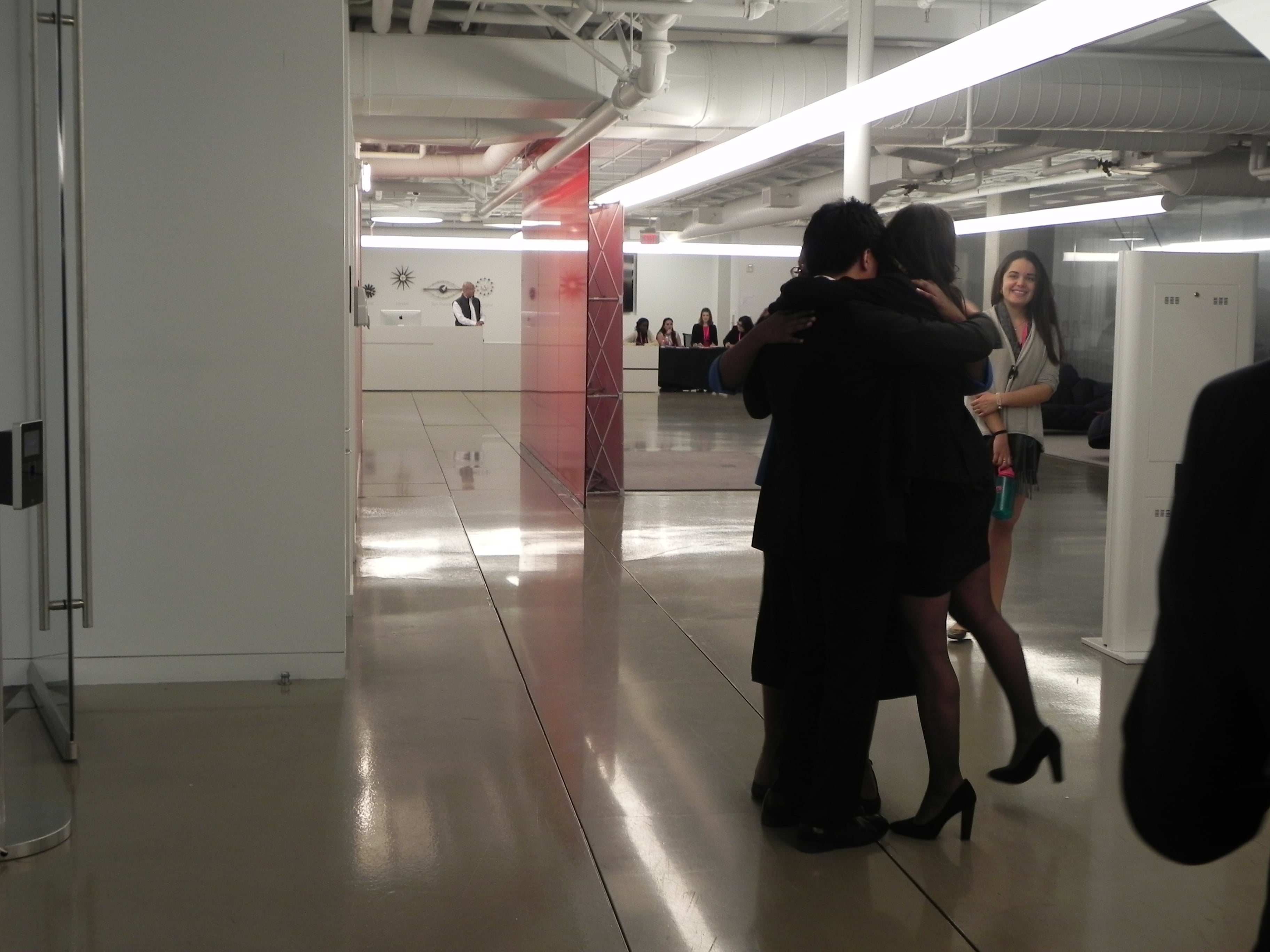 While I couldn't be in the room to see the pitches themselves, some of the volunteers had positions in the room. One volunteer, a Hult San Francisco student who was a room manager and watching the pitches, remarked, "The judges have been quick to address gaps in the presentations. But from what I have seen this morning the presentations have been very high quality."
The day moved slowly forward through the afternoon until it was finally time for the judges to reconvene and deliberate, and for the participants' waiting to end. The waiting offered an opportunity to connect with one another, for teams to share in their process and be inspired by one another.
This part of the experience was a highlight for most of the teams I spoke with. The team from University of Massachusetts Amherst shared, "It's about the people. I've met people from Uganda, Australia, around the world. This has been the best part. So many amazing people wanting to connect. The community is amazing here."
Eventually, teams made their way across the street to the massive tent structure that had been built. Here, the final San Francisco six would be announced. Upon each announcement that team would deliver the pitch one last time in front of every judge, participant, and volunteer for a chance to be the San Francisco regional winner.
After a video introduction featuring President Bill Clinton, and further welcoming talks from Leticia Gonzalez-Reyes (Regional Director at Hult Prize), keynote speaker and CEO of Stand, Eric Harr, took the stage. He congratulated all the participants and encouraged them all to bring their business ideas to reality, no matter the outcome of the night's events, "I'm going to ask each one of you that you persevere with your dream because the world needs you."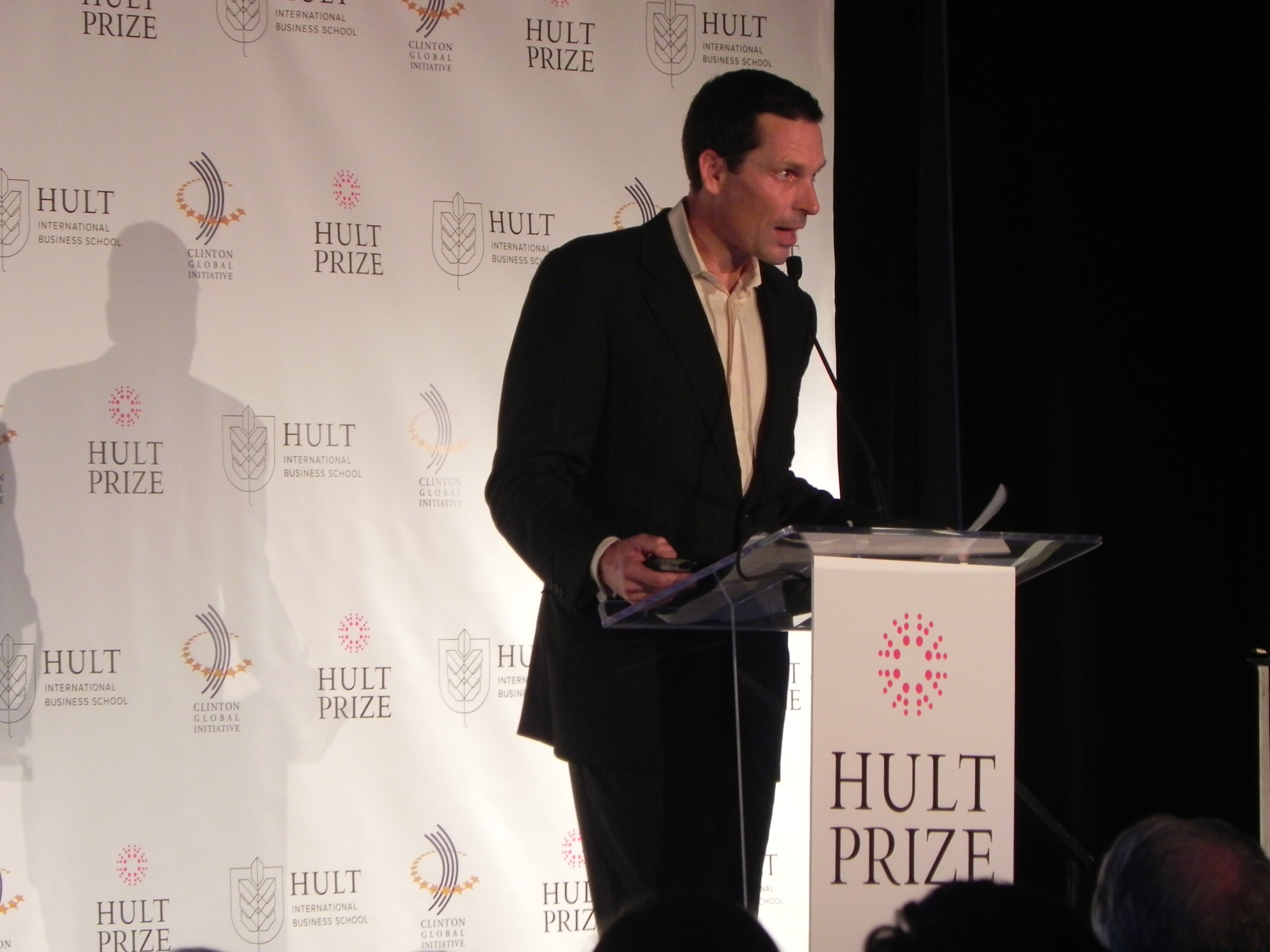 His rousing speech raised the energy of the room but with the imminent announcement of the first finalist, a hushed anticipation soon returned to the crowd. A judge from each of the three rooms announced one winner at a time. With each winner came a resounding round of applause and then a final pitch from that team. The strong finalists included teams from: Pepperdine University, German University in Cairo, Tecnológico de Monterrey, Harvard University, Duke University, and Hult International Business School's San Francisco campus. Business ideas ranged from tackling joblessness, to food waste and accessibility, to providing better energy and business infrastructure to informal economies in Africa.
Most of the finalists had already completed a significant amount of market research, customer validation and even comprehensive testing of prototypes. After the sixth pitch everyone moved back on campus for the evening celebration–everyone, except for the judges. They had an hour to deliberate over the who they would send to the global Finals.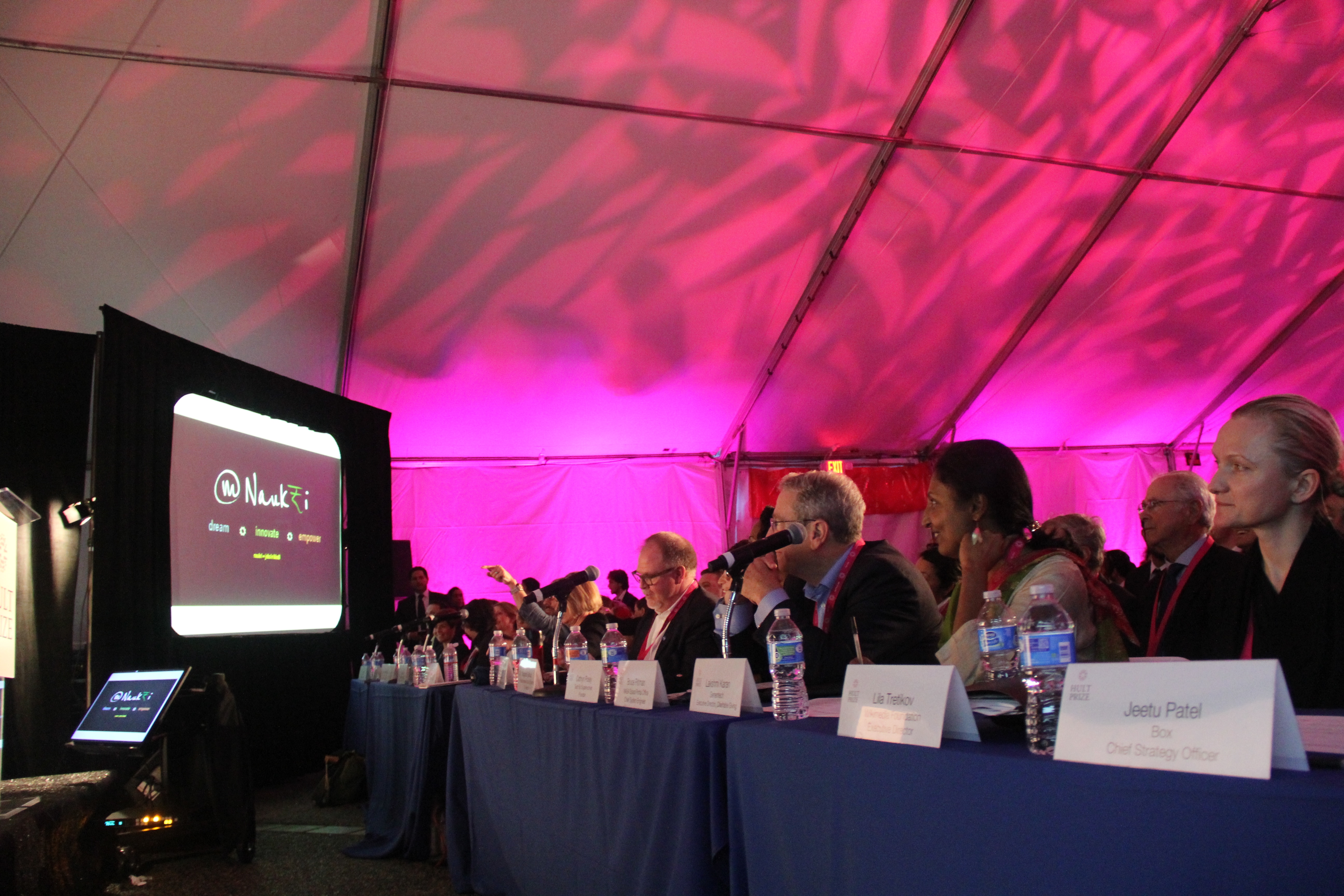 Campus had been transformed from an academic environment to a festive atmosphere with drinks, food and ample space to commiserate with new connections and to forge new ones.
It seemed like the celebration had just begun when the lights went up and the judges walked up the stairs. A crowd formed around the stage platform and Eric Harr was introduced once more to announce the winner:
"We went through this, we checked all the boxes, we looked at the criteria, we did all the head stuff. And I think at some level we as human beings know on a gut level, we know something great when we see it…and so it came down to what's the gut home run. So without further ado I want to just say from the bottom of my heart, I want to welcome and congratulate, Musana."
Following the announcement and the pandemonium of excitement from the crowd, team Musana, three Master's of Social Entrepreneurship students at Hult's San Francisco campus, received their plaques and the microphone for their own moment of stage time as the winners of the regional competition.
Speaking on behalf of her teammates Keisuke Kubota and Natalie Bitature, Manon Lavaud thanked the Hult community in San Francisco, the faculty, other students, and particularly her peers in the Social Entrepreneurship program, "It would not be possible without all of you who dream big, expect big, and achieve big," she said.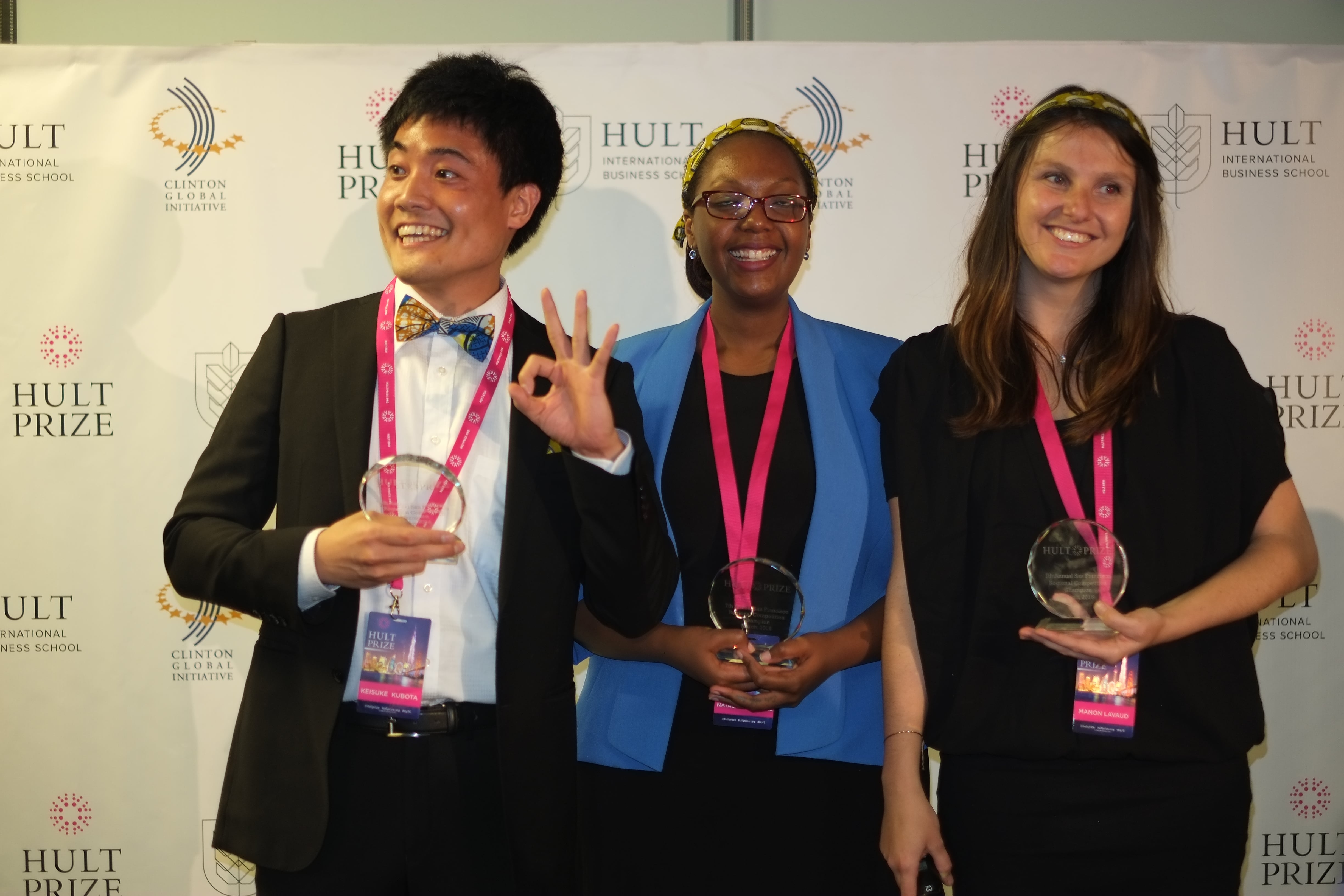 The Dean of the San Francisco campus, Mona Dhillon, reiterated Ms. Lavaud's thoughts about the Hult community, "There was so much student support for them on this campus, from their program, the MBAs and
others as well. Seeing the programs come together like that, teaching and mentoring, I'm most proud of them tapping into this community and for the community responding in that way."
This support came in many different forms, including student and faculty feedback on their pitch which they practiced nearly every day on campus in the weeks leading up to the competition. One of their classmates also leveraged his fundraising app, Atlas, to help raise money for the team to conduct fieldwork in Uganda.
On why they won and what differentiated them, Dean Mona continued, "They had a real story to tell. They captured everyone with something real."
Indeed, Team Musana's pitch not only captured the real, smiling faces and conversations of the people in Uganda they aim to serve (they traveled there for field research in February), but also the cohesiveness of their team.
I spoke with them after acceptance speech and when they were done hugging what seemed like everyone in the crowd. With flushed faces and too much adrenaline to feel exhausted they shared about pitching in front of everyone in the finals, "When we first got on stage the whole space felt like a welcome, warm place, especially standing up there all together, the three of us in solidarity. The first feeling was – we own the stage. Then my leg started shaking and the nerves came."
If there were nerves in that pitch they weren't apparent to me. Their pitch for Musana Carts, a solar-powered cart for vendors selling street food in Uganda's informal economy, will now be one of six great business ideas pitched in New York City for the Hult Prize Finals. Hosted by the Clinton Gobal Initiative the exposure itself to that environment will no doubt have an immense positive impact on the future of their enterprise.
Leaving the future aside, they reflected on the current moment, "This feels more than amazing. It's a moment of great gratitude for us. We struggled at times to get here, but that's how we know we earned it, and why there is so much joy."
From what I saw, and what I know of those three (who are also my classmates), they carry that joy every day and make it palpable for others. In addition to a great business idea, community support, and their own determination, I know this will carry them forward to New York, and eventually to great things in Uganda and beyond.
---
If you would like to find out more about Hult's global business programs, download a brochure here.
---
Kickstart your career right next door to Silicon Valley by studying at Hult's San Francisco business school. To find out more, take a look at our blog Social impact front of mind at Hult San Francisco. Download a brochure or get in touch today to find out how Hult can help you to learn about the business world, the future, and yourself.
Related posts