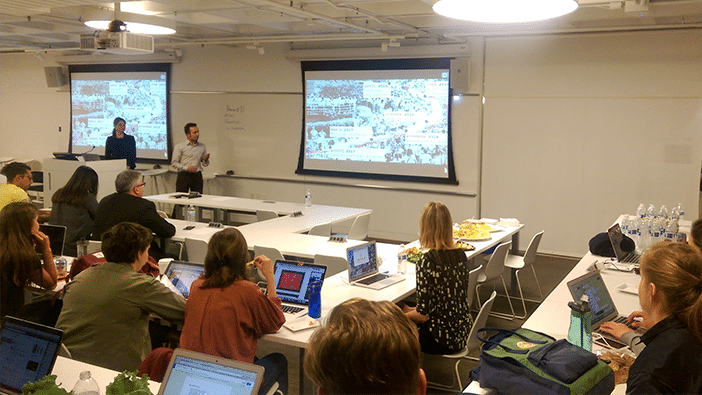 Written by global ambassador, Alan Pierce, Master of Social Entrepreneurship student, San Francisco campus, class of 2016.
San Francisco is a bustling world of startups and business accelerators, and has been for quite some time. And this year, at Hult San Francisco, the Net Impact Student Chapter ran their own accelerator program for Hult students who are in the process of starting their own companies.
Called the Co-Creation Lab, the three-month accelerator offered students (who formed teams around their business ideas) a chance to refine and further develop their startup ventures. The one pre-requisite for the Lab, in line with Net Impact mission: ventures had to be social impact oriented.
More than 20 social entrepreneurs registered to participate, a total of 7 ventures, with both Master's and undergraduate students represented. Focus areas ranged from education to agriculture, and tech.
Each venture team was paired with one or two mentors, local professionals who would work with the team throughout the experience. The Lab also hosted a workshop series, with each workshop facilitated by an expert in the subject matter. Workshop themes included: Impact assessment, theory of change, customer validation, pivoting, and preparing a pitch deck. The culminating event, which took place in late April, had teams pitch their ventures in front of a panel of judges.
The Co-Creation Lab had been run by students two years ago and this year club's co-president, Alison Kjeldgaard, envisioned re-launching it for the students, "I noticed students had good ideas for businesses and could use some complementary support to their Hult curriculum. This was a way to carve space to work on ideas and building a company."
Indeed, the students brought unique and impactful ventures to work on developing. This included a team working on a social innovation school in Colombia, and they will be piloting programs in the coming year. Another team used the Lab to hone the business model of a crowd funding app called Atlas, which connects runners with social causes. A third venture, which conducted extensive customer interviews over the three months, aims to eliminate food waste, and provide affordable meals to low income communities. A venture in the area of urban agriculture also participated and has now initiated the launch of their service.
While we can't know how these startups would have fared without the Lab, previous student ventures from the Lab two years ago are still thriving. One example is Savvy Marketing, which helps social enterprises design and implement marketing strategies that enhance their impact.
One of the co-founders, Hilda Perez (a Master's of Social Entrepreneurship graduate) recalls how Lab helped her and her team in their journey, "It was a great way to set milestones with the team to work towards and making us more accountable to reach those milestones. The workshops were really useful. They essentially gave us more insight and we used them as internal homework on what next steps we should do in flushing out the idea."
Ultimately this year, students had the opportunity to demonstrate their passion and confidence in their idea during the final pitch event. Judges from organizations like Bootstrap Labs and Change Catalyst were in attendance and gave constructive feedback to each venture.
It is extra-curricular opportunities like Co-Creation Lab that make Hult such a vibrant place to pursue a degree. Some of the best value of the Hult experience for me has been the passionate student body and what they bring not just to class but to the rest of the community outside of class, including programs like the Co-Creation Lab.
And as a Master's in Social Entrepreneurship student myself, I am pleased to see the enthusiasm for student programs that focus on business as a tool for leveraging social change. It is part of Hult's values as a business school that business has the power to change lives for the better. And with the Co-Creation Lab students had the opportunity first-hand to experience how that can be done, and to practice doing it themselves.
Kickstart your career right next door to Silicon Valley by studying at Hult's San Francisco business school. To find out more, take a look at our blog Hult ranked #12 and Tier One by CEO Magazine in 2019 Rankings. Download a brochure or get in touch today to find out how Hult can help you to learn about the business world, the future, and yourself.
Related posts