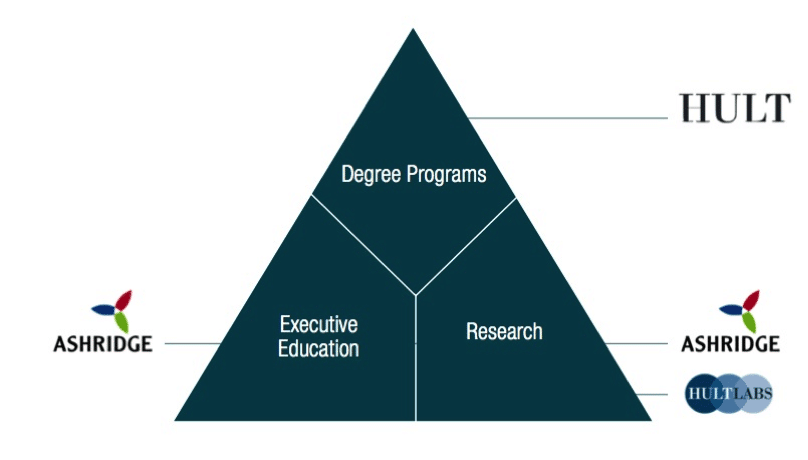 LONDON, July 4th, 2014 — Ashridge Business School and Hult International Business School have announced, subject to final legal confirmation, an agreement to enter into a strategic alliance. In the short term, the two organisations will be collaborating closely and in the longer term, the aim is to merge the top management across the two organisations.
The vision is to create the world's most relevant business school for employers. By bringing together Ashridge's expertise in executive and organisation development and research with Hult's global reach and scale in degree programmes, the alliance seeks to provide full service business education for global organisations.
The alliance will be able to offer employers an integrated, multi-location and multi-language portfolio of executive and organisation development, research and degree programmes. Significant investment will be made in each of these areas:
Executive and organisation development : Expand Ashridge's highly ranked executive education capability to serve corporate clients all around the world through new locations
Research: Build on Ashridge's research capability with particular emphasis on two areas: (1) insights relevant to the needs of corporate executives and (2) the effectiveness of management education
Degree programmes: Expand the combined range of undergraduate and graduate programmes, including new online offerings
Under this strategic alliance, Ashridge and Hult will remain for the foreseeable future as separate entities, with their own brands, programmes and management. The discussions leading to the alliance have been led by the Governors of the Ashridge (Bonar Law Memorial) Trust, the charity under which the business school operates.
The alliance will be a leading force in management education focused on blending business practice with business theory.  The alliance will be highly ranked across all major business education categories and have campuses around the world.
"By combining Ashridge's expertise in organisation development and Hult's strength in developing individual leaders, our ambitious vision is to become the best and most relevant provider of leadership development in the world," said Dr Stephen Hodges, President, Hult International Business School.
"The alliance brings together complementary organisations, both of which are run by business people for business people. We share a philosophy that learning has to be informed by the realities of business, as well as the theory," said Kai Peters, CEO, Ashridge.
About Ashridge:
Established in 1959, Ashridge is a leading business school for working professionals with an international reputation for leadership development. It is in the 1% of business schools globally accredited by AMBA, EQUIS and AACSB; the UK, European and American accreditation bodies. Each year it works with over 6,000 managers from 850 organisations in 60 countries. For more information, please go to www.ashridge.org.uk.

About Hult:
Hult is the world's most international business school with campuses in Boston, San Francisco, London, Dubai, and Shanghai, and a rotation centre in New York. The school offers MBA, Executive MBA, Master and Bachelor degree programmes. Hult's one-year MBA programme was ranked Top 5 in International Business and International Experience by the Financial Times in 2014. For more information, please go to www.hult.edu.
SOURCE Hult International Business School
Step up your game with executive education at Ashridge agile business school. To find out more, take a look at our blog Time jugglers, working mothers, and ambitious entrepreneurs: How women on Hult's Executive MBA do it all, or firm up your exec career footing with a Masters in International Business from Hult. Download a brochure or get in touch today to find out how Hult can help you learn everything about the business world, the future, and yourself.
Related posts