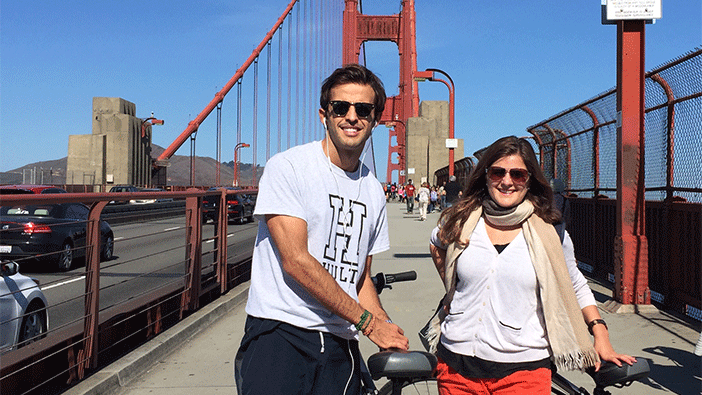 Written by Pablo Romero Yusta, Master of International Marketing student, San Francisco campus, Class of 2016
There were many key factors involved in my decision of which business school to go to. I took into consideration rankings, alumni netwo8rk, campus life curriculum, cost, and employer involvement, just to name a few. Making the decision was anything but easy and it was only after a comprehensive evaluation, and a few headaches, that I realized Hult International Business School, was the right choice for me. One factor sometimes overlooked in this decision, however, is location. Location is essential because it encompasses all aspects of our daily life as a student. Considering all the choices Hult offers to immerse yourself in some of the world's most dynamic and international cities, how do you choose which city to rotate to, or if you will rotate at all? Location means not just the city where you live during the experience; it is also about quality of life, experience, and most importantly, access to the labor market.
Access to the labor market- Access to employers and professionals in your desired industry is crucial. In fact, it is likely the main reason why you have decided to embark on this journey. Along the way, you will surely want to have informational interviews with your dream companies, grab coffee with alumni in your desired industry, and ultimately interview for internships and jobs. It will, therefore, be wise to consider whether your desired employers have offices located in your city and whether there is a large number of companies in your target industries nearby. We are lucky to be here in San Francisco, which has access to high-tech giants and a concentration of Fortune 500 companies like Google, Facebook, and LinkedIn. But what are you interested in? What do you want to ultimately do with your Master Degree? Your career goals should determine your decision. For example, if your goal is to develop a career in finance or consulting and work on Wall Street or The City, rotating to New York and London campuses would be a smart choice. If you want to work in Silicon Valley, for instance, the San Francisco campus is for you. Lynette Peña, a Master of International Marketing student at the San Francisco campus says, "I have several years of work experience in hospitality. Lately, I have been very intrigued by all the developments and progress technology has brought to this evolving industry. I chose San Francisco because I wanted to discover more and the most innovative companies are located here. It was the right decision and it will hopefully lead me to my dream job". Your dream companies and desired industries should play a key role in your decision of which campus to choose on your last rotation. According to Carolina Soto, also a Master of International Marketing student, "I chose not to rotate and stay in San Francisco to increase my chances of getting an internship that could ultimately turn into a full time job after graduation. However, I did not realize how important it is to keep in mind which industry you want to work in. San Francisco is full of opportunities; most of them are in tech, however, which is not my world. Many times I wonder whether I should have chosen New York as my last rotation campus. I would encourage others to keep this in mind when deciding."
Experience– Your master experience includes way more than what simply happens within the walls of class; what happens outside is equally important. Location can determine the profile of speakers and the type of company that come to campus. At Hult, we are lucky to have high profile for-profit, non-profit, and startups frequently on campus. Additionally, you might be interested in joining professional associations in addition to Hult's student clubs and organizations. These expanded networking resources will provide you with a greater opportunity to build professional connections.
Quality of life – Choosing the right location will also impact your life. You will be busy with papers and deadlines the majority of the time, but during your spare time you will need an environment to decompress and totally relax to maintain a balanced life. How important is this for you? Do you like the vibrant energy of New York, the chill and laid-back lifestyle of San Francisco, or the cultural richness of Shanghai? Do you prefer the mountains or beach? Is climate a determinant? In San Francisco, I personally love getting lost in its lush nature and trying out international cuisines, which offers an array of options for foodies like myself. 
There are many factors to keep in mind. The key takeaway is to research not just the programs Hult offers, but also the cities. Learn as much as you can about the location and envision if you could see yourself living and, hopefully, working there!
---
o find out more about Hult's Masters programs, download a brochure here
---
Hult offers a range of highly skills-focused and employability-driven business school programs including a range of MBA options and a comprehensive one year Masters in International Business. To find out more, take a look at our blog Choosing your school: Is it time to get out of your comfort zone? Download a brochure or get in touch today to find out how Hult can help you to learn about the business world, the future, and yourself.
Related posts