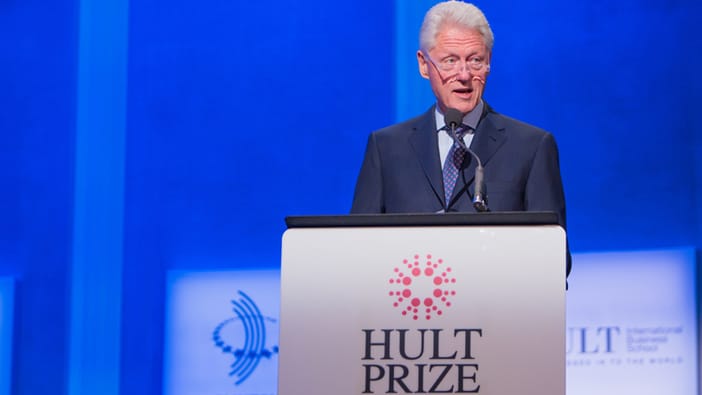 This article was originally published on March 15, 2015, by The National, 'Young business minds battle it out for US$1m Hult Prize in Dubai'.
Some of the brightest young business minds have met in Dubai to present answers to some of the planet's greatest questions and try to win US$1 million (Dh3.67m).
Winners of the annual Hult Prize can make their social enterprise ideas a reality thanks to the seed funding in a scheme backed by Bill Clinton, the former US president.
Mr Clinton selects a different topic each year, and graduates from universities across the world are challenged to come up with solutions to help deal with socio-economic problems.
Run in partnership with the Clinton Global Initiative, the Hult Prize is the biggest student competition in the world, with this year's challenge of building start-ups to provide sustainable early education for 10 million children in urban slums.
Teams presented their ideas to a panel of judges at the Hult Dubai in Knowledge Village.
Team Attallo from the University of Toronto was the winner, and will now go to the global finals in New York in September.
Beating 46 other teams, Attallo's winning idea was based around bridging the "word gap" – a lack of childhood vocabulary and the resultant development issues that underprivileged children often face.
Children aged three and under from poorer areas are often underexposed by 30 million words compared to their counterparts in more affluent countries. This can have an effect on their cognitive development that lasts into adulthood.
By using a combination of picture books with QR code stickers and a simple, low-cost electronic reader, Team Attallo's system allows parents to teach their children new words and increase vocabulary in a simple, low-cost and effective manner.
"We have a plan that we're hoping to complete between now and September and we hope this will give us the momentum to actually go through with it," said Aisha Bukhari, the team spokeswoman.
But it is not just the winners who will benefit. Many of the other ideas presented in previous years have gone on to win backing and investment.
Nu is a line in edible education products and was this year presented by a team from the University of Toledo in Ohio in an effort to combine the cost of teaching aids, vitamins and nutrition. "We have four different products so we can nourish and aid in education from children aged up to six," said Nehemiah Scott, 29, the project leader. "We realize the importance of nutrition and brain development at that age.
"It is a line of products including edible paste, drawing and sketching tools for young children."
The team's products are undergoing trials in Detroit, New Delhi and Nairobi.
Anton Herholdt, 26, from IE Business School in Madrid, presented Pretzel Play, a mobile phone-activated learning tool.
"It uses existing voice mobile technology to communicate with parents living in slums," he said. "Once parents subscribe, they get ideas on how to educate their children with fun methods of teaching in areas where there may be no access to schools."
The winner in 2013, Aspire, has gone on to create a successful project farming insects for food.
Joshua Rajkumar, regional director of the Hult Prize in Dubai, said there were more than 20,000 applications for the Hult Prize this year.
"It is a social enterprise, for profit, but it must have a mission to tackle poverty and be sustainable."
Team Attallo will benefit from an accelerator event in Boston where they will have mentoring and professional advice on how to develop their ideas ahead of the global final.
Mohammed Al Saadi, chief executive of business development and strategy in the department of economic development in the Dubai Government, was one of the judges.
"There have been some good ideas that can be replicated on a larger scale," he said. "Projects using existing infrastructure to deliver knowledge to the family that then cascades down to the kids are very attractive.
"The ideology of this prize is very relevant to Dubai. It has been good to see a different way of thinking from people from all over the world."
Like game changers? Break the mould in the business world with a Masters in Disruptive Innovation from Hult. To learn more, take a look at our blog Hult Prize: The perks of volunteering, or explore overall business challenges with a Masters in International Business instead. Download a brochure or get in touch today to find out how Hult can help you to find out everything about the business world, the future, and yourself.
Related posts