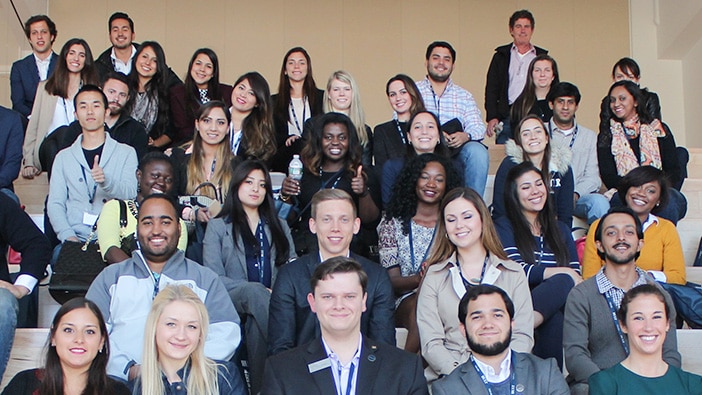 By Aletta Brandle, Master of International Marketing, San Francisco campus, class of 2016 
Whether you are looking for an international experience, a reason to move to a new country, or you want to take part in a dynamic, hands-on program, the students of Hult came to this school for multiple reasons. I was really interested in what those reasons were and ultimately what drew my fellow students to Hult International Business School. The best way to find this out was to hit campus and ask, 'Why Hult'?
Along with all the international students, Hult has a global campus network that provides students with access to a truly international community. It allows students to study, work and play within seven different world cities – Boston, San Francisco, London, Dubai, Shanghai, New York, and Ashridge Estate (U.K.).
Across the campuses, Hult's diverse curriculum brings the business learnings into action and enables students to bring their learned skills to life. Through real world practice, students can learn by doing. Hult provides many opportunities to participate in consulting projects with trusted global companies and live simulations, allowing students to explore, understand and solve everyday issues faced by international companies.
I spoke to some current Hult students to get their feedback on the Hult experience!
Felipi Maciel, Master of Business Administration
"Hult provides an unmatched experience where you simulate the global business environment in a classroom, while mixing theory with a pure hands on approach and practical experience. Plus, being able to study with peers from more than 70 nationalities is an asset that is hard to beat. Innovation, creativity and deep cultural exchange are daily rewards that makes the Hult MBA experience absolutely unique."
Salman Rahill Alam, Master of International Business
"I knew that Hult had one of the most culturally diverse classroom environments. With over 70 different nationalities in one classroom, it was the school for me. I love learning about new cultures and making friends and building networks from all over the world. The cultural diversity was the unique selling point that Hult had. Most importantly I have learned to work in a team, the most vital skill this business school has taught me! By integrating working in teams with academia, this business school has taught me things I never knew. It brought out my strengths and even more importantly, my weaknesses. It has given me the chance to improve the skills sets I had before coming to Hult. My experience here has widened my horizons in areas I never knew existed and has outlined areas that I'm not as strong in so I can work on them."
Madeleine Brazill, Master of Social Entrepreneurship
"I received an email from Hult after registering for the GMAT last year. I was pretty lost – looking into several different programs and universities – not exactly sure what I was looking for. I contacted Hult and after a conversation with one of their enrolment coordinators, I decided to apply for Hult's MSE program. Social entrepreneurship had been something I learned about towards the end of my undergraduate degree in International Studies. I had never realized that it was something you could study at a Master's level. I appreciated Hult's support and timeliness in the application process. Compared to the other schools I had applied for, Hult was the highest risk, but it did not stop me from accepting the offer. I am very grateful for the learning experiences and opportunities afforded to me by Hult – it does not hurt that one of the main campuses is located in San Francisco."
Lorenzo Sicari, Bachelor of Business  
"The reason why I chose Hult amongst other schools is simple: my goal was to be part of a school, and to not simply just attend it. Hult not only provides me with the opportunity to travel across the globe but it allows me to interact and work with different cultures on a daily basis. I have the opportunity to visit global hotspots, while completing my undergraduate degree. I recognize myself as part of a global, culturally diverse family, which I call Hult."
Kim Chung, Master of International Marketing
"I had a number of potential schools I was considering when I decided to pursue my masters. What stood out about Hult was the international focus and short-term commitment. The idea of being able to start my career one year after beginning classes was the biggest draw. My enrolment coordinator was also great at understanding my situation and helped me decide which program was the best fit for me. She spent so much time helping me figure out my career objectives and went above and beyond to get me the financial package I needed to afford quitting my job at Microsoft in order to go back to school full time. Being at Hult I've lived the experience I was promised. I spend my time with smart, ambitious friends from all over the world who provide me with insight about places I've never been while working and playing. Hult is for high achievers who already know where they want to go and then use the school to develop the connections and attain the knowledge needed to get there."
What stood out, first and foremost, is Hult's international aspect. We've heard it all before, but it is truly amazing to see the variety of nationalities that are represented here. From group work to insights in the classroom, Hult students are constantly engaged in cross-cultural interactions and learning globally relevant business skills. These are just some of the reasons why we all chose Hult! What do you look for in a Business School?

Hult offers a range of highly skills-focused and employability-driven business school programs including a range of MBA options and a comprehensive one year Masters in International Business. To find out more, take a look at our blog 5 big reasons why to apply early for your MBA or Masters. Download a brochure or get in touch today to find out how Hult can help you to learn about the business world, the future, and yourself.
Related posts