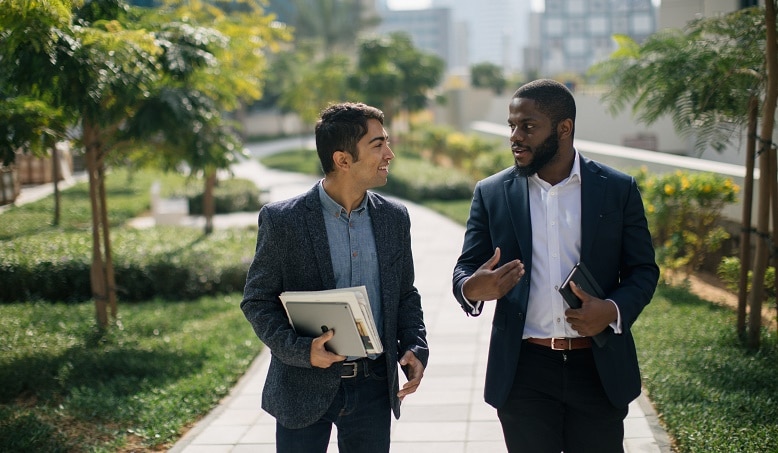 When you're thinking about your future and where to study, all kinds of questions come up. This is completely natural and very much part of the journey.
Things like, "Where will I live?", "How will I make friends?", and, "What will it all be like?". You're not alone in thinking these sorts of things. There's a lot to consider, and most prospective students share the same queries.
We've put together this summary of the student experience to help answer your questions. And, we spoke to some students already at college, and asked them how they're getting on and for their advice for you.
What is the student experience?
The student experience starts well before stepping on campus. And it lasts long after graduation too. Every bit—from considering where to go and applying for a place, to the memories you'll have of your uni days. The student experience is both social and emotional—and it's likely one you'll remember for life. Many schools carry out student experience surveys. These are a useful way of gathering feedback from students, and they can help improve future students' experiences.
If you're just starting out on your journey, heading into a new student experience can feel daunting. Having an open mind really helps, as does being open to change. Adria, a Class of 2020 student has the perfect advice. "Embrace the change and it will definitely change your life." He's from Spain, chose London as his home campus, and has never looked back. Discover how he knew Hult was right for him.
What kinds of experiences might a student have?
One of the biggest, potentially most enjoyable, parts of student life is meeting new people and becoming friends. It's not unusual to meet friends for life! And there are plenty of opportunities to meet others too.
You'll discover a lot of different clubs at Hult (and most other universities too). We have a club for almost everything. Hiking, marketing, Women in Business, Pride/LGTBQIA+. There is a huge variety of clubs to explore, and with always more starting up.
When it comes to class, you'll also experience a variety of teaching methods and class formats. Our professors teach in state-of-the-art, tech-enabled classrooms. Intelligent speaker-tracking cameras capture professors' and students' every expression. On the ceiling, 360° ceiling microphones block out background noise. It's all in the name of an immersive, interactive learning experience—on- or offline.
As for academic expectations, ready yourself for class each day. Be ready and willing to participate. It's important to give your best effort all the time. Simple things like focusing, bringing materials, and getting a good night's sleep will all mean you get the very best from your studies. Keep a positive outlook and stay accountable for your own learning.
If you're studying with us and find you need support, our career team is there to help. They assist Hult students in becoming the most competitive candidates in the job market. Sometimes, the team hosts Q&A webinars too, so you really can have all your questions answered.
Work experience is usually part of the global student experience too. It can come in the form of an internship—where you work for an employer for a set period of time. This gives you an incredible opportunity, not only to gain professional experience but also to network a little. And, while networking might sound a bit scary, it's really just getting to know people and chatting. The nature of an internship is perfect for this as you have the beauty of time. Getting to know the people you work with doesn't have to happen overnight.
Where do you live when studying?
It really is an international student experience if you choose to live in Hult housing. You'll live alongside students from all over the world. Our student accommodation options offer a safe, friendly, home-away-from-home. You'll get to mix with other students outside of class, including students starting their journey, just like you. That's great common ground to share! Press play on the video below to learn more about Hult House in Boston.
What is an ideal college experience?
Putting your best into your studies really shapes your experience. There's no ideal college experience as such, especially when we're all different. That's where our variety of clubs comes into its own, as there is something for every passion.
Whether you'll be in Boston, London, San Francisco —or don't know yet—there are a few elements we know play into a full college experience. Making friends, plenty of courses to pick from, and fun things to do on- and off-campus.
What about studying abroad?
Many students choose their home campus—where they base themselves—in a city other than where they are currently living. Take for example Adria, Nathalia, Jessica, and Alessandra (who we'll hear more from below). They have all moved across the globe to study. They've not always found it straightforward, but they have found it to be one of the most fulfilling decisions they've made.
Global student experience: Sound advice from three Hult students
We met Adria earlier. He loves that he can get to know all faculty and staff on campus in London. And also that they're always happy to help you at any time. "I come from a small town close to Barcelona, so have never lived in a big city like London. The weeks before moving, I was scared but excited to discover this great city. If I had to give one piece of advice, it would be to try not to be afraid of experiencing new things. Embrace the change and it will definitely change your life."
Nathalia Oliveira is Brazilian, Class of 2022, and chose San Francisco as her home campus. She offers this advice: "I would say that it's important, when moving anywhere new, to keep an open mind. San Francisco has a lot to offer. With an open mind, it can bring you many amazing experiences."
Jessica is German/Spanish and Alessandra is Mexican. They're both Class of 2021 and their home campus is Boston. They think being realistic is key: "Know that it's going to be a little bit hard sometimes."
"Having said that, everyone around you is also going to be experiencing the same kind of situation. This means that they can offer you support and advice. Living on your own can be challenging at first; [be sure to] surround yourself with people that love you and care about your wellbeing."
Read more advice from our current Hult undergrads as they were #HeadingtoHult; or get an in-depth introduction to life in Boston from Class of 2018 student Sophia Fries.
---
Ready to get started on your student experience? Download a brochure and get in touch!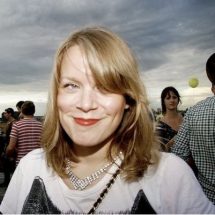 Clare Scott
Clare is an experienced freelance writer, content strategist, and contributor to the Hult blog. Her work spans many industries–from luxury fashion to travel. She works with brands, startups, and individuals to create their tone of voice and editorial content.
Related posts