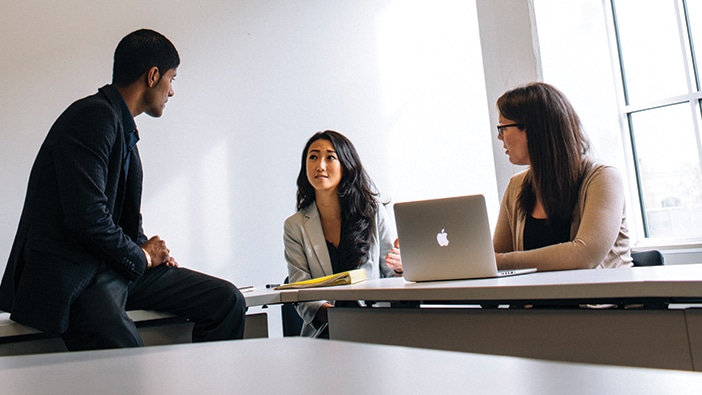 When it comes to making a career change or increasing your earning potential, many professionals choose to go back to business school. If you want to hone your skills in a particular field of business, a specialized Master degree can provide a wealth of knowledge and expertise to set you apart in a competitive global job market.
At Hult, many students elect to do just that by pursuing a practical, one-year Masters in Finance degree. Some may already have a few years of business experience and are now seeking to boost their credentials and global exposure. Others are exploring a new area of business and looking to become more qualified for the range of rewarding jobs you can get with a finance degree—from commercial banking to market analysis or investing.
If you've decided to pursue a graduate-level degree in finance, you've probably already considered the influence it will have on your career trajectory. However, if you're wondering what you can do with a Master of Finance, below are four of the most popular—and profitable—career paths available to those with an MFIN degree.
[maxbutton id="1″ url="https://quiz.hult.edu/master-programs-hult-international-business-school" ] 
1. Corporate or entrepreneurial finance
If you're interested in bottom-line analysis, corporate finance is a popular career path with a broad range of opportunities for ambitious graduates.
Corporate finance is concerned with managing a company's accounts and capital effectively, making key investment and business decisions to generate profit for the company and value for the shareholders. Within the realm of corporate finance, you may work for any number of organizations across industries—from large, multinational companies to smaller, family-owned organizations.
The financial department of any company is central to its profitability and success. It can also be a lucrative career path, with Chief Financial Officers being among the highest paid jobs in finance. Median salaries can be in excess of $330,000, and sometimes much higher in larger companies. If this is your ultimate career goal, you're likely to start out as a financial analyst or accountant in an organization and work your way up.
With the continuing trend for self employment, entrepreneurial finance is another growing area of finance to consider. That's why we often offer it as an elective option for our Master-level students at Hult. Learning the financial and business techniques required to manage a successful start-up is an attractive asset for your resume—and especially practical if you're interesting in launching your own business, securing funding, and maintaining financial control.
2. Commercial or investment banking
While corporate finance can be a lucrative and rewarding career path, graduates who go into banking often benefit from some of the highest starting salaries in finance. Whether you choose to go into commercial or investment banking is a big decision, depending on your personal skills and aspirations.
Commercial banks are what most businesses and individuals interact with when it comes to day-to-day banking—from opening savings accounts to applying for loans.  Excellent interpersonal communication skills are especially useful in the commercial banking sector, as many roles tend to be customer or client facing. Job opportunities in commercial banking include everything from loan officers to mortgage bankers and credit analysts.
Investment banking is sometimes considered more glamorous, however it can be a hugely competitive field to break into. Investment banks deal with large and often complex financial transactions, including the sale of stocks and bonds, as well as corporate mergers and acquisitions. Career options involve much more than big-money deals and high-return trading—you might work as a financial analyst, risk and compliance officer, or mergers and acquisitions advisor.
Salaries for a career in investment banking tend to be much higher comparatively. According to Investopedia, starting salaries range from $95,000 to $125,000 per year, while an experienced VP of an investment bank can earn upwards of $500,000.  However, the impressive salary often tends to come with a sacrifice of work-life balance. An 80-hour working week is not uncommon in the industry.
Still unsure about banking? This video gives an overview of the enigmatic world of global banks and financial markets:
3. Private wealth management
If you're interested in managing financial assets, but the pace and hours associated with investment banking isn't for you, a finance degree can set you up well for a career in private banking or wealth management. Rather than managing the finances and investments of governments or large corporations, you'll be responsible for the financial assets of high net worth individuals. Generally, these are private individuals with assets worth in excess of $5 million USD.
Private wealth management, also known as private banking, aims at helping high net worth individuals plan and manage their finances effectively. Private banking offers a personalized service, covering everything from efficient tax planning to advising on stock investments or setting up family trust funds.
Two primary roles within private banking include investment management and relationship management. Each demand a solid financial background, but are distinctive in terms of the other skills required. Relationship managers, like those in commercial banking roles, rely on strong people skills and the ability to influence clients and build relationships, as the name suggests.
Investment managers, on the other hand, manage the money, meaning analytical skills and market understanding are paramount. As an investment manager, you may directly manage your client's account, or serve an advisory role, generally often coordinating with the relationship manager to recommend financial products.
4. Accounting
According to a recent report, accounting is the sector employing the greatest number of master-level finance graduates. As successful corporate accountants or CPAs will tell you, a career in accounting involves much more than simple number-crunching. Along with analytical and numerical literacy, navigating tax laws and corporate regulations is central to a career in accounting.
Within the arena of accounting, forensic accounting may be an appealing option for finance graduates with a keen eye for data analysis and an interest in international financial regulations. Part private investigator and part financial whizz, a forensic accountant investigates potential embezzlement and other financial crimes. Fast-paced and ever-changing, as a forensic accountant your daily activities could see you doing anything from debunking a high-profile money laundering scheme to tracking the funding of terrorist groups.
And if this is your career path, you'll certainly have much to keep you busy for years to come. The Institute of Chartered Accountants in England and Wales reported 5.1 million incidents of financial fraud in the UK alone in 2015.
Ultimately, jobs that deal with the creation, management, and analysis of wealth are among the most in-demand and lucrative career options for business graduates. Whatever your career aspirations, a Master of Finance degree can set you up for success in this rewarding area of business.  Hult's one-year Masters in Finance is designed to give ambitious, globally minded professionals the practical skills and international experience they need to excel.
"I'm improving my financial skills through solving real-life complex problems in class. Engaging with real financial issues in different scenarios, along with the feedback I'm receiving from professors, is making me a better problem-solver, and more prepared for a job in finance."

Erika Guzman
Current MFIN student
As a Hult student, you'll have the opportunity to live and study in the world's leading financial centers, including London and New York, as part of our Global Campus Rotation program. And this international experience proves highly influential for our finance students, with 56% of our 2015 MFIN graduates now working in a different country.
Is a Finance Degree is right for you?
Accelerate your financial career and boost your earning potential with a Masters in Finance from Hult. To learn more, take a look at our blog What can you do with a Master degree in Finance? or get into wider business with a Masters in International Business instead. Download a brochure or get in touch today to find out how Hult can help you to explore everything about the business world, the future, and yourself.
Resources:
Corporate Finance Career Path: Roles, Salaries & Promotions
Which graduate career offers the best pay?
A visual guide to how a Masters in Finance will help your career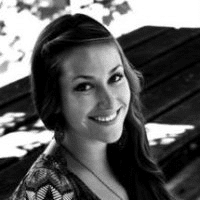 Katie Reynolds
Written by Hult contributing blogger Katie Reynolds who is a freelance writer based in London. Originally from Michigan in the U.S., she relocated to the U.K. in 2010 to pursue a master's degree at Hertford College, Oxford. Today, she writes on topics including business, higher education, healthcare, and culture.
Related posts