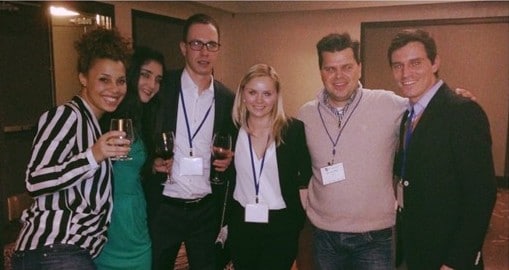 It all started with lockers.  On the Hult Boston campus, some students never used theirs, while others desperately needed one. Paulo Oliveira, an MBA student from Portugal, offered up a solution: after assigning lockers to specific students, those left without a lock are claimable—to anyone who needs one. A simple solution.
Paulo, whose seven years of consulting experience comes in handy when analyzing the root cause of a problem and devising a solution, likes a quote from Henry Ford: "There are no big problems, there are just a lot of little problems." He observed that around campus his colleagues were coming up with great ideas to help each other and that if implemented students could have an immediate impact.  Paulo was inspired, and he imagined a club of students whose primary goal was simple: identify key opportunities that can improve the learning and job-hunting process. Thus, the Smart Solutions Club (SSC) was born.
Club members identify key opportunities to collaborate with staff on small improvements that will have a big impact on the student experience, with members splitting in to teams to form projects that address predicaments and match them with solutions. The club's mission has never wavered: improve the quality of life on campus.
There are 15 club members ("the board"), and they don't meet very often—on purpose; they'd rather work on projects than sit through meetings. They meet in person for no more than 30 minutes to collectively decide which opportunities they'll support next. Though Paolo is the head of the club, members lead their own projects, which gives everyone a chance to hone their leadership skills. Non-members are also invited to present opportunities and be active in forming their solutions.
Members of the SSC have been busy the last few modules. Below is a sampling of some of their achievements.
Peer Teaching
With the quantitative subjects tutors' schedules quickly filling, the club determined that a peer-to-peer teaching model might offer the best solution to help spread the sharing of learned knowledge and experience that other students already possessed. MBA candidate and SSC vice-president Kilean Watson led the charge on determining which students had subject expertise and were interested in teaching their fellow peers. The newly-established program is still going strong.
MIT European Career Fair
When Paulo found out that the MIT European Club was responsible for executing the largest European job fair in the U.S., he reached out to offer help. When the club needed more volunteers, Paulo recruited fellow SSC members who were eager to increase Hult brand awareness (MBA students Natalia Angel, Markus Schmidthuysen and José Serna). They tackled the job of reaching out to local embassies (among other duties), which resulted in the participation of the Portuguese and Spanish consuls, and the German ambassador. SSC members are now honorary members of the MIT European Club, and they hope to continue that partnership with next year's incoming class.
Interview Practice
MBA student and SSC member Kazem Guccani recognized that students wanted more interview practice as they tackled their job searches. With Career Services' help, Guccani and fellow SSC members, identified students with experience conducting interviews, and created the "Peer to Peer Interview Simulation." SSC member Markus Schmidthuysen also saw that many students wanted more specialized training to tackle challenging case interviews. He recruited a case interview expert to lead a weekend workshop, during which more than 50 students gained skills and practice to confidently attack upcoming interviews.
An Alternative Club Model
Paulo hopes the SSC model will inspire students to form more clubs with creative structures and missions, which he believes would complement some of the school's more traditional clubs. "Having a good grasp of the Hult business model is necessary for understanding the optimal club structure. Copying the club formula of other schools can be a mistake sometimes because we are a one-year MBA, not two; and because we have a rotation program, which other schools don't. This is not good or bad, it's just a fact, and we have to look at it as an opportunity."
The Student Services team welcomes new and innovative ideas for clubs and student involvement opportunities.  Paulo has enjoyed this experience, "Hult staff has the experience, and students bring new ideas and motivation. Hult's legacy relies on its students and alumni. President Hodges once said: 'In order to reinforce the Hult brand, we will need two key things from you [the students]. Be an outstanding professional and an outstanding Hult alumni.' Through clubs we can get a head start."
Kickstart your career in this education and innovation hotspot by studying at Hult's Boston business school. To find out more, take a look at our blog Dare to start: Boston's VC scene on the rise. Download a brochure or get in touch today to find out how Hult can help you to learn about the business world, the future, and yourself.
Related posts