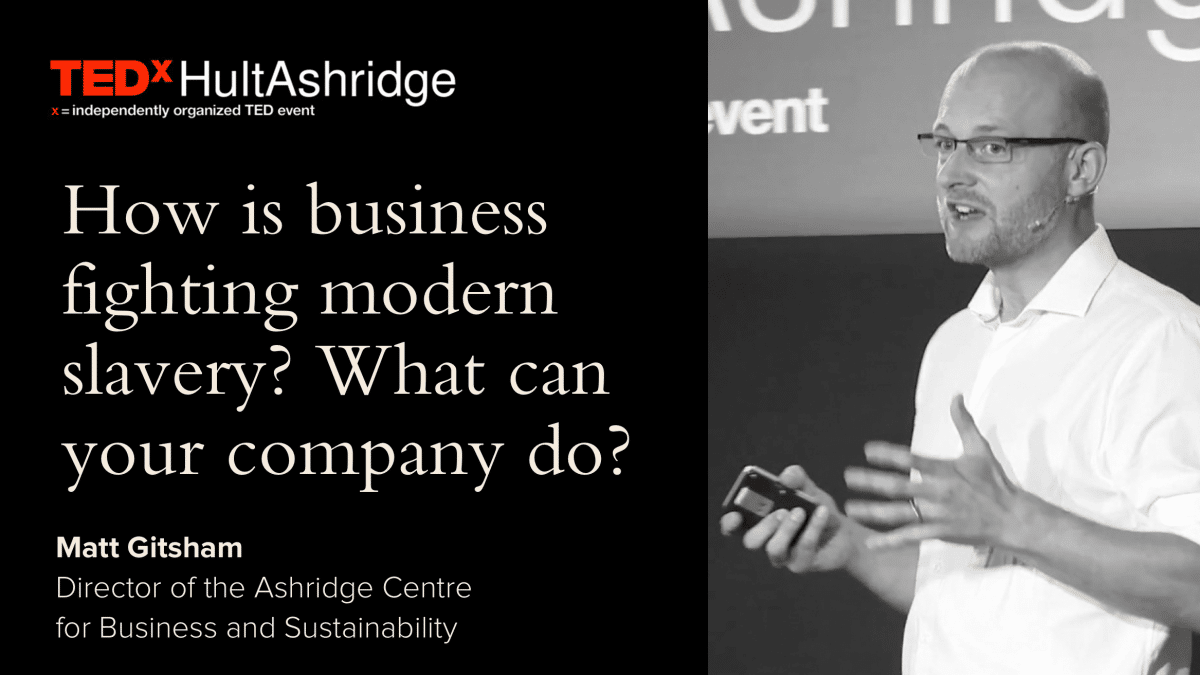 TEDxHultAshridge: How your business can fight modern slavery
Selam Ibrahim, 5 years ago
1 min

read
There are 21 million people in slavery around the world today. And they're likely a lot closer to you than you think.
Hult Associate Professor and Director for Business and Sustainability, Matt Gitsham discusses the myths and truths regarding modern slavery, and the responsibilities businesses have to ensure that no part of their supply chain is involved in human trafficking, forced labor, or bonded labor.
By tracking supply chains, creating clear and accurate systems, working with unconventional partners to combat unethical work practices, and calling for government action, companies can have a direct impact on the fight against modern slavery.
"Modern slavery doesn't just happen in faraway places. Wherever you are, the chances are that there is someone trapped in slave labor conditions right under your nose."

Matt Gitsham, Hult Associate Professor and Director for Business and Sustainability
Matt's talk was part of the wider TEDxHultAshridge event, all around the theme of provoking change.
---
Be the change you want to see in the world.
To learn more about how Hult empowers the next generation of ethical business leaders, download a brochure.
---
Grow your leadership capabilities with an MBA in international business at Hult. To learn more, take a look at our blog Should you choose a Master of International Business or MBA program? or give your career a boost with our Masters in International Business. Download a brochure or get in touch today to find out how Hult can help you to learn about the business world, the future, and yourself.
Selam Ibrahim
Lami is a global marketing and project management professional with experience across the Education, Music, FinTech and International Development sectors. Currently working for payments and tech giant PayPal, Lami works within the Growth Marketing division. She's committed to social impact and also leads several non-profits initiatives here in the UK and overseas: Together For Her x Femme International, PayPal GIVES and Amplify, Black Employees @ PayPal.
Related posts