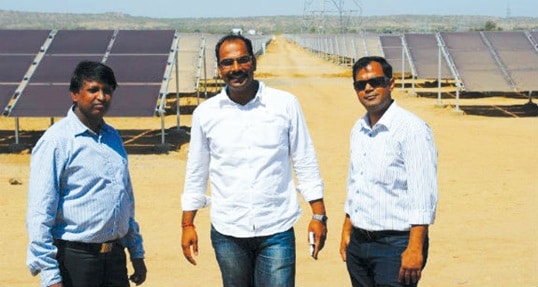 Sustainability is currently a hot topic in the corporate world. How do we ensure business drives not only profits but also sustainable growth? It's challenging enough being a young entrepreneur – but what happens when you're a young entrepreneur in the sustainable innovations and renewable energy sectors, in a country that isn't necessary favorable to ecofriendly products? Pranay Kumar (MBA 2008), founder of Vasudhaecofriends Projects (Ecopure, Greenworks, and Edusustain) talks about his green ventures and offers up some of the challenges he has faced along the way.
'Vasudha' means 'Mother Earth.' When I first started out there was quite a lot of resistance to the business concept as regulations in India were not favorable to ecofriendly products. However, I learned at Hult that it's important to think outside the box and not be afraid of new challenges.
The biggest problem I faced was that new ideas and innovations were viewed with skepticism in India, especially when brought forward by a young entrepreneur. The highs about these industries are the long term impacts our work will have on the community, meeting new people, brainstorming and implementing new ideas, seeing the results, and generating happiness in people we work with and for. I am never 'busy' and never 'free.' I don't have a job, I have a hobby! That's the best part of being an entrepreneur.
I like to think of entrepreneurs as being like a river; strong yet flexible, clear in thinking and prepared for any bend around the corner, or rock along the way. Finally, and most importantly, there is a larger ocean of purpose that awaits, filled with opportunities to merge with other entrepreneurs.
The biggest lesson I learned during my entrepreneurial journey is that passion, perseverance, boldness, listening, and flexibility are the necessary traits of any entrepreneur. If you are not truly passionate about your idea, don't go for it. Don't start a venture purely for money. Profitability is the main goal of any business, but the leader has to balance this against the interests of all stakeholders in the company, whether direct or indirect. Second, your ethics cannot be compromised in order to gain more revenue. Third, cash flow must be maintained at all times – because without cash, the vision is meaningless.
My advice to budding entrepreneurs and those looking to enter the sustainable innovations and renewable energy sectors would be – don't enter them based on the hype that surrounds them. These are non-glamorous industries with challenges and issues that have a direct effect on people's lives. Be open-minded. One of the key features of this sector is how different ideas and knowledge intersect. Economics, finance, the environment, livelihoods, pollution, and cultural interaction with technologies are just some of the fields that an entrepreneur has to be aware of. My final piece of advice would be 'learn while you earn,' as these industries are still on a steep learning curve.
Continue reading the full article here. 
Discover more of Pranay's thoughts on sustainability:
Water Quality and state of water in India-I
Which is more sustainable: Paper or Plastic?
Opinion: Decontrol of oil prices is good for environment and economy
Make the most of what your career has to offer with a Masters in International Business from Hult. To learn more, take a look at our blog 5 big reasons why to apply early for your MBA or Masters, or give your employability a huge boost with an MBA in international business. Download a brochure or get in touch today to find out how Hult can help you to explore everything about the business world, the future, and yourself.
Related posts