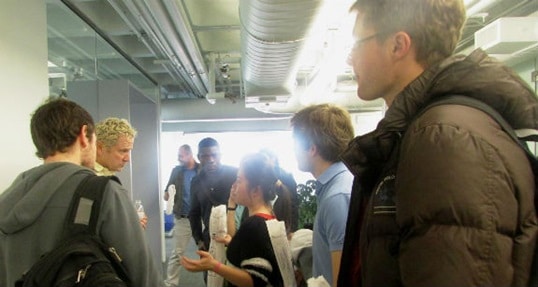 Semifreddi's CEO Tom Frainier – who calls himself the company's "chief bootlicker" – shares his business story with Hult students.
Tom Frainier, CEO of the Bay Area bakery Semifreddi's, brought his insights on running a successful family business – and some tasty fresh baguettes – to Hult San Francisco as part of the Corporate Relations department's "A Day in the Life" speaker series featuring local professionals.
Frainier, who has run the Alameda-based company with his sister and brother-in-law Barbara and Michael Rose for the past 25 years, has helped the bakery go from being a tiny operation in a Kensington warehouse to one of the most popular bread distributors in the region.
Students enjoy sweet baguettes while asking Frainier questions after his talk.
How does Semifreddi's do it? Frainier shared their tips for success, and not just in the bread business: be efficient, maintain a reasonable balance between work and home, give back to your community, and above all, treat employees "like family." Frainier, who has a background in finance at a Fortune 500 company prior to joining the family business, stressed the importance of building a good staff and maintaining a fun and uplifting workplace. At Semifreddi's, the employees are the ones who test the product, they listen to music while they bake, they receive training to better their skills, and they never have to sit through performance reviews. In a roomful of about 30 students who will become avid job seekers in a few short months, it was a refreshing discussion.
The people, the product and the dough: Semifreddi's by the numbers
35: Number of different kinds of breads they make
12: Number of different pastries
30: Miles in any direction from Alameda to which they deliver (Being the best in the bakery business means keeping it fresh!)
1984: Year Semifreddi's opened in Kensington
450: Size in square feet of the original bakery
130: Number of current employees (includes the Alameda headquarters, the delivery drivers, and at the two retail locations)
90: Percentage of employees now in management positions who started at Semifreddi's at the bottom
45: Maximum number of hours a week managers can work
0: Number of layoffs the company has had since it started
500,000: Approximate amount in dollars worth of baked goods they donate to charity each year
15,000,000: Approximate amount in sales per year
Photo: Rebecca Joyce
Make the most of what your career has to offer with a Masters in International Business from Hult. To learn more, take a look at our blog Entrepreneurial Ideas Come To Life At Hult, or give your employability a huge boost with an MBA in international business. Download a brochure or get in touch today to find out how Hult can help you to explore everything about the business world, the future, and yourself.
Related posts