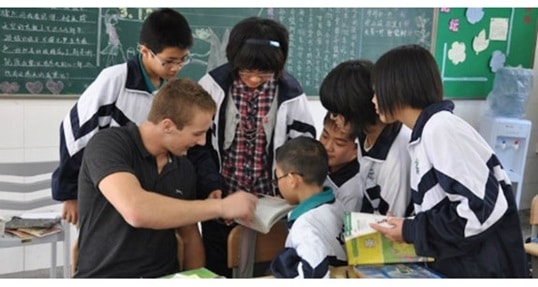 Pushing the link between international education and employability [PIE News]

Hult News, 11 years ago
0
6 min

read
Earlier this month, a British Council poll revealed a third of the UK population believed that they would have had a better job if they had studied abroad. Citing examples of students who had been language assistants abroad, the poll was another reminder that, in a shrinking world, graduates are competing for jobs with candidates in the global marketplace and not just in their own backyards. Aside from the obvious linguistic advantages, Dr. Jo Beall, The British Council's director of education and society, says that studying abroad offers a holistic benefit to a student's employability: "By choosing to live and work in a foreign environment, a student is learning new problem solving skills, understanding new and potentially complex systems and structures, and adapting to new cultures. All of these skills are really valued by UK employers, particularly those who are keen to have business overseas."
In fact, most employers, wherever they are based, are of the same opinion. Speaking at an event to mark the 25th anniversary of the Erasmus EU student mobility scheme earlier this year, Steve Beswick, Director of Education at Microsoft UK, explained how the global Microsoft corporation needed to rely on "global-ready" staff who could move to Delhi or Sydney, for example, and adapt instantly. Those with international experience were one step ahead, he explained.
Of course, it's not enough to simply be studying abroad, the deciding factor in today's market is how vocationally astute graduates are. This is acknowledged by Androulla Vassilou, EU Commissioner for Education, Culture, Youth and Sport. "We live in a world in constant transformation… our young people have to cope with increasingly complex tasks and constant change. The jobs of today – and even more those of tomorrow – call for new mind-sets and attitudes."
Given the premium on globally-oriented employable graduates, then, how are international educational institutions themselves working to deliver work-ready students upon course completion?
Language schools are in a prime position to offer courses geared towards international competitiveness – and also able to cater for an audience who may not have studied abroad as part of an undergraduate degree programme. The need to provide programming with employment in mind is put into sharp relief by Stephen Shortt, the managing director of Alpha College of English in Dublin, Ireland.
"Youth unemployment in Spain and Italy is at 49% and 31% respectively. Poland, France, Sweden, Belgium and Finland are all over 20%. The financial papers keep referring to recent graduates as 'Europe's Lost Generation', and we want to help them avoid that life sentence," he says.
Other than helping students improve their communication skills in English, "the international language of business", Alpha's USP, when it comes to employability, is the sessions students have with Patrick Shortt, founding director of Alpha College of English and an occupational psychologist. Shortt helps students find career options through psychometric tests that include personality profiling, aptitude testing and interest inventories, as well as offering advice on persuasive CV and interview techniques.
An equally hands-on approach is offered by EduGold Careers Services, a company set up by Germaine Broadbent in the UK after her experience in international education suggested careers instruction was not keeping pace with academic standards.
To help students skill up for job interviews and selection processes after completing a language course, EduGold sends out qualified careers counsellors to visit schools and meet students on a part-time basis, either for a fixed appointment or drop-in basis, and offer advice tailored to their specific situation, often revolving around job search techniques and CV skills.
"Uptake by schools has been steady" reports Broadbent. "From January 2013, EduGold counselors will be present in all EC English Language schools in the UK and are in discussion with several other UK language schools including those running junior programmes."
More sector-led approaches have been championed by leading language school chain, EF. They run career-focused Special Interest Courses – or SPINs – that cover a host of skills, including; public speaking and negotiation, and specific industry courses covering IT, tourism and the entertainment industry. EF also offers internships which have involved companies such as BMW, IBM, the BBC, and Nokia.
One of EF's diploma courses is offered through sister company, Hult International Business School, currently ranked by the Financial Times as number 1 for international experience provision. Hult have students from 135 countries and insist they mix with other nationalities. One of the ways they do this is to allow their MBA students to rotate around three of their six international campuses (Boston, San Francisco, London, Dubai, Shanghai, and São Paulo).
"We believe we may have maximized the "global" experience possible in a one year programme" says Hult Hub's managing director, John Beck, "and employers recognise the skills our students are gaining: 60% of our students end up finding employment outside their country of origin."
Another practitioner of the multi-campus approach is The University of Southern California which last month announced a World Bachelors in Business to start next August. The course will see students spend their first year at USC, their second at Hong Kong University of Science and Technology and their third at Boconi University in Milan. Their fourth and final year can be spent at any of the three and the student will receive undergraduate degrees from all three institutions.
Within the university sector, this kind of course represents new thinking, as Gudrun Paulsdottir, president of the European Association of International Education (EAIE), points out: "It is only in very few areas that we see multiple language use in courses for international students, However almost every university with an exchange programme offers courses in their own language for the benefit of the international students."
Paulsdottir's assessment of the experienced-based element to skilling up internationally shows another dichotomy: "Some of the universities in Europe, like Hochschulen, Grand Ecoles and universities of applied science have a tradition in offering placements and interaction with companies, public sector and NGOs. This trend is increasing, though not in the more traditional universities."
Where some universities may hesitate, other institutions are bullish. Major international education company, Australia-based Navitas established a specialist business unit, Careers and Internships in 2008, because "the added capacity for practical experience led to much more robust outcomes."
4000 students have now passed through this unit, across the company's sites in all Australian state capitals and London, UK. Meanwhile the interest in this hands-on add-on of their PY (Professional Year) programme that covers accounting, engineering and information technology, has prompted Navitas to, among other initiatives, look into a programme to provide reciprocal work experience opportunities amongst Australia and China and Japan.
"Navitas is focused on providing outcomes for our students that are designed to meet their needs," explains spokesman, James Fuller. "This means not only ensuring our students can pass through to partner universities, but also are able to have the skills to enter the workforce and progress their careers in their discipline."
Read the full PIE article.
Kickstart your career in Europe's biggest startup cluster by studying at Hult's London business school. To find out more, take a look at our blog The 'Why' to 'Why Hult London?' Download a brochure or get in touch today to find out how Hult can help you to learn about the business world, the future, and yourself.
Related posts