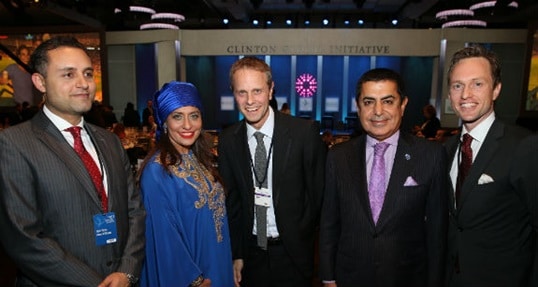 In a recent interview with Sweden's largest financial newspaper, Dagens Industri, Philip Hult, board member of Hult International Business School, talks about the Hult Prize and how he got involved in the competition.
Here are some extracts from the article:
For the fourth time in a row the Hult Prize will be awarded and the winning entrepreneurs will receive USD1 million in order to implement a project that hopefully makes the world a little better.  Bill Clinton begins his annual Global Initiative meeting by awarding the prize.
Many famous business profiles have also made a name of themselves for their philanthropic ventures including Microsoft founder Bill Gates and Skype founder Niklas Zennström. The Hult family is now getting increased attention for the Hult Prize initiative. Philip Hult, son of EF-founder Bertil Hult, tells the story of a Hult International Business School student who came up with the idea of having a competition within social entrepreneurship.
When Nicholas Negroponte from the organization One Laptop per Child (OLPC) was at Hult International Business School to lecture, the student became extremely inspired. The organization (OLPC) had problems with their distribution and he suggested they start a case study competition.  He was able to get prestigious schools such as Harvard and MIT on board and persuaded the management of Hult International Business School to host the contest. Today, he is CEO of the competition.
The Hult family eventually got wind of the project and thought that the idea sounded intriguing. They decided to give the project economic muscle, and prize money of USD1 million was implemented.
When it was first established, it was decided that the money would go directly to a partnering Non-Governmental Organization (NGO), who in turn would implement the winning idea.  In addition, the competition got a real heavyweight on board. "Someone knew someone, who knew someone, who knew Bill Clinton, so we asked him if he was willing to award the prize" said Philip Hult.
In this year's contest, 11,000 pupils have competed and struggled to solve food security issues. The competition has shifted shape and the prize money now goes directly to the students.
Image: AP John Minchillo 
Like game changers? Break the mould in the business world with a Masters in Disruptive Innovation from Hult. To learn more, take a look at our blog Meet Team Silver Legacy: Hult Prize 2019, or explore overall business challenges with a Masters in International Business instead. Download a brochure or get in touch today to find out how Hult can help you to find out everything about the business world, the future, and yourself.
Related posts