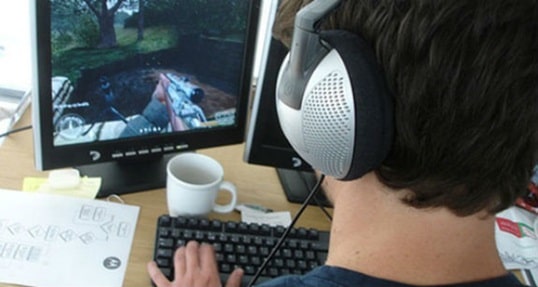 Are you ready for round two? If our last Hult Labs post didn't convince you to get your (video) game on, then maybe this one will. Or, if you are already a long-time gamer, take note: we've got some other valuable reasons for why you can feel good about delaying that reading assignment, or cleaning out the gutters, to play one more game – because there's a good chance it makes (or, will make) you a better employee.
In our previous post, we wrote about Dr. Daphne Bavelier, a brain scientist who recently gave a TED Talk on the positive effects of video games on the brain. But she is not alone in giving you the green light to game your heart out (as long as you do complete that reading assignment and clean the gutters). Hult Labs' Managing Director, Professor John Beck, together with consultant Mitchell Wade, also researched gamers and wrote two books about it: Got Game: How the Gamer Generation Is Reshaping Business Forever (2004), and The Kids Are Alright: How the Gamer Generation Is Changing the Workplace (2006). They looked at how video games have shaped post-Baby Boomer generations and the positive impacts they've had on the job.
In their research, Beck and Wade surveyed gamers between the ages of about 15 and 35, and found that through gaming they had cultivated a unique skill set, and surprisingly, leadership abilities. They also found that working world gamers required a different style of management compared to older generations. This is not unlike what employers say these days about members of Generation Y (Millennials), in terms of how different they are from previous generations – either they're more adept or not, depending on the employer.
Beck and Wade found that gamers are really good multitaskers, just like Dr. Bavelier. But, they also identified other gamer attributes: they are creative problem-solvers, have higher self-confidence, and possess the potential to be C-level leaders. In a 2004 CIO Insight interview, Beck and Wade made another point that all managers would be wise to heed today and in the future: "It's important to stay current with what's going on out there right now. Dip your toe in somehow; understand what your employee's life is like. Having a kid who plays isn't enough. Gaming is as important to some people today as news and sports."
They didn't just stop at identifying the characteristics among gamers that make them unique; Beck and Wade also researched the impacts they have had – and will continue to have – in the professional world. And their needs are significantly different from employees who didn't grow up playing video games. Here are just some of their findings: they "prefer to be paid according to their actual performance, rather than a title or a set salary; say they have a greater need for human relationships; believe connecting with the right people gets things done more quickly, and prefer decision making after getting input from employees."
This all sounds like a really good buildup for why business schools should incorporate video games in the classroom, right? Not yet. The research is still ongoing in terms of how to incorporate the "good" elements of video games in the types of contexts that don't necessarily feature weaponry and storylines that makes parents frown and gamers grin. But as video games hold a special place in Hult Labs' heart, we'll be sure to bring you the latest.
Now go ahead and hit the "X" button.
Photo courtesy of mrlerone. 
Make the most of what your career has to offer with a Masters in International Business from Hult. To learn more, take a look at our blog Business simulations: what can you learn from games? or give your employability a huge boost with an MBA in international business. Download a brochure or get in touch today to find out how Hult can help you to explore everything about the business world, the future, and yourself.
Related posts