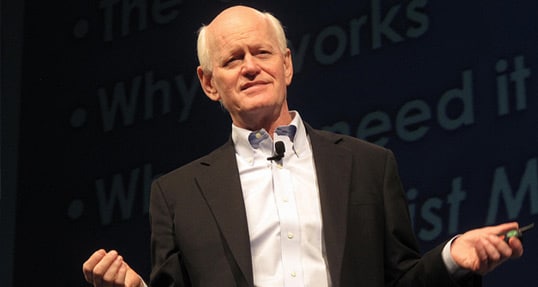 LONDON, 5 April, 2013 — Marshall Goldsmith, one of the world's leading CEO coaches and recently appointed Distinguished Senior Fellow of Hult International Business School (Hult), will be a keynote speaker at the school's full day event in London on the 8th of April.
The day will start at Hilton Parklane, where Marshall will deliver a speech on "Women in Leadership" to corporate guests and students. Afterwards, Hult will provide networking opportunities with companies such as Barclays Wealth, Cisco, JP Morgan, GE Capital, LinkedIn, Lloyds Banking Group, BNP Paribas, Tiffany & Co, Ernst and Young, ABB, PwC, Google, Unilever, UBS, Fujitsu, and Accenture.
Later in the day, Goldsmith will visit Hult House, the school's post-graduate campus at Holborn, and give a crash course in how to become a CEO.
Goldsmith has significant experience of CEO coaching and has worked with over 150 Fortune 500 CEOs. He is also the million-selling author of 33 books and has been recognized as the #1 leadership thinker in the world at the Thinkers50 ceremony hosted by the Harvard Business Review.
As a professor, Goldsmith is also very involved in business teaching and says that management education plays an important role in educating leaders: "Our research has compellingly proven that leaders can achieve positive long-term change in behavior. The right management education can help them do this."
Goldsmith is particularly supportive of Hult's practical Action Learning and explains that it is one of the reasons that he was delighted to become more actively involved with the London campus: "I love Hult's focus on practical application and concepts that can be applied immediately in the real world of leadership."
Action Learning is a teaching concept that has students working together to solve real-life challenges and was pioneered by Arthur D. Little School of Management (today known as Hult International Business School) in the mid-1940s. Since then it has been adopted by some of the most prestigious schools in the world, including Harvard Business School and Stanford University. 

About Hult International Business School
Hult is the world's most international business school with campuses in Boston, San Francisco, London, Dubai, and Shanghai, and rotation centers in New York and São Paulo. The school offers MBA, Executive MBA, Master and Bachelor degree programs. Hult's one-year MBA program is ranked 1st in Percentage Salary Increase by The Economist and Top 10 in International Business and International Experience by the Financial Times.
Grow your leadership capabilities with an MBA in international business at Hult. To learn more, take a look at our blog 4 steps to becoming a more influential woman: Focus areas for female leaders, or give your career a boost with our Masters in International Business. Download a brochure or get in touch today to find out how Hult can help you to learn about the business world, the future, and yourself.
Related posts