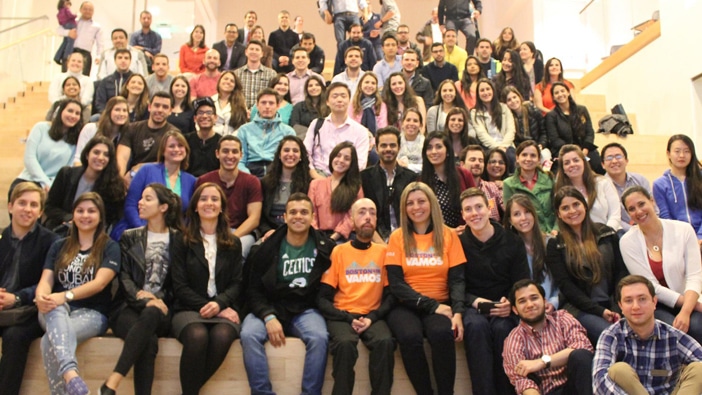 This article was originally published on April 28, 2015, by Hult on BostInno, 'Maickel Melamed visits Hult Boston'.
Hult Boston had the honor of hosting Venezuelan marathon runner and motivational speaker Maickel Melamed just a few days before he competed in the 2015 Boston marathon.
Melamed was born with a form of muscular dystrophy, which resulted in both low muscle tone and an inability to generate new muscle. Despite this, he has successfully completed the New York, Berlin, Tokyo, Chicago and Boston marathons, and climbed the highest mountain in Venezuela, Pico Bolivar.
With a student body in Boston representing more than 70 nationalities, Hult was a natural choice for a visit from Melamed during his time in Boston. In his discussion, From Scarcity to Abundance: A New Narrative to Latin America, Melamed drew comparisons between the obstacles he has faced in his own life and those that are currently troubling Latin America. When he was born his family was told that his physical limitations would prevent him from ever being able to walk. Melamed explained to the crowd that the 2015 Boston Marathon is just the latest example of how he changed the world's perception of him from that of a victim to one as an agent of positive change.
"His story goes to show that no problem is too big. His attitude is remarkable – a true example of leadership," remarked Reet Sen a MBA candidate from Australia.
Melamed then called upon Latin America to redefine itself in the same way. He explained that in 2009 he decided he would create a new narrative for his home country of Venezuela by embarking upon the journey that led him to Boston. Speaking passionately to Hult's international student body, he asked for the crowd's helping in this mission, explaining that region's greatest challenge is to connect to its own possibilities. Melamed said, "This life is not about the past, it's about the future. If you dream it, make it happen."
"Maickel Melamed leads by example and inspires the world through his work. It was an honor to have him speak at Hult," said Carlos Condado a Masters of International Marketing candidate from Venezuela.
Prior to competing, Melamed announced that the 2015 Boston Marathon would be his last. Battling unseasonably cold temperatures and driving rain, he crossed the finish line on Boylston Street just over twenty hours after starting his journey, inspired by hundreds of supporters along the way.
In closing his speech at Hult, Melamed stated that he didn't know for sure what this next chapter in his life would bring, but his goal for his final marathon was to, "…finish with a light that ignites something else."
This post was written by Emily Burke, Head of Student Services at Hult Boston.
Kickstart your career in this education and innovation hotspot by studying at Hult's Boston business school. To find out more, take a look at our blog Student living: Boston on a budget. Download a brochure or get in touch today to find out how Hult can help you to learn about the business world, the future, and yourself.
Related posts