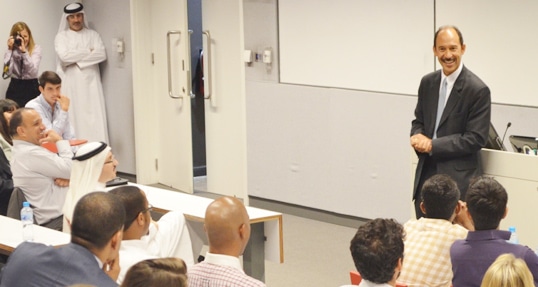 Students at our Dubai campus were given two very different perspectives on leadership – and the unique opportunities and challenges in the region – by two very experienced leaders in business and politics.
Driving cultural change
MasterCard Middle East's President, Raghu Malhotra, joined Executive MBA students at Hult Dubai to discuss leadership behaviors and how to drive cultural changes in organizations.
While relevant to those wanting to lead a business anywhere in the world, the topic of creating a culture within organizations has a unique significance in Dubai where 85% of the population is from overseas. In such a diverse and multicultural environment, a company's culture is determined even more by leadership than other factors that come in to play elsewhere, such as the predominant culture of the work force.
Good leadership is not a popularity contest
Raghu Malhotra stressed that good leadership is not about being popular. He cited the three qualities most important to leadership as: fairness, professionalism, and efficiency. He shared some of the experiences that led to him becoming President of MasterCard Middle East, and significant lessons he learned through the course of his career, with students and Dr. Amanda Nimon Peters, Dean of Hult Dubai, who joined to chair the discussion.
Malhorta joined us as part of our C-Suite Breakfast series that invites top-level management professionals to share their views and insights on leadership topics with our Executive MBA students. The breakfasts are also popular networking events for EMBA students and alumni.
U.S. and U.A.E partnership
U.S. Ambassador to the U.A.E., Michael Corbin, made his second visit to Hult Dubai. This time, he spoke to MBA and Master of International Business students about the geo-political considerations in the MENA region and the ongoing partnership between the U.S. and the U.A.E. As a U.S. business school with a campus in Dubai, it was affirming to hear about the collaborative relationship of the two countries.
Entrepreneurs should head to Dubai
Ambassador Corbin also touched on why the U.A.E. is such a great place for entrepreneurs with its pro-business stance and unique global networking  opportunities. His words echoed those of the U.A.E's Minister of Culture, Youth and Community Development, Sheikh Nahyan bin Mubarak Al Nahyan, who visited Hult Dubai earlier this year to speak at the Hult Prize regionals. The Minister said "You are in a city that recognizes and celebrates your entrepreneurial spirit. Dubai is an entrepreneur's paradise."
Kickstart your career in a state-of-the-art innovation hub by studying at Hult's Dubai business school. To find out more, take a look at our blog Career potential and challenges in Dubai's tourism industry. Download a brochure or get in touch today to find out how Hult can help you to learn about the business world, the future, and yourself.
Related posts