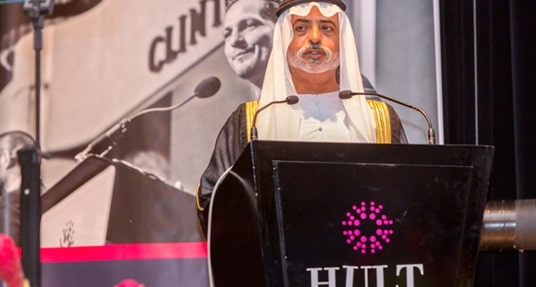 The Hult Prize regionals in Dubai featured prestigious judges from the region, including the Minister of Culture, Youth and Community Development, Sheikh Nahyan bin Mubarak Al Nahyan. Addressing the competitors in a rousing speech, the Minister said that his country connected with the purpose of the prize even more because "the very development of the United Arab Emirates has been an entrepreneurial project." He also praised the values shared by all the Prize's partners, including Hult International Business School, as "efficient business practices and the wise expenditure of funds to improve the quality of life for all." Read his rousing speech in full below.
Distinguished Guests, Aspiring Social Entrepreneurs, Ladies and Gentlemen:
I don't know how you are going to do it. It seems like an impossible task. I have trouble believing that anyone could build a social healthcare enterprise, that by the year 2019 serves the needs of 25 million poverty-stricken slum dwellers suffering from chronic diseases.
And yet I am assured that this audience is filled with 46 teams of university students who actually have plans for just such an enterprise. You are examples of what the Nobel Prize winning biologist Albert Szent-Georgi once said, and whom I paraphrase: "You have seen what others have seen, and thought what they have not!"
I am impressed, and have the deepest admiration for the depth of thinking and innovation that you and your global colleagues, who are now here to celebrate your success, have shown in this Hult Prize 2014 competition. To those of you who have journeyed to the United Arab Emirates from abroad, I offer a special welcome. You are in a city that recognizes and celebrates your entrepreneurial spirit. Dubai is an entrepreneur's paradise.
In fact, the very development of the United Arab Emirates has been an entrepreneurial project. And we connect even closer to your work because our project, while always seeking economic success, has sought prosperity and the social well-being of our population, no matter their country of origin. His Highness the President, Sheikh Khalifa bin Zayed Al-Nahayan, has firmly linked government policies and national laws to social action when he said: "Our country respects human rights and provides ways to dignified living to all who live on our lands." Those actions never end because the concerns of society, about health, safety, education, employment, utilities, recreation, housing, and aging are perpetual. Vigilant and empathetic leaders must not only be social entrepreneurs themselves, but they must be catalysts for others to engage in important social entrepreneurship activities.
The Hult Prize provides just this type of catalyst to you and others as aspiring young social entrepreneurs. National leaders around the world have a great deal to learn from you and your colleagues who have submitted such imaginative proposals to address this year's Hult Prize theme of non-communicable diseases that affect millions of our poorest and least healthy people, and who have limited access to proper health care.
First, the Hult Prize competition relies on crowdsourcing. Some governments have on occasion sought solutions to social problems by soliciting contributions from the online community. But governmental crowdsourcing worldwide is quite rare. Quite common, however, is a government without the ideas or the funds to deal successfully with serious social problems.
Second, the Hult Prize competition relies on a combination of enlightened generosity and keen business sense. History shows that governments often expend funds irrationally, do not routinely operate as efficient businesses and too often pay too little attention to the poorest of their people. On the contrary, Bertil Hult, the primary benefactor of the Hult prize, has always valued efficient business practices and the wise expenditure of funds to improve the quality of life for all. Those values guide Hult International Business School, the Clinton Global Initiative, and the Center of Innovation, Excellence and Leadership—the three Hult Prize partners.
Third, the Hult Prize competition relies on youth. The late Sheikh Zayed Bin Sultan Al-Nahayan, the wise and vigorous social entrepreneur who founded the United Arab Emirates, strongly believed that "A country's only true resource is its youth." His wisdom has been our strength. All governments should ensure that their young people benefit from the finest education and enter an economy that welcomes their learning, their new ideas, their social awareness, their compassion, their technical competence, their ambition and their dreams. The Hult Prize competition extends that welcome, and you contestants have responded brilliantly.
Here is my message to all participants in the Hult Prize 2014 competition: remain true to your commitments to improve the quality of life for all of our global brothers and sisters. Press forward into the dismal slums of our world with your social healthcare enterprise. And remember that after the proposal that wins this year's Hult Prize meets its goal to serve the needs of 25 million ailing slum dwellers, a staggering number of other slum dwellers—225 million, to be specific—will remain without healthcare for their chronic diseases. Do not abandon your work or your ideals. Become the social entrepreneurs that our world must have. Our world needs you as the catalysts to improve the quality of life for all on this planet.
I am sure each of you here tonight is confident that your team's proposal deserves the one million dollar prize, because I too am confident that you are right. And to those other teams who cannot be with us here, I extend my appreciation for the creativity, energy and deep thought that you gave to the ideas that you submitted. You, too, have exhibited the kind of social entrepreneurship innovation that this world needs. Thank you, as well.
Thanks again to Ahmad Askhar and his associates on the Hult Prize team for a grand celebration of crowdsourcing, social entrepreneurship, and youth. And thanks to you, young competitors. You are are our world's future.
Thank you.
Hult offers a range of highly skills-focused and employability-driven business school programs including a range of MBA options and a comprehensive one year Masters in International Business. To find out more, take a look at our blog Student perspective: Adjusting to life abroad and how I knew Hult was right for me. Download a brochure or get in touch today to find out how Hult can help you to learn about the business world, the future, and yourself.
Related posts