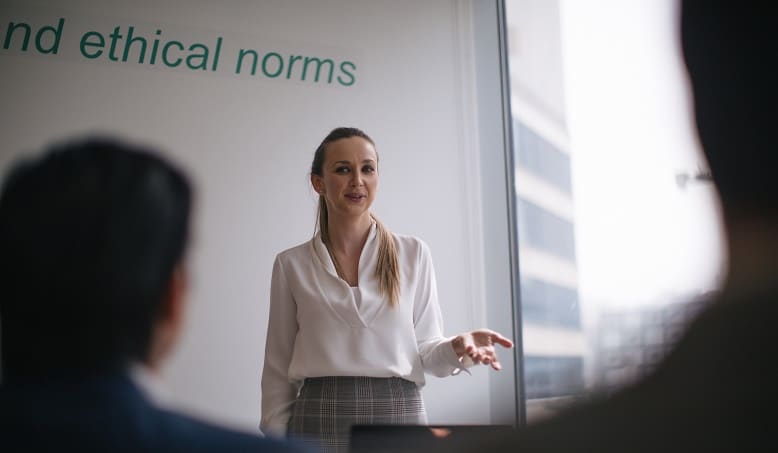 As Hult students we get to learn from the best by regularly having guest speakers who share their experiences and allow us to learn from them.  Just last week, I had the opportunity to listen to and learn from Ken Graff, the Regional Vice President of Enterprise Sales at Salesforce. Last month, Bob de Lorenzo, the former VP of Gillette North America, shared his experience of many years working at Gillette and his path towards becoming a leader. Moreover, throughout this module we will be working on a challenge for Apple Inc. with Lab 1492. Specifically, we had the opportunity to meet Yvonne Buysman, a Hult alum and Ashridge PhD student who works both as the National Sales Leader and the Mary Park Partner at Lab 1492. Here are the key takeaways I learned from each of these individuals.
Ken Graff – Salesforce
The most important part of running a business are the people in your team. This is something that tech can't provide for us. What tech can do is assimilate information when employees leave. That way the information can stay, and the business can continue to grow.
The three most important elements in running a business are data, technology, and processes. Today we all need to be making business decisions in real time.
Companies must not be afraid to use their own products to grow.
If you want people to buy your product or service, you must be there all the time to help them reach the decision. You can lose a client in a split second if you are absent.
Technology does not change the way people sell, it just helps you to have a better understanding. DON'T BE AFRAID!
Bob de Lorenzo – Gillette
Always be mindful of the precedents that you set. Remember there are many different solutions to the same problem and each team (sales) unit will work very differently.
Every product/service is sold differently to each client, even if it is the same product/service.
Creating a great (not good) communication channel with your team is vital for the company, for the team members, for the client, for producers, for the retailer… For everyone involved.
Yvonne Buysman, Apple Inc. & Mary Park, Lab 1492
Disruption and Innovation are key to maintaining relevance in any industry or business. The top industries where disruption is happening are: image recognition, virtual reality, professional services, procurement, blockchain, augmented reality, experimental marketing, healthcare, manufacturing, insurance, and artificial intelligence.
It does not matter how big your market share is, there is always room for growth. If the company is not evolving constantly, it will likely fall behind and become obsolete.
There are many ways of launching products; it's all about the customer, learning what they want and how you will help them reach your service or product.
Every time you go to a guest speaker lecture as a Hult Student, you are given an opportunity to walk away with life lessons to help you not only join a corporation but equip you with the right set of tools to become both an entrepreneur and the best possible leader.
Explore the complexities and challenges of the marketing world with Hult's Masters in International Marketing. To learn more, take a look at our blog Masters of International Business: Connect locally, build internationally [InternsMe], or get into broader business with a Masters in International Business instead. Download a brochure or get in touch today to find out how Hult can help you to explore everything about the business world, the future, and yourself.
Jimena Gastelum
Jimena Gastelum is studying a Masters in International Marketing at Hult's Boston campus. Prior to Hult, she founded an event planning and public relations company, Protea, that specializes in raising funds and marketing campaigns for non-profit organizations. 
Related posts