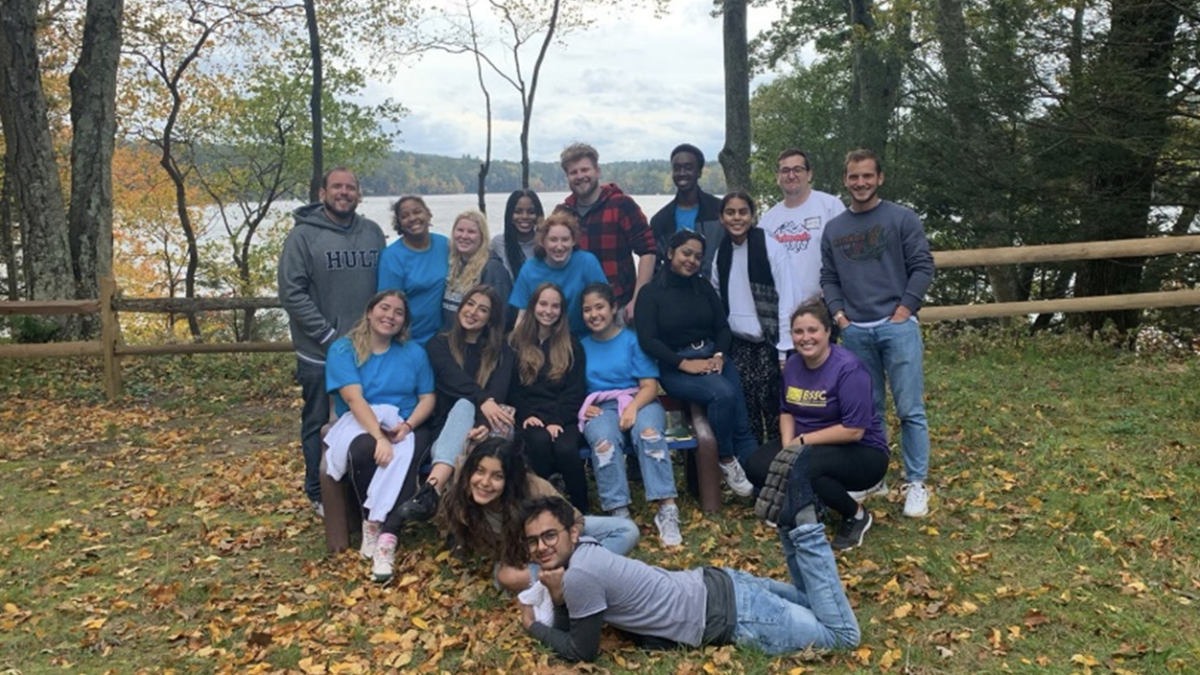 Leadership Retreat: How Hult Upskills It's Students
Erin Mittelstaedt, 2 years ago
3 min

read
When fellow students talk about how Hult improved their skillset, you'll hear all about clubs and societies, live challenge, and our diverse student body. My experience with Hult and its way of accelerating our skillset, however, is a bit different.
New Responsibilities 
When I got selected to become a student ambassador, I didn't expect to be chosen for any position on a new campus after only having been there for a couple of weeks. However, somehow the academic team recognized something in me that I didn't see, and they nominated me for the role of student ambassador.
I applied, got the position, and was immediately part of a group of students who were different but the same: the first undergraduate leadership board at Hult. This board combines the Hult Student Association, cohort captains and community ambassadors as one team to create an incredible Hult experience for every student.
Breaking The Ice
As part of this leadership team, we all went on a retreat, where we went on a trip to a typically American summer camp. We underwent team building, leadership, vulnerability, and trust exercises which made us bond in this once-in-a-lifetime experience. I probably learned more about being a true leader in those two days than in my entire time at Hult before.
Just being surrounded by like-minded people striving to become leaders and to have an impact, changed my perspective of them, other students, and Hult overall. For one exercise we all sat around a campfire for a vulnerability and listening activity. The team, me, even the faculty members, one after the other, shared our unique story and motivation behind coming to Hult. It was a truly eye-opening experience.
A Diverse Team
I met a student from Rwanda who wanted to break free of cultural barriers, a student from the Dominican Republic, who was seeking a better education, and a student from Germany who wanted to challenge herself more than ever before. All of us had an identical underlying goal – fulfilling our potential. In this exercise, I realized that I am not the only one looking for ways to escape the old and jump into the new. Now I am not alone.
Lessons Learned 
By being part of this leadership board and taking part in the team-building exercises, I also learned what it means to be a true leader. Leadership is not just about showing people the way to go, but about showing vulnerability to our peers, to be personal, honest and kind. It means that you don't always need to be the one that takes charge.
It includes recognizing the roles that need to be fulfilled, adapting, and taking them on. Being a leader also means to be the one taking care of everyone, to see if they are ok and to ensure everyone can contribute. Everyone can be a leader in their unique way, and it's not only reserved for the loudest person in the room.
Becoming A Leader
In the end, Hult has many ways of preparing us for our future, may it be club activities, live challenges, group assignments or through the undergraduate leadership board. Being able to experience the co-leading of the student body with a group of motivated future leaders upskilled me in unimaginable ways. That also includes attending leadership workshops, retreats, and planning the best possible Hult experience for our fellow students. It provided me with the opportunity to further develop my leadership and team-working skills beyond the classroom. This also led to new meaningful connections with students from all over the world that will last for a lifetime. After all, this is what Hult is all about.
Related posts