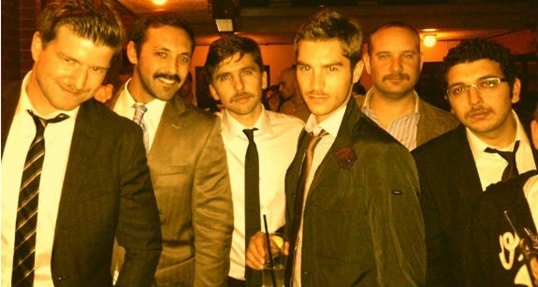 As men everywhere proudly grew mustaches last month in honor of the Movember movement, Hult San Francisco students joined in the charitable – and not always pretty – fun.
More than 30 male students donned 'staches for the month of November as part of the worldwide effort to raise awareness and money for men's health, particularly prostate cancer. Support for the team was apparent across campus as the female students, as well as the guys who didn't quite want to commit to a month of growing facial hair, sported fake mustaches and helped promote the cause.
The Hult crew collected a total of $1295, accepting donations via their Movember website.
Hult's main Movember event was a successful fundraising fashion show at San Francisco's Monroe lounge on November 16. At the show, students volunteered as models to showcase streetwear by local designers. The group is planning to donate the money to the Prostate Cancer Foundation.
Throughout November, they tracked their progress and promoted their mission through on-campus visuals that included photos of their mustaches in various stages. This is the third year Hult San Francisco students have participated in Movember. 
Photos: Tom Speckman and Anna Dimerin
Kickstart your career right next door to Silicon Valley by studying at Hult's San Francisco business school. To find out more, take a look at our blog 24 Hours at the Hult San Francisco campus. Download a brochure or get in touch today to find out how Hult can help you to learn about the business world, the future, and yourself.
Related posts