A Double Degree is absolutely worth it. It's uniquely designed to give you a competitive edge in a crowded job market.
You'll get hands-on experience, like an internship, which other future job candidates may not have access to. It's also a way to gain not just knowledge, but real expertise. Study a Double Degree and you can satisfyingly add 'expert' (in your chosen field) to your CV. And that's value in future employers' eyes right there.
What is a Double Degree?
A Double Degree is where you study two subjects at the same time. It's exactly the same as Dual Degree—it's just a different way of saying it.
In Hult terms, 'double' refers to masters degrees and 'dual' refers to MBAs.
The pros of studying a Double Degree
Just one block of study: Doing all at once means you can focus on growing your skillset first. Then, you can establish your career after—you wouldn't have to give up a job to study.
It can make you more employable: You'll have two qualifications, and competing applicants may only have one. You'll also have the bonus of cultural experience from studying in a different country. This happens as part of Hult's Double Degree program.
No need to choose just one of your interests: If everything business is your thing, and so is learning a language, you can do both.
The cons of studying a Double Degree
It's 6 months longer than a solo degree: But, it's still a much shorter chunk of time than if you took two degrees separately.
It can cost more: Although that's totally reasonable when you consider that you'll have two degrees, not just one. At Hult, if you confirm you're interested in a Double Degree early, you'll actually save on the cost.
The workload can be a juggling act: Good life-skills practice! It depends on how you look at this one. The best thing to do is be realistic—there will be a lot of work. Though, with some good planning, and remaining committed you'll smash it! And there's always Hult's clubs and societies where you can blow off steam. You'll find groups for everything from skiing, rugby, and photography, to ones where you can jam with fellow musos.
Why a soccer pro hung up his boots for a Dual Degree
It's not every day a professional footballer (dream career for many) hangs up his boots and goes back to school. Though, that's what Alessandro Spanò did. He left behind his Captain position at Italian team Reggiana for the thriving business world of Hult.
It was time for a change, says Alessandro, "Football has been a beautiful part of my life. It has been my dream since I was a child and I've made incredible memories and experiences. But now, I feel like I want to discover new aspects about myself, others, and of the world."
In 2020, Alessandro chose the Double Degree masters program in International Business and Disruptive innovation. A smart move for a 25-year-old who's already got a huge success under his belt, but sees the value in getting a business degree qualification.
While working out where to study, discovering some of Hult's core values helped him make the decision.
"I chose Hult because it's not just about studying and the courses you do. The Hult environment is full of positive energy, here I can grow as a person."
How the Hult Double Degree works
Your first degree follows Hult's standard, one-year format. All the usual home campus and elective options apply, just as if you were completing it as a standalone degree. On the Double Degree program, your first degree can be any of the following programs:
– Masters in International Business
– Masters in Business Analytics
– Masters in International Marketing

Find out if you qualify for a Hult Dual Degree

Full-time Dual Degree program on campus
If you choose to further your studies with a full-time Dual Degree program, your first degree will follow a standard one-year masters program or Global One-Year MBA program, with the same home campus options and the opportunity to take any electives at any of our six campuses. You'll then pursue your accelerated second degree, which has no elective courses, at one of our US campuses.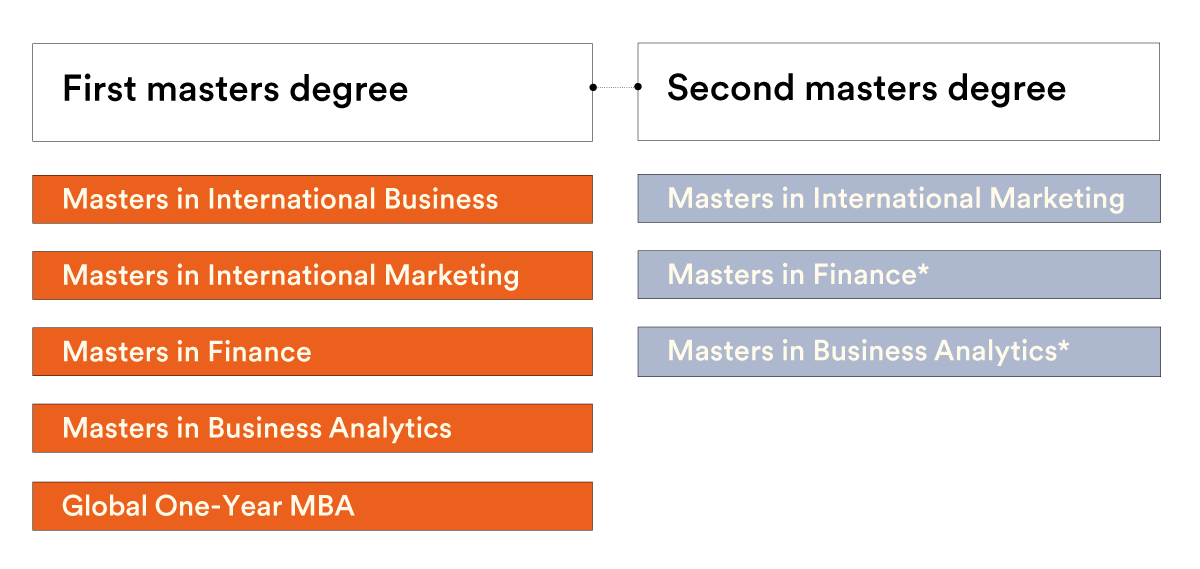 Part-time Dual Degree program
Your first part-time degree will follow the standard Executive MBA or Hybrid MBA program format, with the same home campus options and the opportunity to take any electives at any of our six campuses. You then have the option of three part-time formats for your second masters degree, which will be in business analytics.


Find out if you qualify for a Hult Dual Degree

Hult invests in you
Just one of Hult's commitments is always to find new ways to help you stand out in a crowded global job market. They go over and above to make sure you succeed, with a careers support team on hand if you need them.
Hult's Dual Degree program gives you the option of complementing your one-year Masters or MBA with a second specialist Masters degree in as little as six extra months of accelerated study.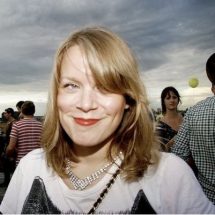 Clare Scott
Clare is an experienced freelance writer, content strategist, and contributor to the Hult blog. Her work spans many industries–from luxury fashion to travel. She works with brands, startups, and individuals to create their tone of voice and editorial content.
Related posts