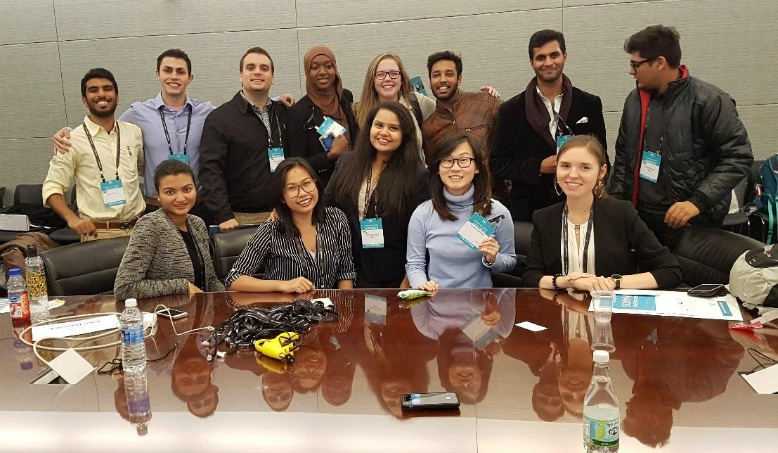 So you've received an internship offer. Congrats! But now what?
Being an international student looking for an internship in the U.S. can be challenging. Needless to say, the competition is tough. You're one among many—in addition to the U.S. citizens themselves. That means networking is a go-big-or-go-home scenario. You'll want to grab every opportunity to attend events for the chance of a possible referral.
But after several weeks—or months—of sending out resumes and asking for recommendation letters, it does get better.
Once you do get an offer, here's my advice on how to get the most out of your internship:
1. Develop a strong professional relationship with your boss
This also goes for your other senior colleagues. They can be valuable career advisors in the long run, whom you can ask questions about potential career paths in your field.
Invite them for a coffee break and get to know them—talk about anything under the sun. They might even be able to provide you with a strong recommendation in the future.
2. Communicate
Interpersonal relationship skills are not something you master in a classroom. They are something you foster in a work environment.
Learn by speaking with your colleagues and asking questions. Show that you are deeply interested. And remember that you may not know everything yet. This is why, above all else, pay attention to the small things at work that will help you grow as an intern and as a professional.
3. Connect the things in the classroom with things at work
Hopefully, your internship is related to your field of interest. I went straight for my Master's degree at Hult after graduating from my Applied Mathematics undergraduate degree. This means that I do not have enough professional experience yet for a job at a private equity firm, but I am all the more interested to learn about it. This is where an internship comes in.
My advice for those who do not have much work experience when doing an internship is this: see how the textbook concepts apply to real work situations.
My boss at my internship recently asked me the definition of "capital structure." While I gave a textbook definition ("the relation of debt to equity"), he taught me that there's more to it than that in reality.
4. Enjoy yourself
Commit to the desire of growing as a professional, but at the same time, have fun with colleagues. Have a picnic in the park when time permits, or grab a drink on a Friday night. Keep in touch with them after the internship.
Did you know that a fellow Hult Global Ambassador helped me secure my internship? He gave me an overview of how the company operates and what the workload of an intern is like.
5. Use your new skills to build your professional profile
Don't treat your internship as just another line on your resume. Be sure to update your LinkedIn to show how the skills and experience you've gained boost your value as a job candidate.
LinkedIn has a unique way of using data that allows you to figure out the keywords often searched for by recruiters and employers in your industry. Use this to your advantage. It's also not a bad thing to try out the Premium Account, which allows you to see the people who visit your page—you never know, this person might be looking for the skills that you have!
"Don't treat your internship as just another line on your resume."
Whether you're a full-time or part-time intern, have a clear goal in mind for what you want to get out of it. Aim to learn another skill or for a company goal to be achieved with the help of you and your team.
The sky is the limit and the opportunities for an international student are boundless—you just have to make the most out of your experience.
---
Interested in learning more about the career paths of recent Hult grads? Download our latest Global Careers Report.
Make the most of what your career has to offer with a Masters in International Business from Hult. To learn more, take a look at our blog Student stories: Our internship experience, or give your employability a huge boost with an MBA in international business. Download a brochure or get in touch today to find out how Hult can help you to explore everything about the business world, the future, and yourself.

Reina Adriano
Reina Adriano is a Filipina studying for a Masters in International Business at Hult in Boston. Being a stock-trader, she plans to enter the world of finance after graduation but also hopes that she can still do something else: to write and to write about people, like she has always done.
Related posts