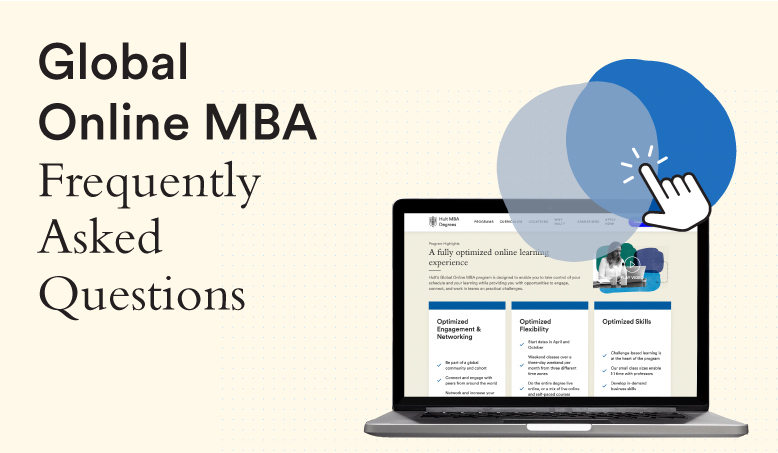 Why should I choose Hult's online MBA over others?
Students told us that most online MBAs weren't providing enough opportunities to interact with faculty or network with classmates. Hult's Global Online MBA is designed to solve these issues while keeping the flexibility online learners need and developing the skills employers want.
The program gives learners:
Optimized flexibility—Choose your mode of study and preferred time zone.
Optimized engagement & networking—You can do up to 100% of the program live online with the option to take two classes on campus and attend two Global Annual Summits.
Optimized skills—Learn by doing with practical business challenges, 1-2-1 support from internationally renowned faculty, and a global cohort of driven professionals.
You'll graduate from a triple-accredited, top-ranked business school into an alumni network of 30,000+. 
How much time will I spend studying? 
The core courses are studied over one weekend a month. So, from Friday to Sunday, you'll be live with our expert faculty getting feedback, answers to questions, and all the relevant information directly to you.
If even this is a little too rigid for you, you can enroll in the self-paced version of GOMBA. You're in control. However, we do require you to attend the five live leadership courses and commit to around 5-6 hours of post-class study per week.
Can I meet my coursemates face-to-face?
Absolutely. We want you to make the most of the melting pot of nationalities on our campuses. That's why there's the option to take two electives either in London or Dubai.
You're also invited to attend two Global Annual Summit events every year. These could be at any of our campuses including Boston, San Francisco, Dubai, and London—everyone is invited.
Maybe we'll even see you this year in Dubai on 17-19 November. Come prepped to discuss Growth and Innovation, this year's topic.
Who will be teaching me?
These guys https://www.hult.edu/faculty/! Your experience won't be all that different from an in-person course as that's how our faculty usually teach. They're industry experts, business leaders, entrepreneurs, and everything in between.
On top of that, you'll also get external speakers and expert webinars arranged. This is to ensure you're taught from a variety of sources and exposed to all points of view.
Can I specialize in a particular field?
Of course. You can take 22 specializations or, to get even more specific, 150 electives on offer. From Digital Marketing to Data visualization, Private Equity to Persuasion and Influence Skills, you'll find the elective to add value to your future career. Exhaustive list here https://www.hult.edu/mba/electives/)
What support do I get from my professors?
All our professors have regular office hours. Just because you're in an online classroom rather than a physical one, doesn't mean you can't access them. Getting answers to your questions after class ends is easy—there are Q&A discussion boards where you'll have a direct line to faculty.
The self-paced courses are curated and instructed by those very same faculty members. Live webinar sessions are common, as are class-specific reviews. You are never just a face on the screen.
Will I receive any career guidance?
Yes, our career advisors are there for a reason! Available from day one, feel free to book them for a one-to-one session. There are also career development events and company fairs happening all the time.
Costs and Funding
How much is this going to cost? 
$39,000 in total.
What payment options are there? 
There are two:
The Early Payment Plan offers a 2% discount and the Regular Payment Plan where you pay 4 installments over 16 months.
You can also apply for a 6-month installment plan which will be assessed by our finance team.
Finally, we also partner with companies who can give their employees up to 15% discount. Please check with your employer if you are eligible.
How long do the programs run for and when can I start? 
The program run for 24 months, and we have intakes in April and October.
Admissions and Qualification
What qualification will I get from the Global Online MBA? 
You will get a Master of Business Administration (MBA) with 42 credits in total.
Hult is recognized by business education's three most prestigious international accrediting bodies: The Association to Advance Collegiate Schools of Business (AACSB), the Association of MBAs (AMBA), and The European Quality Improvement System (EQUIS) .
Will it say "online" on my diploma?
No, It will not mention "online" on your diploma. You can also get a certificate in your chosen specialization.
What are the admissions requirements for Online Programs?
We have the same four admissions requirements for all our MBA programs:
Bachelor's degree or over 10 years of full-time work experience
Written personal statement
Reference letter
Successful admissions interview
What if I don't have a bachelor's?  
We value practical experience just as much as academic prowess. With 10 years of full-time relevant work experience, you can apply to study for our Global Online MBA.
Related posts