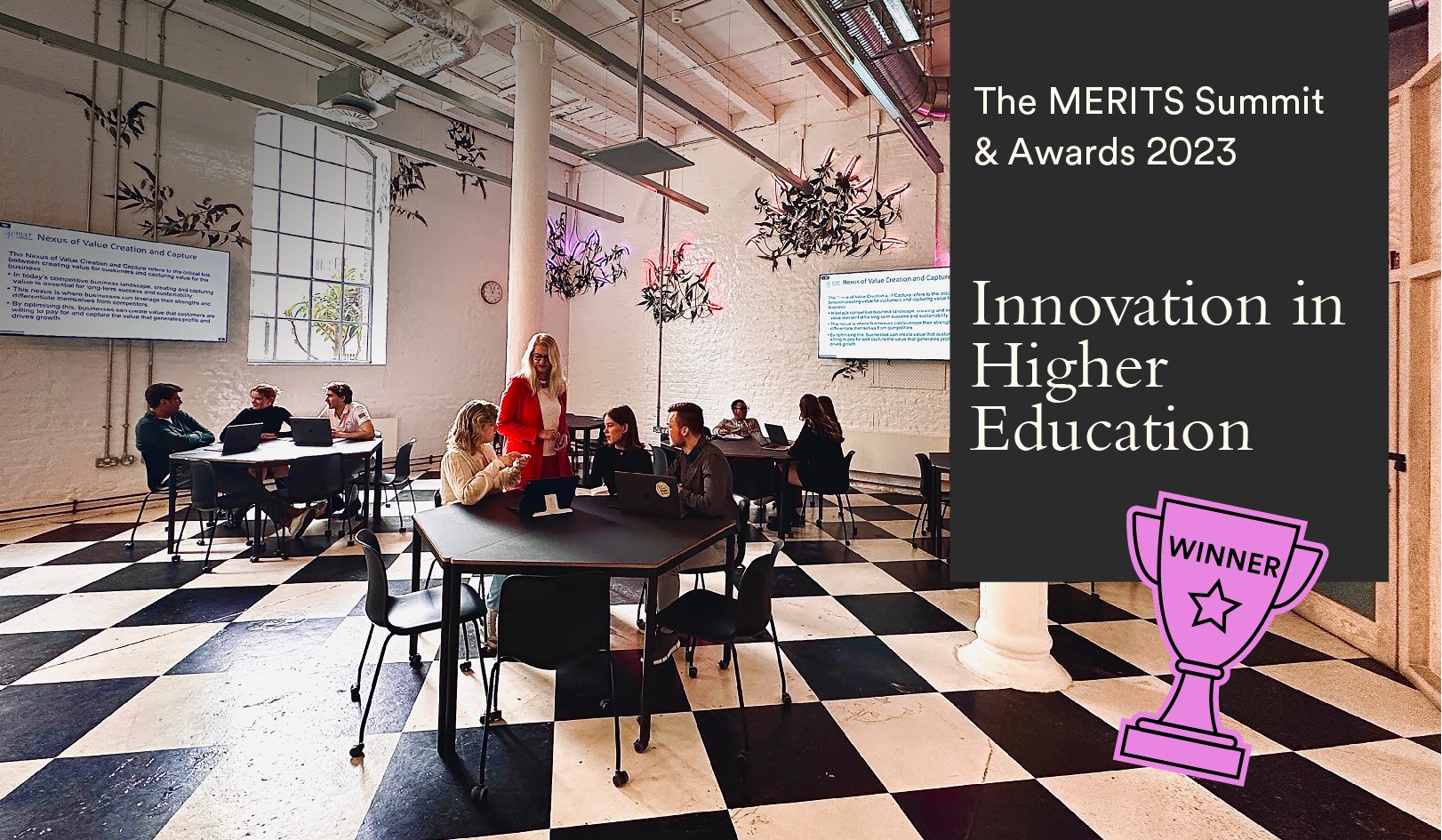 Hult International Business School is proud to receive this year's MERIT Award for Innovation in Higher Education for the redesign of our Bachelor of Business Administration (BBA) program. The news was announced at the MERITS Summit & Awards event in Barcelona, Spain on May 26, 2023.
Hult's transformative BBA is designed around the universal truth that to master a skill—any skill, from riding a bike to leading a team—it must be practiced. The MERIT Award win cites the Hult program for its innovation in preparing undergraduates to succeed in the world beyond the classroom: "Hult BBA Redesigned represents a bold vision and shift in focus from students learning and reproducing 'knowledge' to the skills and mindsets that will help them evolve and adapt to the challenges and opportunities throughout their career, wherever they are in the world." The MERITS Summit & Award recognizes and celebrates impactful initiatives in organizational, leadership, and people development.
Hult's BBA is designed to focus on student development for a better understanding of each learner's strengths and weaknesses, to develop the skills and mindsets needed in today's world of work. Learners work with personal coaches to help track progress and align with a solid career path. In revising the BBA program, the Hult team used pedagogical research to investigate how people learn and fundamentally rebuilt the program from the ground up with top skills baked into every lesson and all content mapped to applied learning instead of siloed courses. Students move through modules made up of knowledge, theory, and skills development, all focused on a practical challenge. As well, Corporate Social Responsibility appears throughout each module.
In his Hult Blog post on the redesigned BBA, Hult's Global Director of Undergraduate Learning and Development Ronan Gruenbaum states, "Hult believes in learning by doing. Students put theory into practice through real-world business scenarios, live client consulting, simulations, and hackathons. Our students work on them in teams and get direct feedback from the clients. We have always focused on what skills employers want from college graduates."
To learn more, visit https://www.hult.edu/undergraduate/.
Related posts