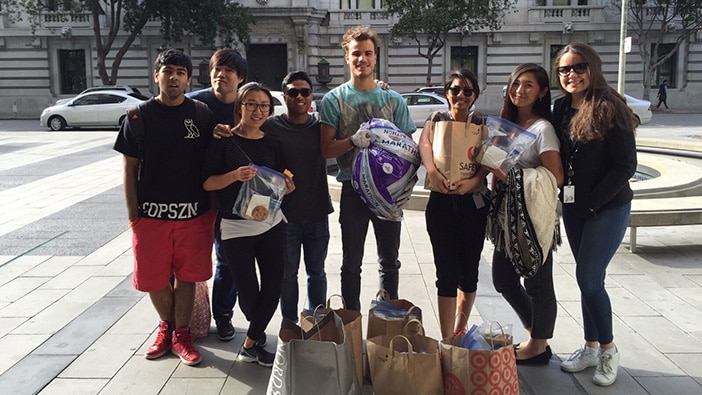 Written by Alan Pierce, Masters student, San Francisco campus, Class of 2016
During the Thanksgiving holiday a group of students from Hult's San Francisco campus joined together to give to the hungry and homeless of the city. Brice Espino, a Masters student, launched the initiative via social media. He called on Hult students to engage in the effort by raising awareness, donating money to the food drive, and helping to make and distribute the food to the homeless.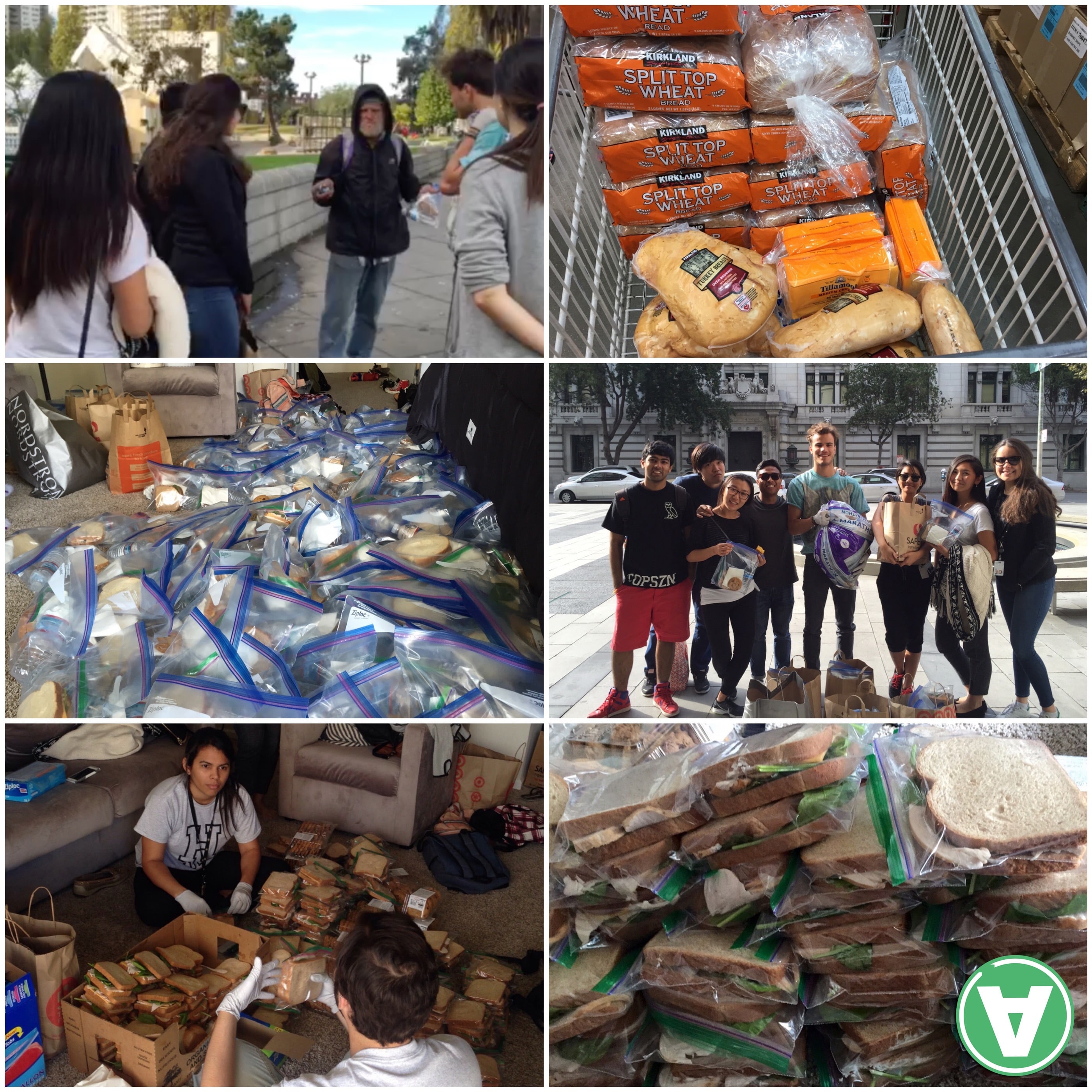 Espino saw a great need in the city of San Francisco, which has more than 6,000 homeless individuals, many of whom sleep in plain view on the sidewalks. He also wanted to create an opportunity for Hult Students to engage their local community, "This was a chance to give back to the community and act like a part of the community because most of us aren't from here, and most of us won't live here again after this year."
Hult students responded to the call. In a few days they raised $1,700 – enough for nearly 400 care packages complete with a sandwich, homemade carrot cake, a cookie, and a bottle of water. Starting early one morning a team of students distributed these care packages to the homeless around the city.
In San Francisco there are neighborhoods with much higher populations of the homeless. This is where Espino and his teams went first. However, they also found that the homeless have their own community networks, "We had homeless people saying go there to this place. I have a friend there. Go down this street, there are more people over there."
The offering of food brought mostly reactions of gratitude, sometimes after a bit of hesitation. Some people wanted to know the motivation behind the care packages. Others, enthusiastic about the offering and the company, wanted to share their life story.
Reflecting on the experience, Espino recalls, "It was really hard, and also a lot of fun at the same time. We received all sorts of reactions – mostly positive. Seeing all the homeless here it's actually a bit painful not to be able to do this every day."
Many Hult students in San Francisco share this feeling. When I speak with the international student body about their experience in San Francisco, one of the first things often mentioned is surprise and discomfort about the number of homeless people and also the stark visibility of them throughout the city. They live on the sidewalks, sleep in doorways, and we walk or bike by them every day on the way to campus.
Such an environment might de-sensitize us to their predicament – but it can also be a motivator. Espino speaks to this saying, "As students at Hult – it's not just about being at Hult, it's about being someone here in San Francisco. And small things, like giving sandwiches to the homeless, can help people realize that doing something for others is a fulfilling thing. If it changes people in that way, that's also impact." This sentiment resonates with me, as it did with the Hult students who rallied to his call.
While the meal may have helped brighten just that one day, the impact that endures for the homeless may be in the simple act of being seen, and heard, and valued. That's something we all deserve on Thanksgiving, and every day.
Kickstart your career right next door to Silicon Valley by studying at Hult's San Francisco business school. To find out more, take a look at our blog A story about why I chose Hult San Francisco. Download a brochure or get in touch today to find out how Hult can help you to learn about the business world, the future, and yourself.
Related posts