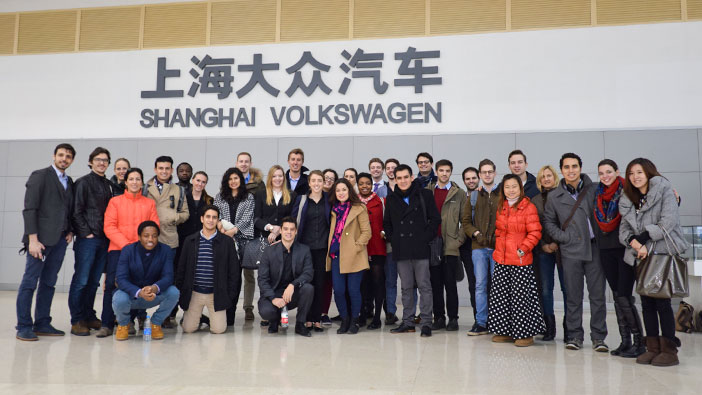 China has become one of the world's most important automotive markets and is now the Volkswagen Group's largest sales market. With a 20.8 percent share of the passenger car market, Volkswagen is the market leader in China. Hult Shanghai students went to the headquarters in Shanghai to experience firsthand one of the earliest and most successful joint ventures in China – the Shanghai-Volkswagen Automotive Company Ltd, which has been operating in China for more than 30 years.[Tweet "With a 20.8 percent share of the passenger car market, Volkswagen is the market leader in China."]
Both One-Year MBA and Master of International Business students learnt how the corporation has established themselves as the market leader, and that localization for the Chinese market is key to success. They then witnessed firsthand how raw materials are transformed into the final product with a tour of the production workshop. Students were shown Volkswagen's advanced technology and given an overview of how the company operates in China. They then headed to the exhibition showroom to admire an extensive selection of Volkswagen's most exclusive cars.[Tweet "Localization for the Chinese market is key to success."]
The visit provided a unique opportunity for students to get a frontline view of how strategy translates to the production line, and gain a practical understanding of how innovations for Chinese customers can drive a company's success in the region.
Kickstart your career in the commercial center of Asia by studying at Hult's Shanghai business school. To find out more, take a look at our blog Meet the Hult alum set to transform the service industry across South America. Download a brochure or get in touch today to find out how Hult can help you to learn about the business world, the future, and yourself.
Related posts
Instagram
Invalid username or token.
#Hult