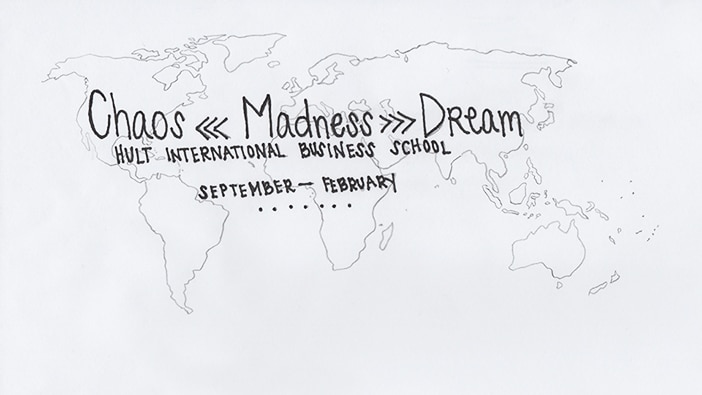 Hult San Francisco: adventurers, dreamers and doers
Amanda Stines, 9 years ago
0
2 min

read
"Madness is somewhere between chaos and having a dream." –R.M. Drake
This quote, from Instagram's man-of-the-moment, wonderfully sums up my first few months at Hult San Francisco. The madness can be seen all throughout campus. From early morning campus crashers, to late night studiers; from the buzzing excitement of a new business idea, to the energy that is present on campus event days; from over-caffeinated, shaking hands, to a steady demeanor during unnerving class presentations. But most importantly, the madness is seen in the fantastic group of people who I know will make a difference.
The raw talent and passion that you see in Hult students is overwhelming. The diverse student body has already opened my mind to so many different cultures, lifestyles and challenges throughout our world. Big ideas are thrown around in the classroom, and molded into realistic business models. Creativity comes through in ways I never could have imagined. The diversity of deliverables for one assignment alone resulted in ventures ranging from reclaimed wood projects, to empowering Detroit, to an incubator program in Angola that fosters entrepreneurship.
The chaos that surrounds the one-year Master of Social Entrepreneurship program in San Francisco is challenging to say the least, but also uniquely rewarding. It's shocking how quick the year has gone by already, and I am sure August will be here before we know it.
I challenge us all to embrace the chaos, learn from each other, and try new things. Hult offers an opportunity for us to be exposed to different types of people, different learning techniques, and new forms of teamwork. Let's take the remaining course time to challenge our mindsets and ourselves. If you've got a totally crazy business idea, talk about it and make it happen—I know I plan to. This is the year to push yourself to try new things, and in some cases, to totally mess up and learn.
The Master of Social Entrepreneurship program is full of big dreamers, but there is no doubt in my mind that these dreamers, and the rest of the Hult community, will initiate positive action all across the globe.
Five months down, seven to go. Keep spreading the creative madness, class of 2015.
Amanda Stines is a Master of Social Entrepreneurship student at Hult San Francisco, and exploring the big city one adventure at a time. She is hoping to work in community development or education after graduation.
Kickstart your career right next door to Silicon Valley by studying at Hult's San Francisco business school. To find out more, take a look at our blog Only in San Francisco! – LifeIn Contest. Download a brochure or get in touch today to find out how Hult can help you to learn about the business world, the future, and yourself.
Related posts