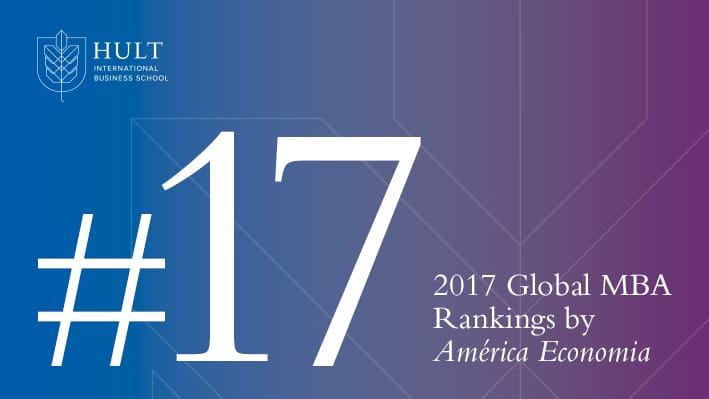 Hult International Business School has once again climbed in the prestigious América Economia Global MBA rankings, rising this year from 19th to 17th place.
América Economia is Latin America's most widely read and influential finance and economics journal. The student-centered ranking examines five dimensions of analysis: Multicultural Experience, Network Power for Latin American Students, Selectivity, International Positioning, and Focus on Innovation.
Within the ranking's criteria, América Economia scored Hult 2nd for Multicultural Experience, which is a testament to the school's highly diverse student body, representing over 150 nationalities, and its six global campus locations that provide students with a truly global business education.
Find out more about our Global One-Year MBA program.
This adds to a growing list of publications that have reviewed Hult's programs and ranked them among the best in the world, including:
See the complete América Economia listings here:
About Hult International Business School
Hult is a new kind of business school for the global generation. With campuses in Boston, San Francisco, London, Dubai, Shanghai, and New York, students can study in up to three of these cities during their one-year graduate program. The school's student body is made up of more than 150 nationalities with students speaking 105 languages between them.
Hult's alumni network of more than 19,000 graduates work in 170+ countries across the globe and there are 70 clubs and chapters active in over 60 countries worldwide. Employers value Hult graduates' international outlook and entrepreneurial flair which has yielded impressive employment statistics for the Class of 2016.
---
If you would like to find out more about Hult's global business programs, download a brochure here.
---
More reading:
Hult offers a range of highly skills-focused and employability-driven business school programs including a range of MBA options and a comprehensive one year Masters in International Business. To find out more, take a look at our blog How to ace your classes at Hult International Business School. Download a brochure or get in touch today to find out how Hult can help you to learn about the business world, the future, and yourself.
Related posts