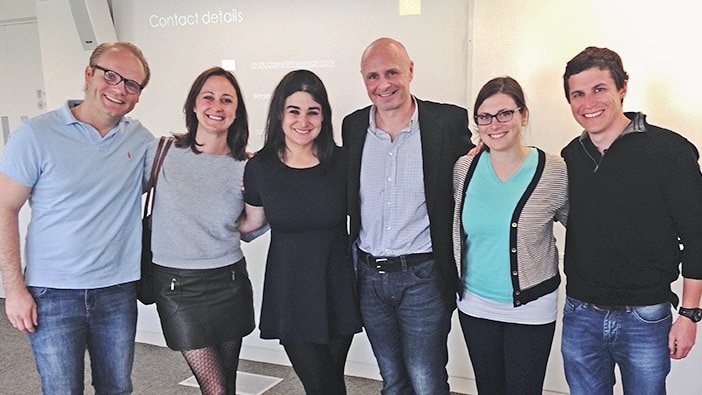 Run​T​our, consisting of a group of MBA students from Hult London, have been accepted as finalists to the 2015 MassChallenge UK startup accelerator program. Over 800 applications were received and they are one of the last few standing.
​Finalists will receive free office space, regular dedicated mentorship, educational workshops, and a global professional network. At the conclusion of the program in October, Run​T​our will​ compete against the other finalists​ to win a ​share of up to £500k in cash prizes, all with no equity taken ​and no​ strings attached.
"We're excited that RunTour will be joining our first U.K. cohort, bringing with them​ the entrepreneurial​ expertise​ they developed at Hult. ​What began as an assignment has now turned into a serious business and we are committed to helping them succeed," says Rekha Mehr, Director of Partnerships for MassChallenge UK​.
Hult MBA students Sarah Lipes, Sarah Milewski, Rosa Guzman, Daniel Murillo, and Erik Borge Andreassen, have developed the RunTour app, which offers sightseeing runs in different locations, without having to plan ahead or think too much about the tour. When a user has an unexpected hour to spend, they can open the RunTour app and find guided running routes. The user can then tailor their routes to a specific distance or popular landmarks, then use the GPS guided tour to eliminate the risk of getting lost.
Sarah Lipes, MBA student at Hult, says:
"We were extremely surprised and honored to be a part of the MassChallenge UK. We were slightly intimidated showing up and pitching in gym clothes when everyone else was wearing suits, but this is what makes us special. Our team is fun, and our idea is simple but useful, and we have received lots of positive feedback, which has spurred us to continue with our efforts.
It will be challenging with our team on three different continents, but that is also what makes the whole thing fun and dynamic."
Rebecca Churchill, Executive Director at Hult London, is delighted for the team and said:
"Hult is all about providing practical business education and this goes to prove it. I am really proud of Sarah and her fellow students and excited about them bringing their app to market with the support of MassChallenge UK.
Our curriculum is based on real market insight and this truly gives our students a head start in the global market place."
Kickstart your career in Europe's biggest startup cluster by studying at Hult's London business school. To find out more, take a look at our blog Top 3 reasons why London is the best city on earth. Download a brochure or get in touch today to find out how Hult can help you to learn about the business world, the future, and yourself.
Related posts