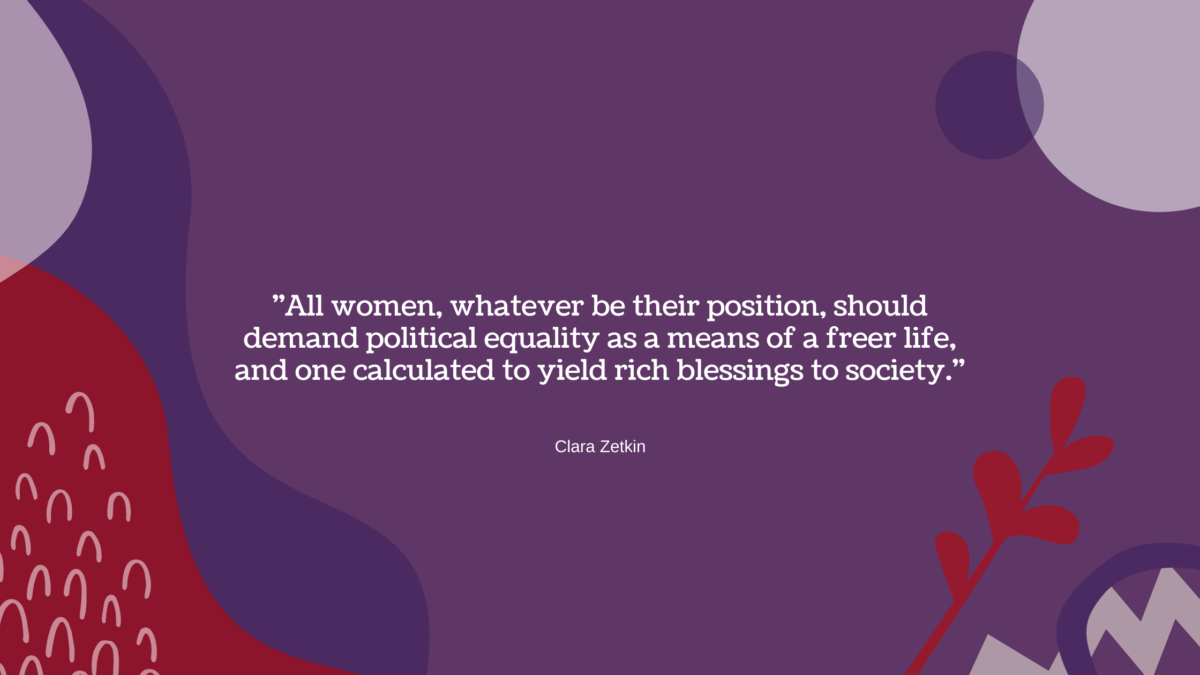 Hult clubs Choosing to Challenge: International Women's Day 2021
Maria Meisl, 2 years ago
6 min

read
March marked International Women's Month at Hult, and with all the beautiful events the Hult womens clubs organized, we'll now take a look back on what projects the clubs brought to life.
Inspiration for events taking place in March: A brief IWD history
#ChooseToChallenge beyond International Women's Day (IWD) was the key phrase that inspired this year's events around the day that globally celebrates the social, economic, political, and cultural achievements of women. The idea behind IWD was planted back in 1908, "when 15,000 women marched through New York City demanding shorter working hours, better pay and the right to vote" (BBC, 2021).
Later, the event was brought to a global level, inspired by Clara Zetkin, who started the movement. Slowly, countries around the globe began to carry out IWD and are now raising awareness about the inequalities that still exist in today's society. And here at Hult, we even chose to make it a full women's month, with a number of events touching upon the topic.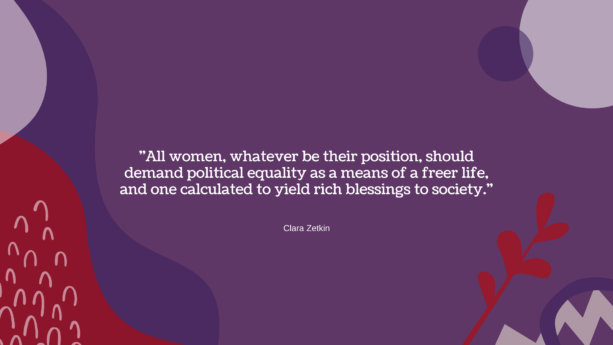 Joining forces for Women for Refugee Women: A club collaboration
FemSoc, empowerHER, the Diversity & Inclusion Forum, and Agency +44 opened a fundraiser on March 8, which closed with the Leaders Of Hope panel on March 31. Women from different professional and national backgrounds shared their experiences of being a woman in business and inspired all attendees with their insights. Also, three lucky winners were rewarded with personal career coaching sessions with the incredible Paris Perrault.
The clubs made a tangible impact financially with this project, as about £190 were given to Women for Refugee Women, a London-based charity that empowers women to advocate for a fairer asylum process.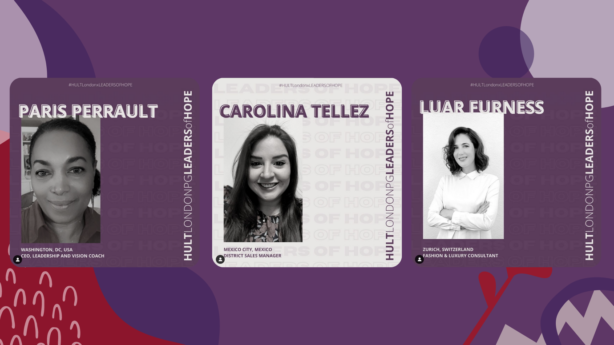 FemSoc Hult London Events: The importance of mentorship
As part of the international celebration of women's month, Isabelle (founder of the FemSoc at Hult London Graduate) talked to Saskia (EMBA student at the Dubai campus) about her professional experience as a woman in the gas and oil industry and the importance of mentorship. "What I think is very important is that we start to have more female representation, so we start looking after each other much more and change the system", said Saskia in the conversation.
The main takeaway after watching this Instagram Live conversation was that in certain industries, logistics and operations themselves are unfair to women. Businesses would need to run less effective sometimes with more females working for them—which is just unfair. Adapting operational standards and bringing processes to a gender-equal level would contribute to equal chances at the workplace and, in general, to global equality.
Isabelle shared that for her, this was a great opportunity to learn about and connect with women from other campuses and underline the importance of solidarity and community in the movement of gender equality.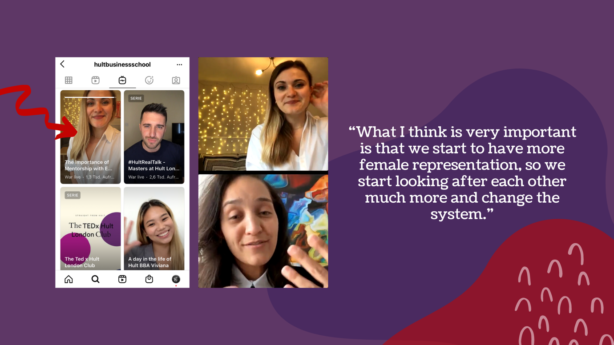 Diversity & Inclusion Forum, Hult London:
Hult Gender Equality Day
The Diversity & Inclusion Forum was particularly interested in the issue of gender inequality on a global scale. Therefore, they teamed up with Student Services to raise awareness at Hult Gender Equality Day, March 9. "We found shocking numbers online, as, for example, in 100 countries worldwide, women are not allowed to do the same jobs as men. Or that only 18% of all national parliaments contain women. With an Instagram quiz, we encouraged students to make up their minds about all of this and had a little giveaway where we awarded the students who guessed most of the questions correctly", said the event organisers.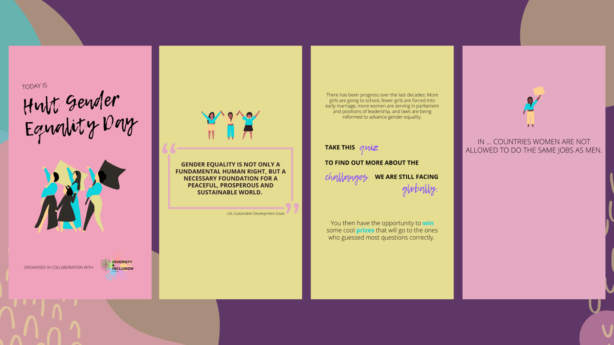 A conversation about Social Mobility event
The Diversity & Inclusion Forum invited Sarah Atkinson, the CEO of the Social Mobility Foundation, to talk about the importance of diversity at the workplace. As a female CEO, she shared how the organization influences the lives of young talents from challenging backgrounds but also hiring decisions in large corporations. She explained the differences between potential and polish and shared stories about doors that opened for talents she was working with—and how mentorship is a big part of her day-to-day life.
Key takeaways attendees of the event shared with me:
– "Stories that made me realize that giving people chances they wouldn't have comes with a huge potential"
– "All of us influence the future generations – we already are role models"
– "The workplace is changing toward more diversity and equality"
– "Lily didn't even know doors existed—but for her, they opened"
– "There are large numbers that don't know opportunities exist, let alone are obtainable."
– "Our youth are strong, wise, and ready to take on the world. It is up to us to continue to champion these conversations"
– "Sarah Atkinson's personality inspired me to do more. Her words touched me, and I look up to her achievements as a female CEO"
– "Very insightful journey into the diverse industry"
Women in Business Club Hult Dubai Events:
Weekend Business Challenge
Kicking off International Women's Day, the Women in Business Club at Hult Dubai hosted a business challenge over the weekend of March 6. Teams across Hult campuses and courses could sign up and develop a business idea tackling the Sustainable Development Goals, with SDG 5 being about gender equality and leaving no women behind.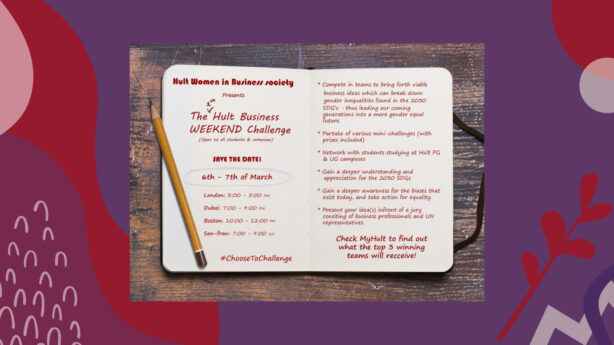 Speaker series around IWD
On March 10, we received a Guest Speaker, Jacquelle Horton, Forbes 30 under 30 that spoke to the women about her career and the challenges of being a leader. On March 11, Tobias Eppler spoke about diversity pushes and the difficult job of a leader on generating policies that are adequate to the whole population and how he manages his team at Hey Jobs. It was a great discussion that enriched our lives!" said Saskia—an active member at the Women in Business Club.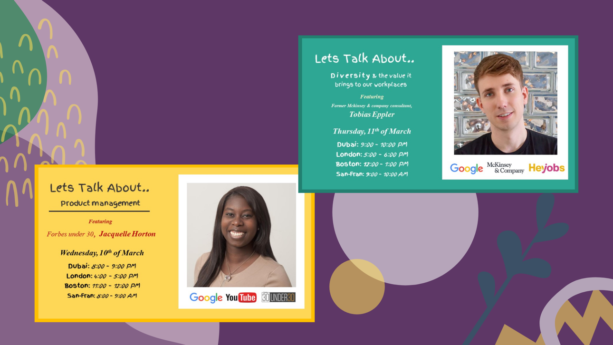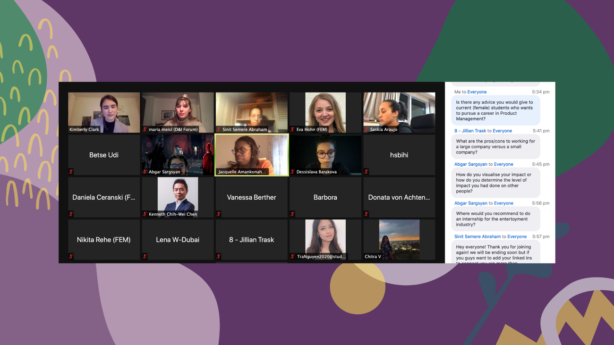 The story of founding a business to tackle barriers women still face today
Julie Nguyen lives in Dubai and is the founder of a women's business development platform called Crunchmoms. She spoke about how women still face many barriers and her personal journey of founding a business. This was an eye-opening event that made everyone start thinking about compromising between priorities as a woman. Julie herself is not only an entrepreneur and marketing professional, but also a full-time mom and wife. She set an example for today's women and encouraged attendees to follow their passions.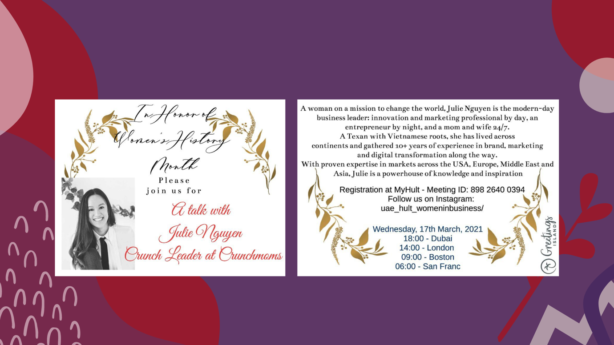 empowerHer Hult London events: A male perspective on D&I
Vanessa and Christine from empowerHer had an insightful conversation with Nicholas Favero, who shared issues he is experiencing as a part of the LGBTQIA+ community. The conversation was an eye-opening reminder that there is still much to be done when it comes to equality and fairness for everybody, but also was incredibly inspiring as Nicholas shared quite a lot about his personal experience and visions for a brighter future. Also, he highlighted what has already changed in the last couple of years. Living in multiple countries across the globe, he brought very diverse viewpoints and situations to the table.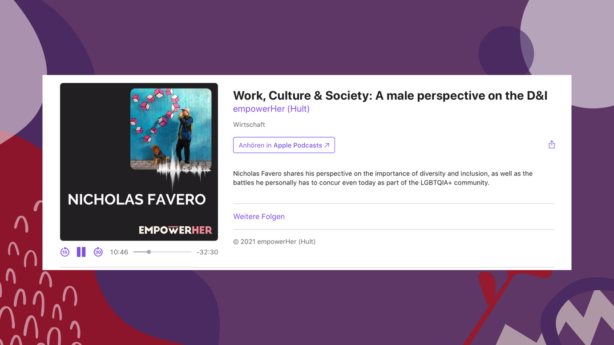 Resources
@hult_diversity / https://www.linkedin.com/company/hult-diversity-inclusion
@agency44.hult / https://www.linkedin.com/company/agency44/about/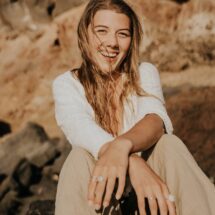 Maria Meisl
Maria Meisl is originally from Austria and came to Hult's London campus in September 2020. She's currently studying Hult's Masters in International Business (MIB) program and is proud to support the Hult blog as an Ambassador. While Maria is figuring out the best career path for herself, she's balancing that with meetings, teamwork, her job as a freelance web designer, and her social life in London. She's passionate about sustainability and innovation, and enjoys outdoor sports and making music.
Related posts