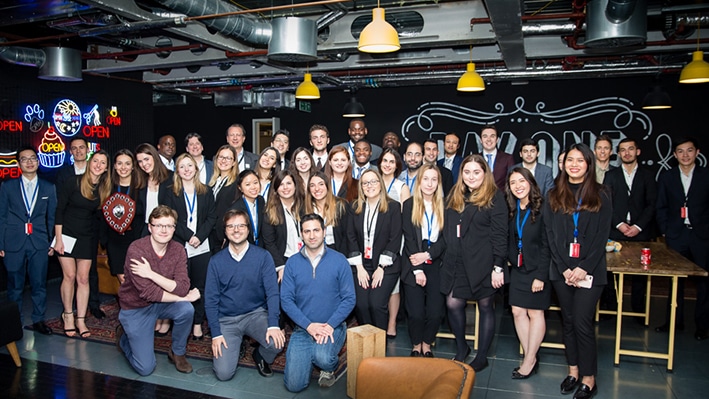 Written by Hult contributing blogger, Becky Hinchliffe. 
If you're going to learn through experience, you need to get out of your comfort zone and connect with the real world. Over the past year, Hult's undergraduate students have met and connected with representatives from the likes of Ferrari, Spotify, Virgin, PwC, easyJet, and more who have come to campus to speak to students, recruit, share ideas, and collaborate on real-world projects.
Amazon is one such company that has gotten involved with Hult students at a grass roots level, setting the challenge for the undergraduate final capstone project, the Hult Business Challenge. While seniors at traditional schools may have spent their last term hidden away revising, or writing essays, Hult seniors have been balancing their final year studies with an exciting business challenge set by the team at Amazon Launchpad.
Amazon Launchpad is a global program, launched in 2015, that helps the best in startup talent get to market more quickly. Since its foundation, the startup accelerator has helped more than 600 startups to launch over 1500 products globally. But with such swift growth comes a number of challenges.
After coming to campus as a guest speaker, Amazon's Head of Global Innovation, Jason Feldman, believed Hult undergraduates could help them to add value to their existing program through the Hult Business Challenge. With their highly entrepreneurial skill set, and their uniquely international profile, Hult students were ideally placed to think about the needs of Amazon Launchpad's global customer base. Jason Feldman, Head of Global Innovation at Amazon said:
"We are excited to be working with the entrepreneurial students from Hult on the 2017 Hult Business Challenge. Partnering with Hult will enable us to leverage the perspective and skills of their globally-minded undergraduate students to help us continue to improve the support we provide startups on Amazon Launchpad".
The Hult Business Challenge
Each year Hult seniors on the undergraduate program take the knowledge they have gained over the last two to three years, and use it to solve a complex business problem. Working in teams, students explore the pros and cons of various approaches, analyze them, and make a business case for the ones they think will really deliver. Supported by mentors and professors, students took on three key tasks for 2017:
Task 1: Identify the information startups need to make business decisions about their product and business model.
Task 2: Define how and when startups should receive this information in order to have the best opportunity to make educated decisions.
Task 3: Recommend and justify additional services that Amazon Launchpad could offer its startup clients.
The learning curve
Given that many of the students taking part in this year's Hult Business Challenge are interested in starting their own entrepreneurial venture, or are even on their way to launching their own businesses, this was an excellent chance for them to test out their ideas, and challenge their perspective. It also gave them insight into the roadblocks they may face along the way, and how to get around them. Sarveen Chester, an undergraduate student, Class of 2017 said:
"It was interesting to have two hats on at once. We had to wear both a startup hat, and a corporate hat, balancing the needs of a new business with the interests of the giant that is Amazon."
This may sound like a tough ask for students who have no experience of how a multinational corporation does things, but Hult seniors rose to the challenge. With their creative talent for problem solving, students brought forward solutions that really made both the judging panel and their professors think. Hult Professor, Theocharis Papadopoulos said:
"I have been impressed by the level of professionalism among students, and by the progress they have made – from the raw idea they first come in with, to the final end product they present to the judges. It is a transformation".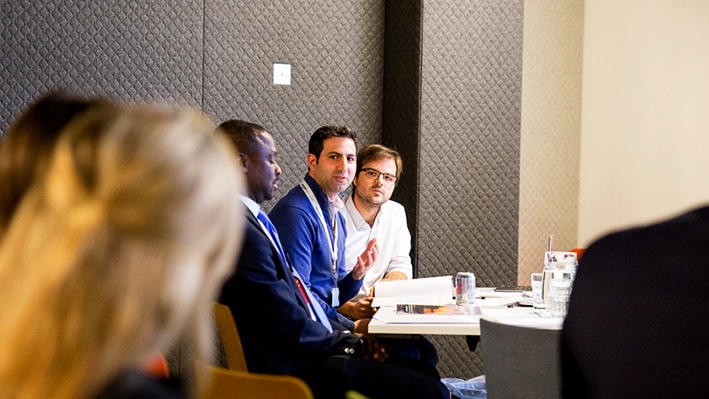 The winning solution
After several rounds of tough competition, the judges in London, Miguel Martins, Head of Amazon Launchpad UK & France and Shauli Ziv, Senior Marketing Manager at Amazon, came to a final decision. In London Team EO Consultancy were selected as the winning team, whilst over in San Francisco Leila Iranmanesh and her team mates rose to the challenge. The judges felt that they came up with ideas that have genuine business applications, and could make a real difference to Amazon Launchpad users. The team not only showcased presentation, communication, and analytical skills that truly impressed, but made it clear that they understood the needs of entrepreneurs in a real-world business environment. For Amazon Launchpad, this made them the stand-out team.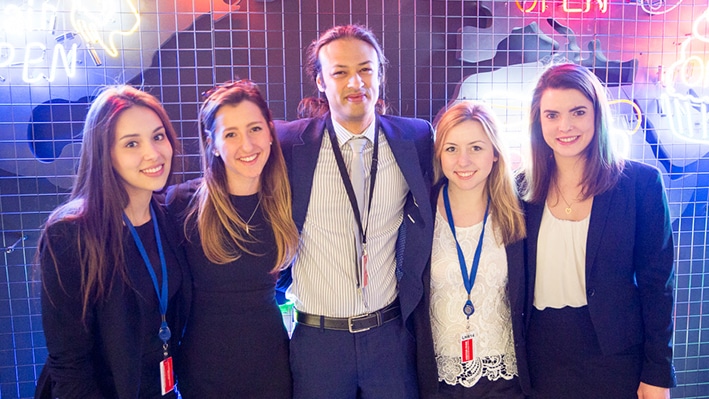 "Getting to present at the Amazon headquarters was an absolute honor and an unforgettable experience. I'm so proud that our team EO Consultancy won the challenge. Thank you to Professor Nik for being the best mentor, and to the rest of the team. Our hard work and the sleepless nights have all paid off."

Melina Keller, current student and EO Consultancy team member
About Amazon LaunchPad:
Amazon Launchpad is a unique global program that helps startups to market, sell and deliver innovative products to millions of Amazon customers across the globe. This gives new start-ups both visibility and valuable retail experience on their way to launching their brands. Amazon does not hold equity in these brands, and maintains a normal seller relationship with all Amazon Launchpad start-ups. You can find out more about Amazon Launchpad here.
The Hult Business Challenge:
The Hult Business Challenge is an annual challenge set for senior students, and takes the place of a thesis for those who choose to enter. For more information on previous challenges from companies like UBS and Unilever, or to find out more about the ways students can work with real businesses, find out more here.
---
If you would like to find out more about Hult's global business programs, download a brochure here.
---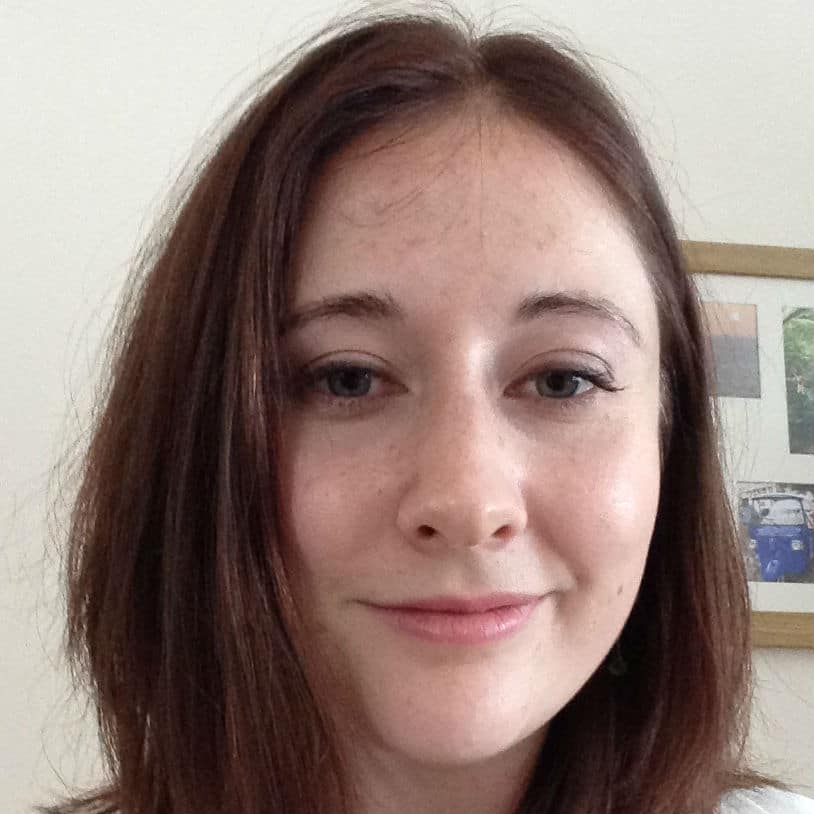 Becky Hinchliffe, Hult contributing blogger, is a freelance writer focused on business and university themes. She has been involved with a number of Hult and Ashridge projects, and has written about topics ranging from millennials and the world of work, to making the most of your finances in college.
Make the most of what your career has to offer with a Masters in International Business from Hult. To learn more, take a look at our blog Poets & Quants ranks Hult 60th Best Undergraduate Business School, or give your employability a huge boost with an MBA in international business. Download a brochure or get in touch today to find out how Hult can help you to explore everything about the business world, the future, and yourself.
Related posts