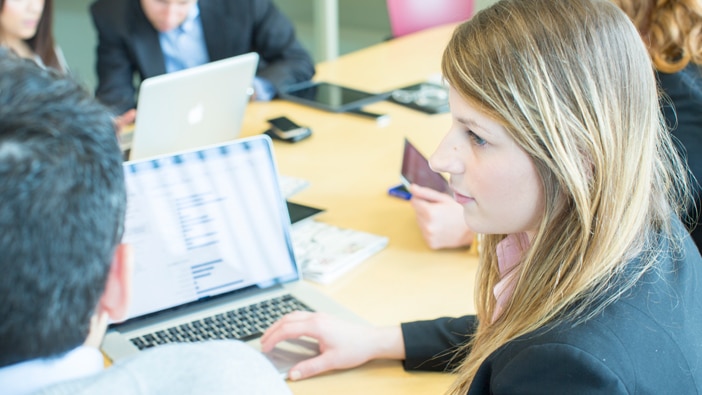 Hult Boston has announced the winners of the latest Square One Challenge (S1C), which saw teams of Master's in International Marketing students compete to solve a business challenge currently facing the Simplus Group.
James Hilton, President of Simplus Group – who help their clients maximize the potential of technology and specialize in innovation – challenged students to optimize the company's online strategy.
Prior to the competition, students were told the industry, organization, and broad topic the challenge would address, and the teams conducted research before the challenge was delivered. Once the hosting company released the official challenge, students began work on creating a solution to pitch to a panel of judges by the end of the day.
Daniela Benzaquen, a member of the winning team, applied to participate in the challenge as a way to engage with her peers and learn about new industries. She said of the experience: "I learned more about insurance and business models, specifically in a digital world. I didn't even know there were companies that created leads and I learned a lot about the industry and their struggles."
As well as working closely with the Simplus Group, the winning team were awarded a truly valuable prize by the company's President. James Hilton learned about the students' individual career interests, tapped into his personal contacts in those fields, and invited them to a mentoring networking reception exclusively for members of the winning team. Special guests will include Andy Komack, Director of Business Development at DraftKings, Ross Beyeler, Co–founder of For Art's Sake Media, Inc., Steven Wells, Managing Partner and Director of Business Development at KoMarking Associates, and Michael Mozill, Chief Marketing Officer for World Wide Beauty Exchange.
This Square One Challenge is the latest in a long legacy of action projects, ranging from 4 hours to 2 weeks, where our students have helped a broad range of multinational and rapidly growing businesses – including Google, IBM, Nokia, Fidelity Investments, and Zipcar – to tackle current business issues.
Henrik Totterman, Dean of Hult Boston and the driving force behind the S1C, says of the competition: "True to the school's action-oriented teaching style, S1C is a great opportunity for our students to help senior corporate leaders solve some of their most pressing business challenges.
"We have worked over the years with executives from large multinational companies as well as business leaders operating more locally, and they all have one thing in common: hectic schedules and limited opportunities to step out of their daily routines to problem solve and imagining the future. This why S1C is so powerful and well received by clients and students."
Kickstart your career in this education and innovation hotspot by studying at Hult's Boston business school. To find out more, take a look at our blog Four Hult Boston alumni startups to watch from. Download a brochure or get in touch today to find out how Hult can help you to learn about the business world, the future, and yourself.
Related posts