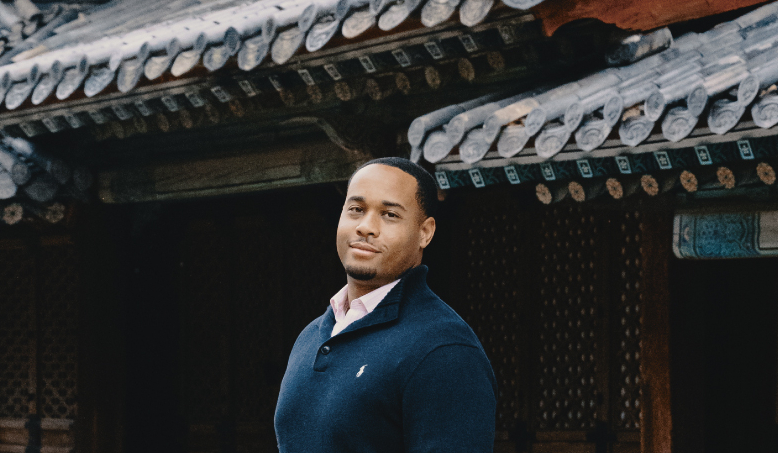 Hult Alumni Magazine 2020: Jamal & Germano

Kimberley Lovell, 3 years ago
4 min

read
Jamal and German feature in Hult Alumni Magazine 2020: read the full publication online now.
Tale of Two Cities
Thousands of miles from home, two Hult graduates are using their international classroom experience in roles that test what it takes to bridge two cultures.
Jamal Blackwell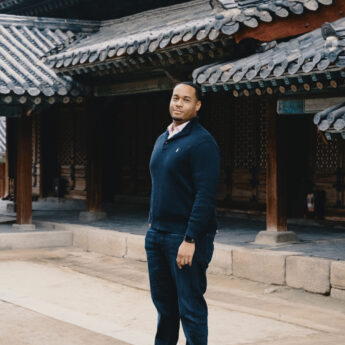 Senior Consultant
Masters in International Business
Class of 2015
Pyeongtaek, South Korea
instagram.com/mallymal92
Jamal Blackwell caught the travel bug early. Completing his bachelors at internationally friendly La Roche University, and his masters at Hult Dubai, it's perhaps no surprise that his career has taken him around the globe. Today, his job with consultancy Booz Allen Hamilton, one of Fortune's Most Admired Companies, finds him not just in South Korea but situated on America's largest overseas military base, Camp Humphreys, in Pyeongtaek.
"It's a hybrid environment, combining both US and Korean forces," says Jamal of the base, which is projected to house 42,000 personnel by 2022. "I think the idea of the base is to provide a home away from home, helping people adapt more easily to life in South Korea, given the cultural and lifestyle differences." Cue something as simple as the presence of big-name food chains: Dunkin', Burger King. As for Jamal, the chance to get among it all is not to be squandered. His knack for being "very comfortable in uncomfortable situations" stems from his travels across Peru, Thailand, Vietnam, and Indonesia, where the simple lifestyle and positivity of citizens proved influential. "I'm a joyful person who gravitates toward people with good energy. Experiencing these different cultures humbled me and broadened my horizons."
To be a master, you must experience your craft.
His current role, consulting for the US Department of Defence, provides the opportunity to work with Korean nationals, allowing him to deepen his understanding of Korean values and history, extending to his everyday life off base. "I have a Masters in International Business— and to be a master, you must experience your craft. I go to work on base in a familiar environment, but at the end of the day when I head home [off base] I get to engage with authentic Korean culture." With an extensive travel list already checked off, he seeks out cultural immersion at every opportunity. "I've never lived in far east Asia before; I knew it was going to be a challenge. I choose to chase the opportunities that are uncomfortable, because they're the ones that foster real self-growth."
---
Germano Forneck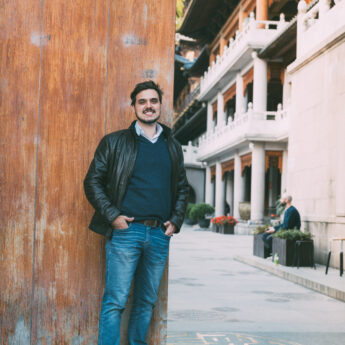 Founder & Ecommerce Director
Masters in International Business
Class of 2014
Shanghai, China & Curitiba, Brazil
linkedin.com/in/gmforneck
Germano Forneck's South America-to-Shanghai odyssey actually started in Rotterdam. In 2013, while traveling, Germano learned that the vast Dutch port was soon to be eclipsed in size by Shanghai's harbor. Inspired to follow the opportunities in business and trade, he bought a ticket, enrolled at Hult's Shanghai campus, and has been connecting two countries ever since.
Germano's first real-world immersion came from a law firm looking to facilitate business between Brazil and China. "They needed a Brazilian eye," says Germano, who interpreted the nuances of documents beyond translation. Meanwhile, he took it upon himself to learn Chinese language and culture, for both personal and professional benefit: "It's really about understanding the thinking behind how Chinese society works. It makes it easier to negotiate and to understand the selling points of products you want to trade here."
Ever the entrepreneur, Germano went on to apply his learnings to the family business, Vitao, now a cross-border ecommerce food store, and founded Flavo, which brings cross-cultural design to the Brazilian market. Spotting evermore opportunity, he added a third interest, in soccer: fueling Chinese fandom for the sport by bringing Brazilian youth teams to compete.
It's really about understanding the thinking behind how Chinese society works.
He makes it all sound rather … easy? Not quite. "The 11-hour time difference makes it hard to solve urgent issues. The logic can also be different, in marketing and sales. The Chinese tend to have a more holistic view, Brazilians are more goal-oriented."
Importantly in a digital era, he believes that human interaction is fundamental to his role. "I don't believe that we're going to be able to do it 100% virtually," he says. "We can reduce the space—we don't always need everyone in the room. Maybe we have two people there, two people elsewhere. We see it with startups everywhere. However we're doing it though, it's necessary for us to be bridging the world."
---
Love business and travel? Jamal and Germano are both graduates of Hult's Masters in International Business program. Check it out here.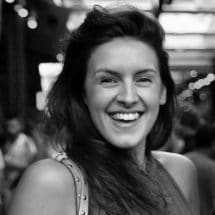 Kimberley Lovell
Kimberley Lovell is a staff blogger at Hult, where she creates and manages content for the school's masters programs. With a background in the creative industries, her interests revolve around the ever-changing fields of technology, design, and entertainment.
Related posts