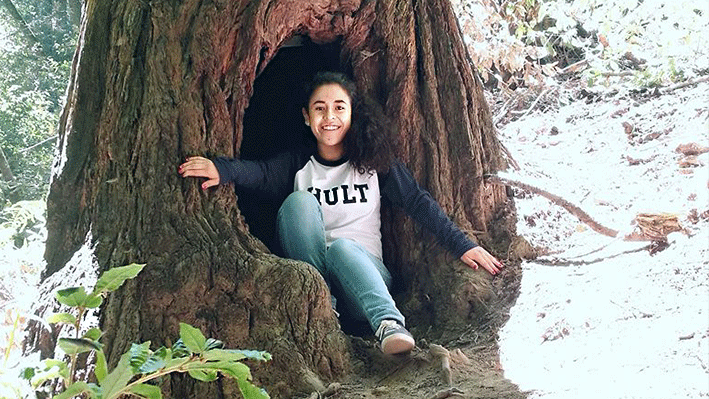 Ever wondered what a typical weekend looks like for an Undergraduate student living in San Francisco? Well, allow me to give you an insight into one of my weekends spent both relaxing and exploring the city…
The weekend begins
Was it 11 am already? It felt like I'd only slept for a couple of hours. All the exams and projects had left me feeling rather tired, so I was grateful for the fact that it was Saturday – I had the free time to go and enjoy myself.
Saturday
I had planned to have brunch with my friends at Japan-town. I was so hungry and looked forward to inhaling my favorite crepes topped with green tea ice cream. I took the Muni (train) to get there as it's only a 30-minute journey: a super convenient way to travel around San Francisco.
After eating, my friends and I walked around the mall to do a bit of shopping. To burn those extra calories we'd consumed at brunch, we then decided to walk to Union Square. To my delight, it was the Christmas season in Union Square! The Christmas tree was beautifully lit and we ice-skated at the Holiday Ice Rink. I struggled to balance myself on the ice, but it was a lot of fun trying!
"I got so carried away, chatting to my friends about my experiences, new friends and classes, that I ended up talking with them for over two hours."
I was only 20 minutes away from home, so I walked. I stopped by a coffee shop to get in the festive spirit and ordered a Pumpkin Spiced Latte and a Peppermint cake-pop. When I got home, my roommates weren't home yet. This was a perfect chance to call my friends. My roommates had mentioned before that I can get quite loud when video calling, so I try to do it while they're out of the house: living with people can sometimes be about compromise! I got so carried away chatting to my friends about my experiences, new friends and classes that I ended up talking with them for over two hours.
I wasn't quite in the mood for going out that night, so I binge watched the last season of the show I'd recently become hooked on.
Sunday
When I woke up at 9am, my earphones were tangled and my laptop was upside down next to me. I was so tired that I had fallen asleep watching TV – now that's what you call being relaxed!
I decided to make my morning productive and work on the homework I had been given during the week. I read articles for my Financial Markets and Institutions class and then planned to write a post on the Discussion Board of my Financial Reporting class. Once finished, I went to do some grocery shopping down at the Farmers Market. I'm only a block away from the place, so I decided to have breakfast there too. A little tradition of mine when I'm at the Farmers Market, is to eat a Samosa. Every time I eat a Samosa, I recall all the great times that I had when I lived with my Indian roommate I met at the student accommodation. I even practiced the Hindi she taught me with the shop owner. This is one of the great things about Hult – the cultural diversity. After eating, I bought some flavored almonds and some fruits to enjoy during the week.
"I was refreshed and ready to face another exciting week at Hult."
Once I arrived home, I focused on my homework again while listening to my favorite playlist that motivates me. It took me about five hours to finish my work, including my lunch break. After my busy day I was feeling rather tired again, so I jumped into the YouTube black hole and watched some fun videos, scrolled through my social media, and then went to sleep. I was refreshed and ready to face another exciting week at Hult. Let's see what next weekend brings!
---
If you would like to find out more about our undergraduate program and global campuses, download a brochure here.
---

Fernanda Padilla is from Ecuador and is an Undergraduate alumni who studied at the Hult San Francisco campus. She completed Majors in Finance and Management. Fernanda is an advocate for human equality and animal protection. She is now the Operations Specialist at BNY Mellon in Pittsburgh, Pennsylvania.
Kickstart your career right next door to Silicon Valley by studying at Hult's San Francisco business school. To find out more, take a look at our blog #HeadingtoHult: Preparing for undergraduate life in San Francisco. Download a brochure or get in touch today to find out how Hult can help you to learn about the business world, the future, and yourself.
Related posts