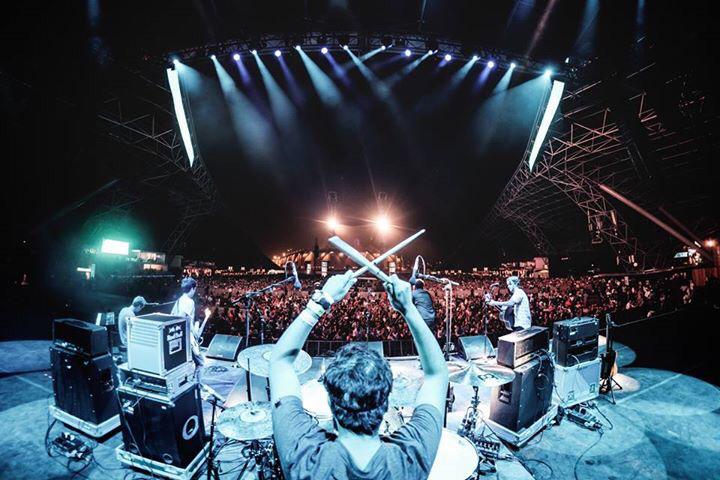 From rock star to MBA student: An interview with Nimmer Khokhar

Luis Olguin, 5 years ago
7 min

read
Imagine your palms are sweating. Your heart is pounding. The stage lights blind you for a second, but as they turn, you see thousands of faces in front of you. The roaring crowd deafens your thoughts. You can only feel the hot air that blasts your hair and dries your sweat. Everything seems to be in slow motion. The sound engineer is shouting something at you, but the adrenaline running through your body won't let you focus on what he is trying to tell you. Suddenly, you hear the first chord and you are out of your trance… it's time to start.
Originally from Pakistan, Nimmer Khokhar has been drumming since he was 15 years old and he quickly developed a passion for it. As every teenager struck by high voltage rock n' roll, he decided to start his own band with a bunch of his closest friends. Like every great story, the beginnings were humble. Nimmer remembers having to carry all his equipment even on rainy days just to get to a show, and although being on stage with some of his best friends was an incredible feeling, he sometimes found himself wondering if it was all worth it. His gut was telling him that something great was about to happen, so he decided to persist.
Soon the good times rolled and he was asked to open the Formula 1 post-race show for legendary Lionel Ritchie. Playing in front of 35,000 people and before one of his lifelong heroes put a lot of pressure on him. But he was able to enjoy the moment and rocked the hell out of his drum kit, giving a performance of a lifetime. His lucky streak continued and he was later asked to open shows for the Scorpions and Olly Murs. In addition, Nimmer was invited to play with two different bands in the world-famous Burning Man Festival.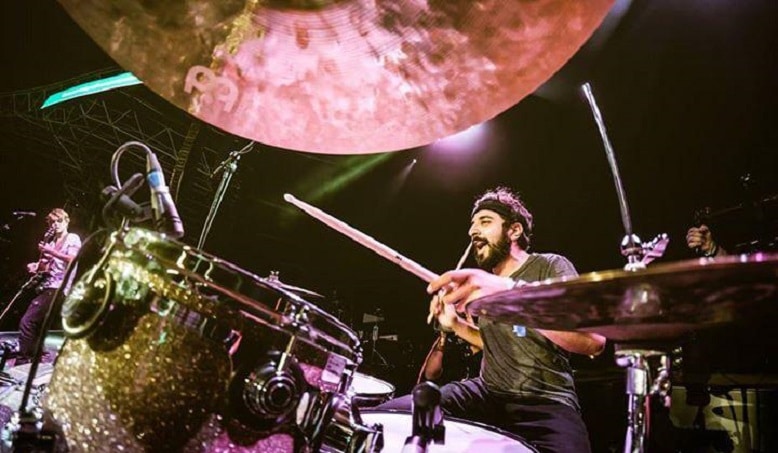 One hot and humid day in Dubai, Nimmer was between meetings working to build a fintech company when he came across an interesting cab driver: "I was sitting in a cab in Dubai and started chatting with the driver about cricket, when he told me that, because of his tight budget, he didn't have extra funds to send to his kid, so that he could buy cricket equipment. It was this idea that really solidified the concept behind LendMe, a micro-loaning application."
"When a cab driver told me that he couldn't afford to send money to his kid for his cricket kit, that's when the concept behind LendMeꟷmy microloaning appꟷwas born."
Although it might seem like the cosmos conspired to instill a business idea into Nimmer's head, he had to undergo the process of validating his assumption and ascertaining whether a gap in the financial services market really existed for people like the cab driver. Another titanic task was the setting up of the company, which in his words "was the biggest challenge in itself." No less important than that, the team had to decide which direction the company should take. Should they go with market trends or break the mold with innovation?
As with his previous bands, Nimmer felt that he had something special with his business idea and decided to build the product. The team decided to go for the newfound unattended market and created cutting edge technology to offer microlending services to people that don't have access to traditional credit options in Dubai. They're now expanding across the Middle East.
Jump forward a couple of years and Nimmer is an MBA student at Hult's Boston campus. Looking back and reflecting on his past experiences, Nimmer thinks that creating a band bears a lot of similarities with the process of starting a company. In a sense, "you have to know what you do (or what you play), what differentiates you from others; understand who you are internally and know how to showcase that externally, set up a brand, market yourselves accordingly, and be in the right places at the right time."
How do you think that your past experience as a drummer in a rock band has helped you as an MBA student?
Nimmer: Musicians often enjoy playing music together and improvising, which ultimately means creating music without ever having practiced what is being played. When you start improvising, you will fail… a lot… but then after your 1,000th failure, you will start playing music and connecting with other musicians without having to say anything to one another. Music has helped me not to fear failureꟷand how to fail efficiently and try again knowing where I went wrong. This has been key to my experience as an MBA student at Hult.
Why did you decide to leave the music industry to become an entrepreneur?
N: I wouldn't say that I ever left the music industry. I was just very fortunate to have met people across many different backgrounds with whom I was able to click, and we connected on a level that is deeper than the music we wrote. I think I would go insane if I didn't have music in my life.
Can you give us some insights about the FinTech industry (current and future)?
N: I feel as though the Fintech industry will simply become the future of banking. Currently, the issue of security is key to how we deal with and transact money. We are culturally entangled with the fact that money must be deposited and brought to the bank as well as when we sign up for banking services: that it should be done with a teller and papers must be signed. Also, the market is becoming saturated because there are new entrants every other month offering financial services. It will be key to see how governments form their regulations to either let these new technologies and services thrive (create sandbox environments to first test the technologies before entering the market) or completely control the process to ensure all safety standards are being met. In the near future, this will no longer be the case as facial recognition/bio-information scanning will be readily available and we will have the comfort of running all our banking services from home. As we already do! We will see branches becoming scarce and tech-savvy financial institutions sprouting up offering services more in-tune with the morals, beliefs and thinking systems of the new generation.
How has your experience been so far in Hult's MBA program?
N: I have been fortunate enough to grow up in several parts of the world (living in Dubai and attending college in Canada) and experience different cultures throughout my life. Hult has surpassed this. I have never been in a room with so many individuals representing cultures across the world. It has been an unreal experience getting to form friendships and connections, which I am sure will last a lifetime. Boston is a glorious city rich with culture and welcoming people.
Lastly, which bands do you currently follow?
N: All them witches, BB King, Nina Simone, Bonobo, Dream Theater, He Is Legend, The Midnight, Bomba Estereo, Erykah Badu, Mos Def, Talib Kweli, Blackstar, Jill Scott, Brother Ali, Kendrick Lamar, The Pharcyde, Refused, The Offspring, Nas, Damian Marley, Ziggy Marley, Gang Starr, Thursday, Taking Back Sunday, Mute Math, Prophets of Rage, Iron Maiden, Sublime, Pennywise, Animals as Leaders, System of a Down, Lettuce, Marvin Gaye, Tool, Wu-Tang Clan, Eric Clapton, InFlames, Slipknot, 36 Crazyfists.
Download a brochure to find out about Hult's business degree programs.
Make the most of what your career has to offer with a Masters in International Business from Hult. To learn more, take a look at our blog The Top 7 Skills Needed for Success in International Business, or give your employability a huge boost with an MBA in international business. Download a brochure or get in touch today to find out how Hult can help you to explore everything about the business world, the future, and yourself.
Luis Olguin
Luis Olguin is currently enrolled in the Hult MBA program in Boston. Upon completion, he will pursue a Dual Degree in Business Analytics in San Francisco. Before coming to Hult, he worked as a Capital Markets and Accounting Advisory Senior Consultant for PwC in his native Mexico. His interests include venture capital, fundamental and technical analysis, corporate finance, portfolio management, and the application of big data to analysis in finance.
Related posts