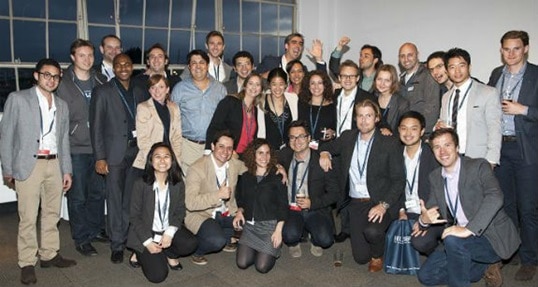 Entrepreneurs, investors, educators, students, and many others came together last weekend to JUMP! in the name of global entrepreneurship, courtesy of Hult San Francisco's Hult Venture Group.
JUMP! is a thought leadership summit with an intimate and collaborative format – the first event of its kind for Hult, and a unique event for the Bay Area as well. And the concept was created entirely by the HVG: to allow people to share personal, region-specific accounts, ideas, and challenges surrounding the central theme of globalizing your venture. Featured speakers, panelists, and experts were all "JUMPers" – people who have "jumped" across global boundaries with their business ventures. They represented a wide variety of industries in an effort to involve different perspectives, and they all brought hands-on international experience to the table.
About 150 people attended the afternoon-long event, held at San Francisco's Fort Mason Conference Center on Saturday, April 6. The day was casual and conversational, describes MBA student and HVG co-president Ander Dobo, featuring regional discussion sessions interspersed with three fireside chats and a panel. The HVG wanted attendees to have a chance to address specific issues, hold open dialogues and connect with potential partners.
The day's highlights? The fireside chats, moderated by Hult professor Mike Grandinetti, according to feedback given to the HVG. The opening chat featured Wendy Lung from IBM's Venture Capital Group, who discussed the power of partnerships between startups and large companies like IBM. Later on, Intuit's Hugh Molotsi and Stephen Manley of the EMC Corporation discussed global startup innovation in respective mid-afternoon and closing fireside chats.
The region-specific sessions throughout the day showcased perspectives on business in various areas around the world, including Europe, Latin America, Russia, and China. A networking session at Fort Mason following the sessions allowed everyone – Hult students in particular – the chance to make some valuable, more personal connections with their JUMP! guests, and an international after party at the nearby Cellar Door wine bar and lounge concluded the day.
Overall feedback and comments from students, staff and guests, including Hult Dean Larry Louie, confirmed that JUMP! was an exciting, well-executed, one-of-a-kind event, and a great success for the HVG. The group was responsible for planning and carrying out all aspects of JUMP!, with support from Grandinetti, who served as the group's mentor. In addition, 27 Hult student volunteers helped with the event execution. To spread the word about JUMP! and recruit speakers, the HVG, with assistance and direction from Hult Corporate Relations department, reached out directly to local professionals and companies. A significant number of attendees came from outside the Hult community, allowing the school to expand its brand and "open the opportunity for collaboration," says Dobo.
The Hult Venture Group is a student group backed by the Career Services department, supporting aspiring and established entrepreneurs. JUMP! is the group's largest event of the year and one of the biggest student-led initiatives for the class of 2013.
Photos: Thomas Speckman
Grow your leadership capabilities with an MBA in international business at Hult. To learn more, take a look at our blog Student perspective: Adjusting to life abroad and how I knew Hult was right for me, or give your career a boost with our Masters in International Business. Download a brochure or get in touch today to find out how Hult can help you to learn about the business world, the future, and yourself.
Related posts