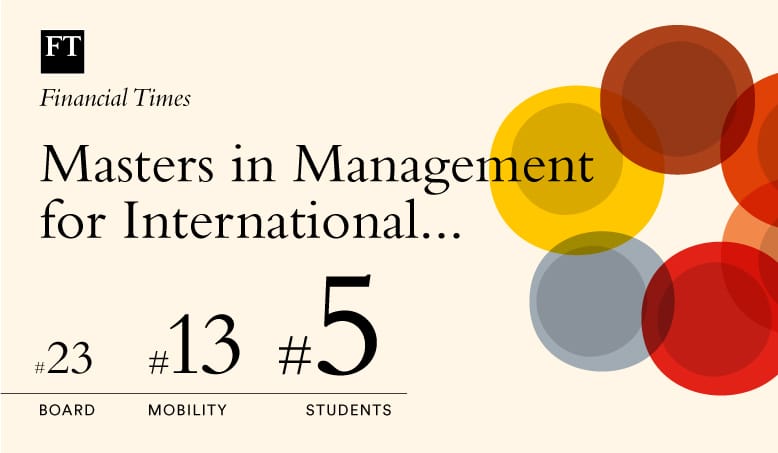 Hult ranks highly in international categories in the Financial Times Masters in Management 2019
Hult is proud to have placed #64 overall in the Financial Times' Masters in Management 2019 rankings for its Masters in International Business program. Notable subcategory mentions celebrate the Hult's international diversity, and include:
#5 for international students
#13 for international mobility
#23 for international board
The school's cohort brings together students of 145 nationalities speaking 122 languages, situated across six campuses worldwide. Dedicated to building a highly relevant, real-world-ready skillset, Hult programs encourage students to look outside of the environments they know to tackle international business problems on a global stage.
Dr. Stephen Hodges, President of Hult International Business School, said of the news:
"We're delighted to once again be ranked by the Financial Times among the world's leading business schools. This year's emphasis on our international credentials comes at a time when global perspective in business is more important than ever. Our diverse student body inspires us all to step out of our comfort zones and see the world as one—and, as proven by the actions of our dynamic students and alumni, the impact it can have is game-changing."
About Hult International Business School
Hult International Business School offers degrees at undergraduate, postgraduate, and executive education levels and awards both U.S. and U.K. degrees across its global campuses in Boston, San Francisco, London, Dubai, and Shanghai.
Hult takes students beyond business to learn about the world, the future, and themselves. So that they can work across cultures, help shape the future, and lead others effectively in a world that's changing faster than ever before. With the chance to study in multiple cities around the world, students are immersed in diversity from day one. Our courses in disruptive technologies and a future-focused curriculum mean students explore the risk and opportunities the future holds, and our advanced leadership program develops a growth mindset that enables students to improve both strengths and weaknesses long after graduation.
To learn more about Hult's top-ranked Masters in International Business program, download a brochure today.
Related posts